This Vegan Queso Cheese Dip is velvety smooth, easy to make, and the perfect dipping sauce for grain-free tortilla chips! Made with a medley of vegetables, this dairy-free queso cheese sauce has no cashews or nutritional yeast and is nut-free, coconut-free, and AIP/paleo!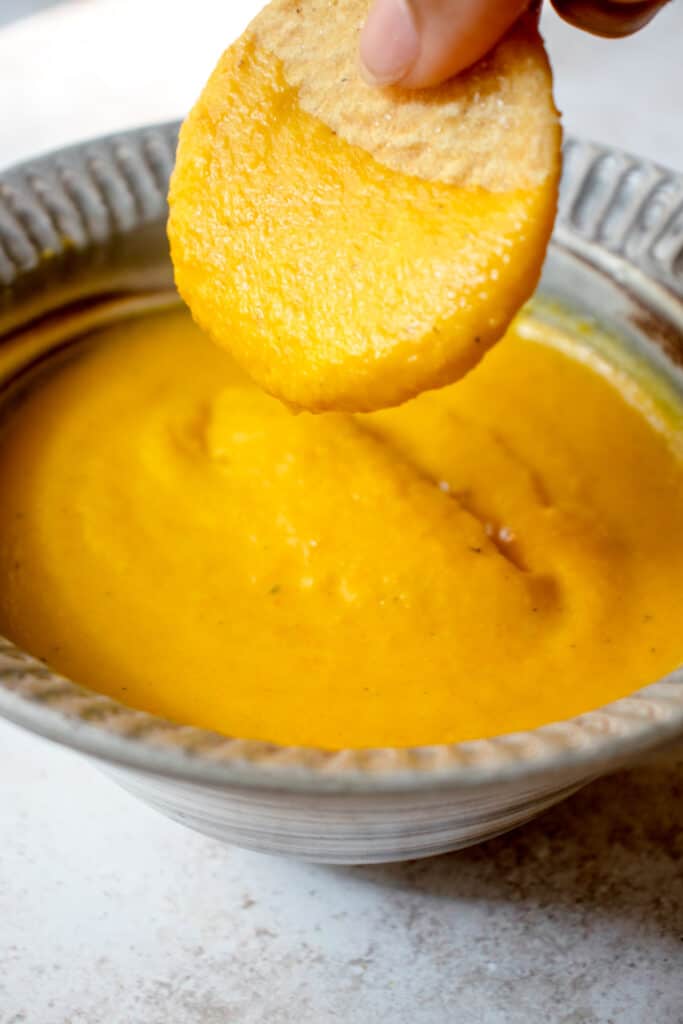 Are you searching for an allergy-friendly cheesy sauce? Look no further! This Vegan Queso Cheese Dip is a rare gem – gluten-free, dairy-free, nut-free, and even soy-free. No cashews or tofu in sight! It's an AIP diet superstar, a creamy, cheesy sauce without any coconut. Plus, there's no nutritional yeast either, making it the ultimate 'everything-free' vegan queso recipe. But it's packed with wholesome ingredients and flavor!
Ultimate Vegan Queso Cheese Dip
This plant-based queso gets its creaminess not from cashews, nut milks, or even coconut products. Its silky smoothness is all from blended veggies! Sautéed onions and garlic create an aromatic base for this cheesy vegan sauce. Butternut squash and carrots add some sweetness, while zucchini also adds more creaminess alongside the squash. The veggies are lightly spiced with sea salt to enhance and balance the flavor profile, while thyme adds a delicate herbaceousness and depth of flavor.
The veggies are cooked until tender so all the flavors meld together and then blended together with apple cider vinegar, water, and tapioca starch. The apple cider vinegar is crucial to this vegan queso as its acidity adds a slight, sharp tanginess reminiscent of real cheese in lieu of the cheesy flavor that nutritional yeast would otherwise provide. Tapioca starch with water thickens the queso to a creamy smooth consistency, characteristic of traditional Tex-Mex melted cheese queso dips.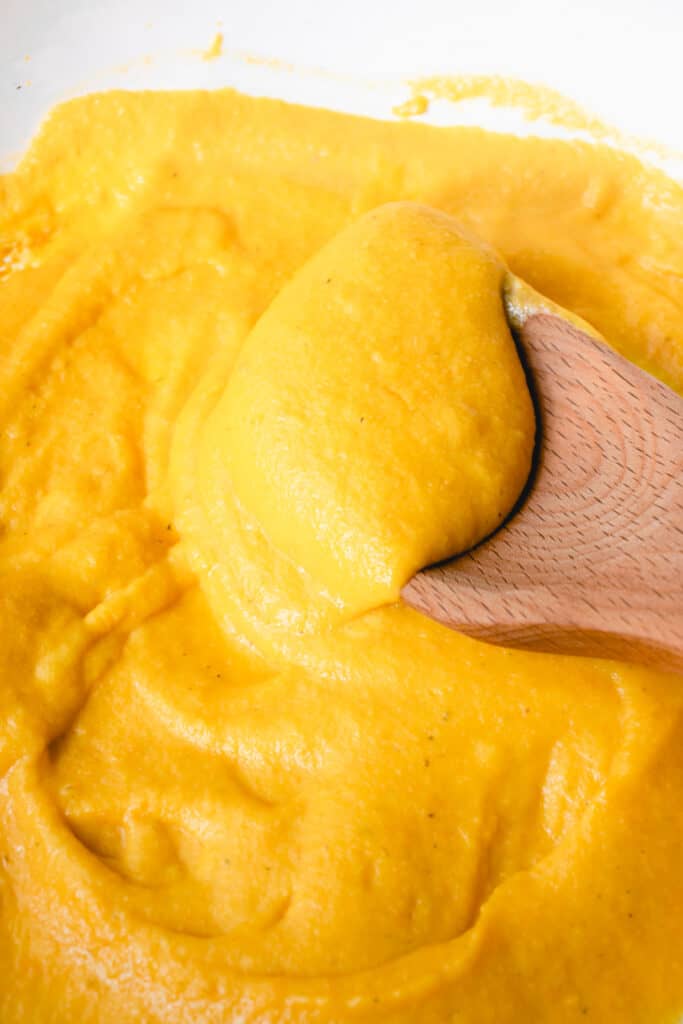 The result is a luxuriously silky, naturally yellow-hued vegan queso cheesy sauce. The subtly sweet, tangy flavors are perfectly balanced and spiced to create a vegan queso perfect for dipping with veggies, tortilla chips, and more!
Whip up this Vegan Queso in 20 minutes or less with some simple ingredients!
Vegan Queso Cheese Dip Ingredients
extra virgin olive oil
onion
garlic
carrots
butternut squash
zucchini
sea salt
dried thyme
water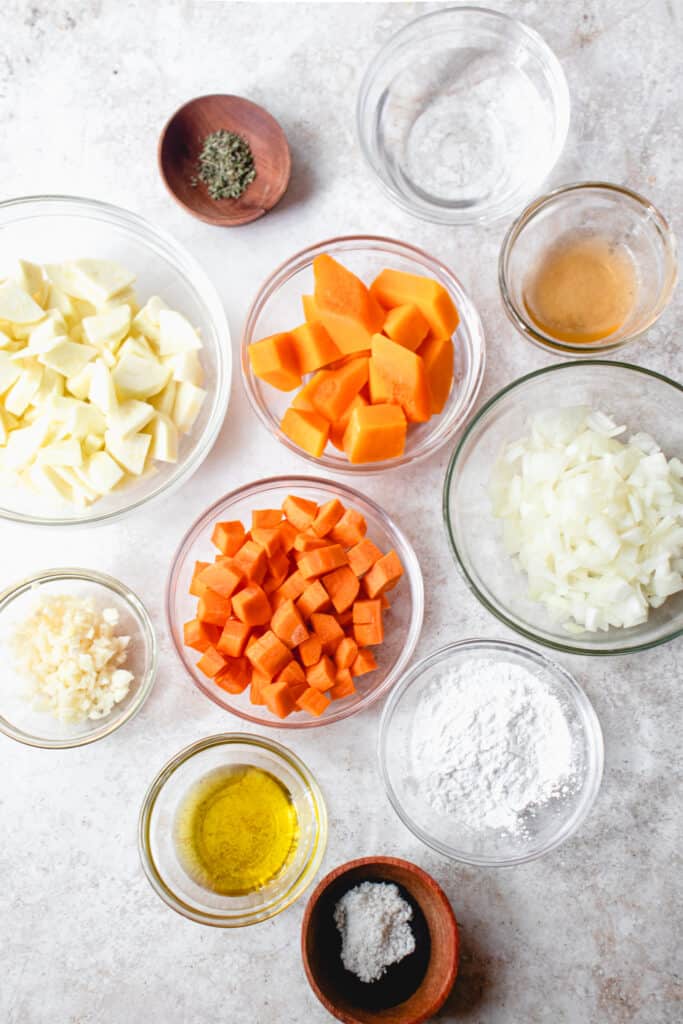 Ingredient Substitutions
I haven't tested it myself in this recipe, but tapioca starch is typically interchangeable with arrowroot starch when used as a thickening agent as it is here. This change should work in this recipe, although you may need to use a bit more of the arrowroot starch.
I don't recommend any other ingredient substitutions.
How to Make Vegan Queso Cheese Dip
Step 1: Sauté Vegetables
First, pour olive oil into a large skillet heated over medium heat. Add the onions and sauté until they're translucent, stirring frequently. Then, add the rest of the vegetables, salt, and thyme to the skillet. Cook until the vegetables soften so the flavors meld together. This is the vegetable-base of this vegan queso.
Step 2: Blend
Next, add the contents into a Vitamix or any high powered blender. Pour in the apple cider vinegar, water, and tapioca starch. Blend until the ingredients are well combined into a smooth mixture.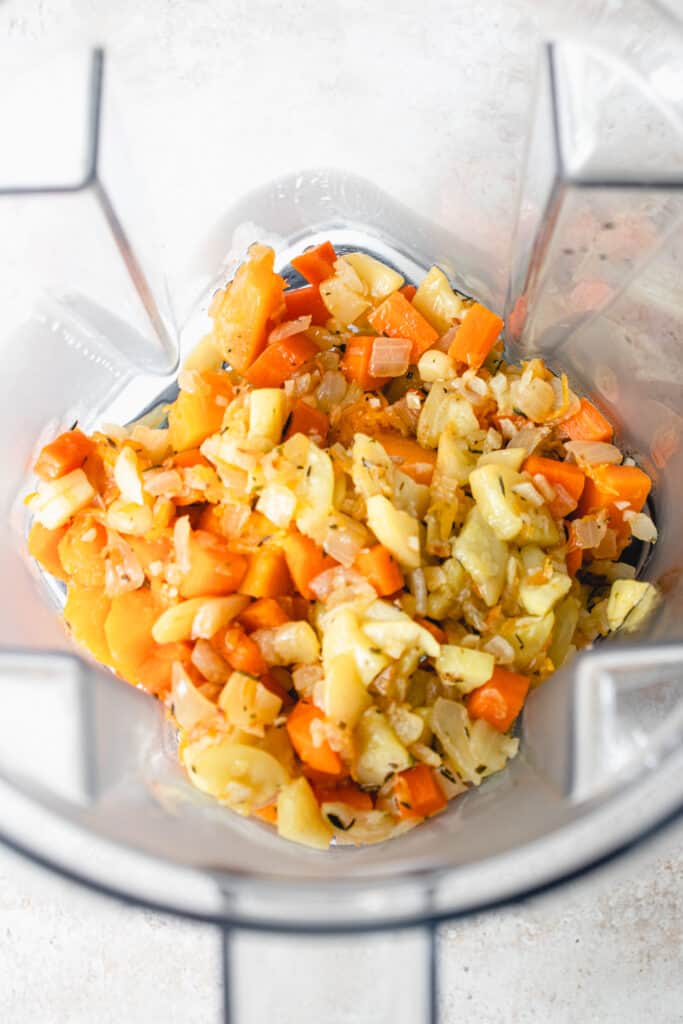 Step 3: Warm in Skillet
Return the vegan queso to the skillet and reheat over a low-medium heat to further thicken the sauce. If you prefer a more spreadable consistency, add a bit more water to thin the sauce. Adjust salt to taste if necessary. Serve warm.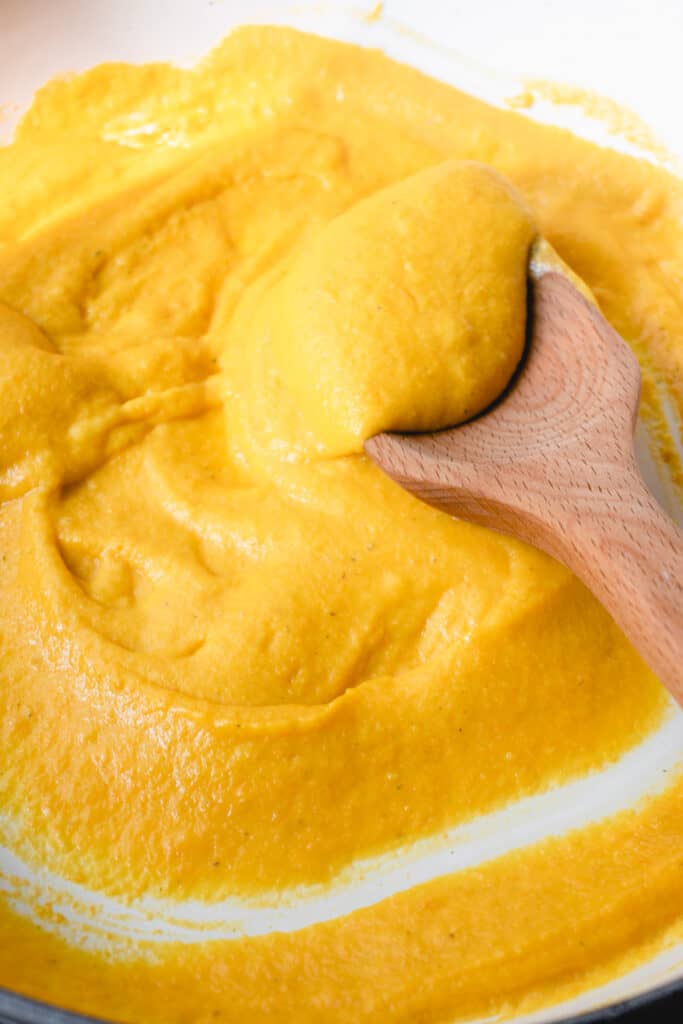 Variations
If you are not following a nightshade-free or AIP diet, you can add a bit of paprika and/or chili powder for a slightly spicy, smoky version.
This vegan queso cheese dip is a great, creamy, dairy-free base for other dishes. I use it as a coconut-free cheesy vegan sauce in my Creamy Cauliflower Gratin and an adapted version as an egg-free pasta sauce in my Pasta Carbonara.
How to Serve Vegan Queso Cheese Dip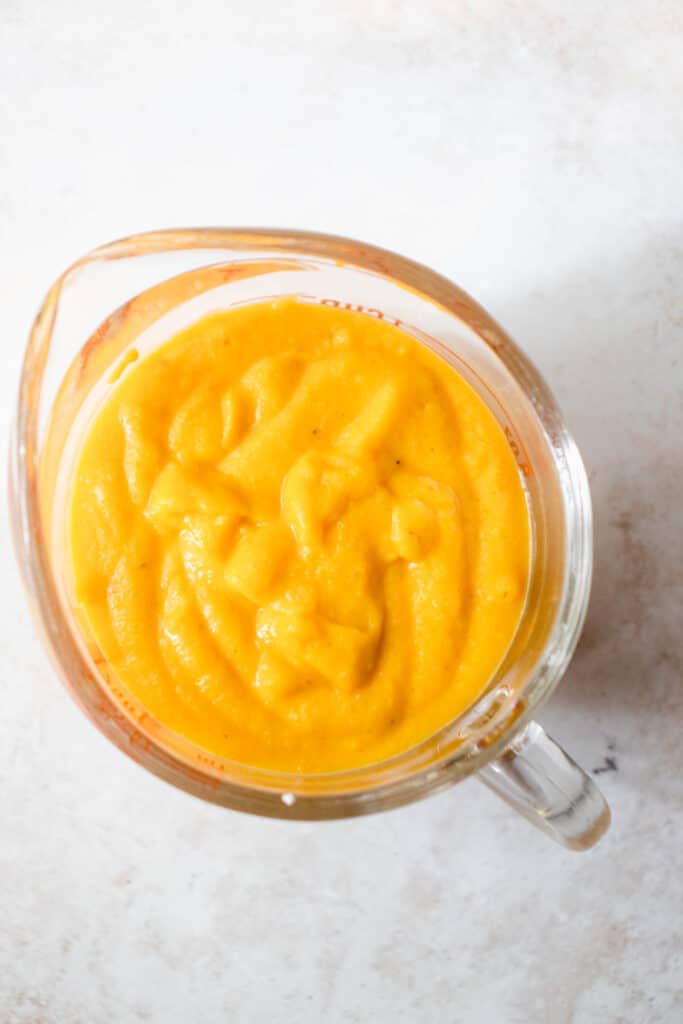 Frequently Asked Questions
What is queso?
"Queso," Spanish for cheese, originated in Tex-Mex cuisine around 1900. Chile con queso, often called queso, is a melted cheese dip typically made with American processed cheese and served with tortilla chips as an appetizer or side dish.
Can I replace the apple cider vinegar?
I haven't found another vinegar to substitute this with. I wouldn't omit, however, since this is what gives the recipe its cheesy tang.
Does this cheese melt, stretch or brown?
The consistency of this vegan queso is thick and smooth rather than thin and stretchy. It's best used as a topping, a dip, or mixed into foods rather than as a cheese topping that melts. Check out my Grain-free Lasagna recipe for a dairy-free cheese sauce that browns and stretches.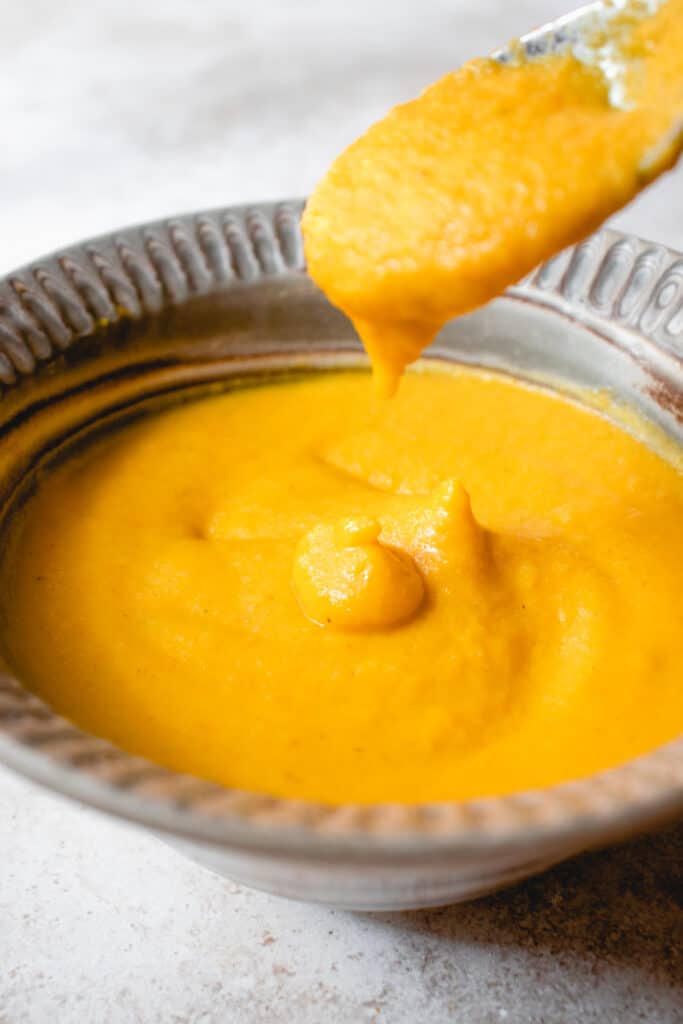 Storage Instructions
Fridge: Store vegan queso cheese sauce in a sealed container in the fridge for up to 5 days. Reheat in the microwave or on the stovetop over medium heat.
Freezer: Store in a freezer-safe container for up to 1 month. Reheat from frozen on the stovetop over medium heat. Or, let thaw in the fridge overnight and reheat in the microwave.
More Vegan Dips
If you loved this Vegan Queso Cheese Dip recipe I would appreciate it if you would give it a rating and review. Be sure to snap a picture of the finished product and share it with me on Instagram by tagging @healmedelicious and using the hashtag #healmedelicious.
Print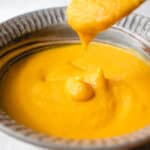 Vegan Queso Cheese Dip Recipe (No Cashews)
---
Description
This velvety smooth Vegan Queso Cheese Dip is quick and easy to make in just 20 minutes! No cashews or nutritional yeast, it's dairy-free, gluten-free, coconut-free, and AIP/paleo. The perfect vegan queso cheese dipping sauce with nachos, veggies and more!
---
2 TBSP

extra virgin olive oil

1/2

large yellow onion, diced

3

cloves garlic, crushed

1/2

cup

carrots, diced

1/2

cup

butternut squash, diced

1

cup

zucchini, peeled and cubed

1/2 tsp

sea salt

1/4 tsp

dried thyme

1 tsp

apple cider vinegar

1/2

cup

water

2

tsps tapioca starch
---
Instructions
In a large skillet, heat olive oil over medium heat. Add onions and sauté 2-3 minutes, stirring frequently until they begin to turn translucent.
Add garlic, carrots, butternut squash, zucchini, sea salt and thyme and cook about 6-8 minutes, or until vegetables become soft.
Once vegetables have softened, add everything from the skillet to a high powered blender, along with apple cider vinegar, water, and tapioca starch. Pulse until combined into a smooth sauce.
Once blended, return vegan queso to pan to warm and thicken over low-medium heat, stirring frequently.* Adjust salt to taste if necessary.
Serve warm.
Notes
*For a thinner or more spreadable consistency, add some more water, 2 TBSP at a time until the queso has reached desired consistency.
Prep Time:

6 minutes

Cook Time:

14 minutes

Category:

Sauces/Dips

Method:

Stovetop

Cuisine:

Tex-Mex inspired
Keywords: vegan queso, vegan cheese sauce, vegan cheese dip, dairy-free cheese dip, cashew-free cheese dip, paleo, AIP, vegan queso cheese dip