This grain-free, paleo and AIP charcuterie board offers enough sustenance is fun, bright and filling. It's an awesome appetizer and packed with enough nutrition to be a full meal. Who doesn't love a quick dinner?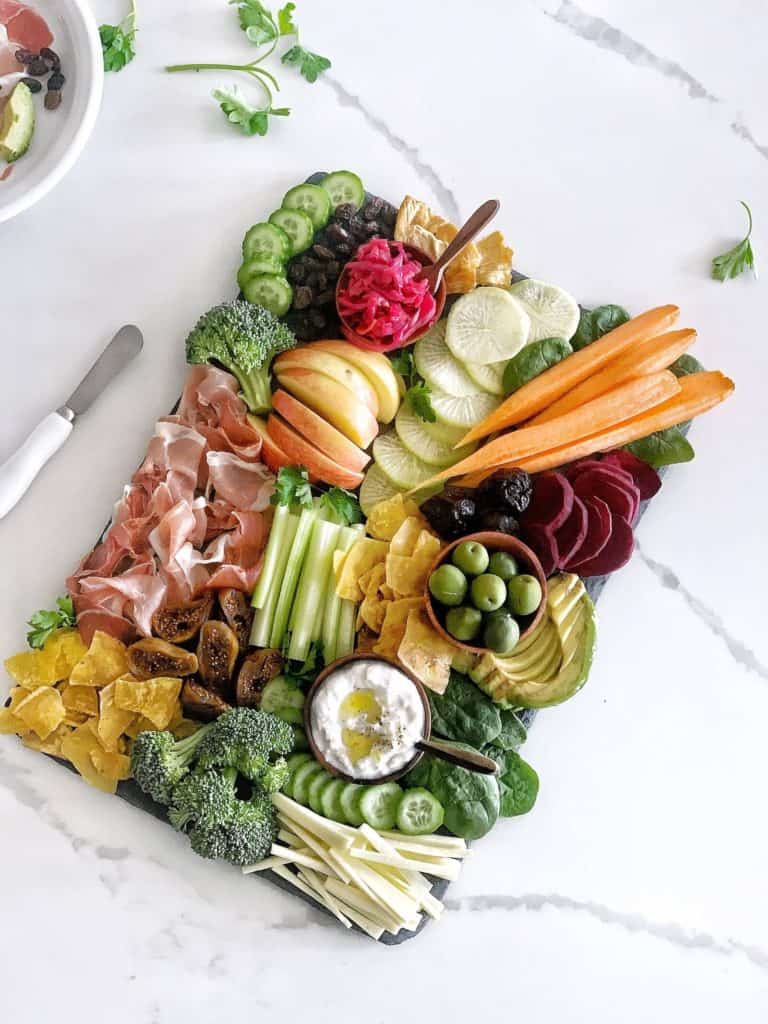 It's safe to say that charcuterie boards are crowd pleasers. Whether that crowd is your household or an actual party of friends/guests, there's usually something for everything on these boards, no matter what your dietary requirements. But these boards don't only have to be thought of as appetizers. In fact, they can be a really well-balanced meal if you include the right components. Like this delicious and filling AIP Charcuterie Board!
I threw together this board for a quick weeknight dinner and included all the veggies I had in my fridge – a couple carrots, one stalk of celery, broccoli, mini cucumbers, one beet and half of a daikon radish. I've been making my own gingery sauerkraut lately that I included for that pickled/acidic component, along with a coconut yogurt Tzatziki that was perfect for dipping.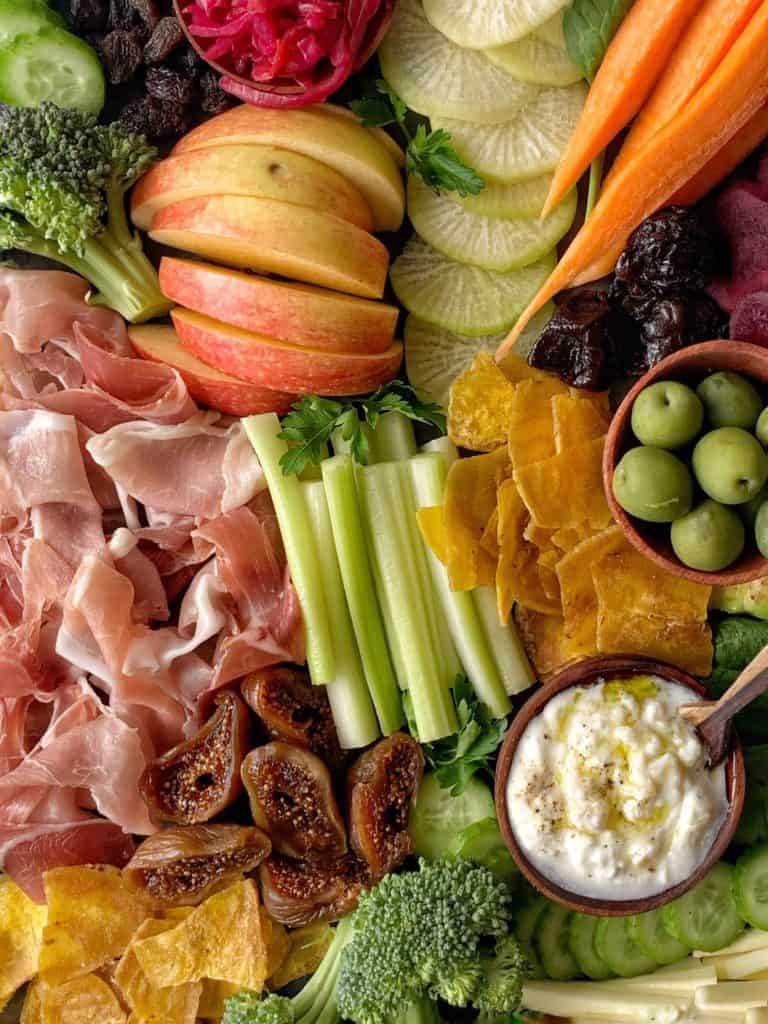 In lieu of crackers, I like using plantain chips or cassava chips. Apple chips are also great for providing a crispy, cracker-like base for your meat/dips. To tie everything together, add a protein of your choosing, a few dried and or fresh fruits and anything else your heart desires!
Here are my favourites for a filling, delicious and nutritious AIP charcuterie board sans dairy:
VEGGIES: The world is your oyster. I like to include really crunchy veggies like carrots, radishes and celery that are great for dipping. Other AIP friendly vegetables like broccoli, cauliflower, cucumbers, carrots and beets are also great for grabbing.
PRESERVES/FERMENTED FOODS: Olives are a must for me. I also love including other pickled/fermented foods like sauerkraut or pickled onions.
DIPS: pesto, coconut yogurt tzatziki (coconut yogurt, cucumber, lemon, olive oil, salt), guacamole, roasted root vegetable dip , garlic scape hummus
MEATS & FISH: Prosciutto (cured only with salt). Liver pate and cured fish like salmon or trout are also good options but be sure to check ingredients.
CRACKERS/BREAD: plantain chips, cassava chips, and/or apple chips, AIP sourdough bread, flatbreads
FRUITS: Again, almost everything works. You're not limited to the common grapes, strawberries and apples but think dried fruits like figs, pineapple, dates, prunes, apricots and/or raisins that are all amazing accompaniments to the meat/fish on your board.
Finally, it's nice to include some fresh herbs like rosemary, parsley or thyme for visual presentation. And don't be afraid to crowd things on your AIP Charcuterie Board – that also lends to the aesthetic!
If you make your own, let me know by leaving a comment and/or tagging @healmedelicious on Instagram or Facebook.