This sweet potato lasagna is grain-free, dairy-free, nightshade free, comforting and delicious. It's AIP and paleo and a great meal prep dish for a quick weeknight meal.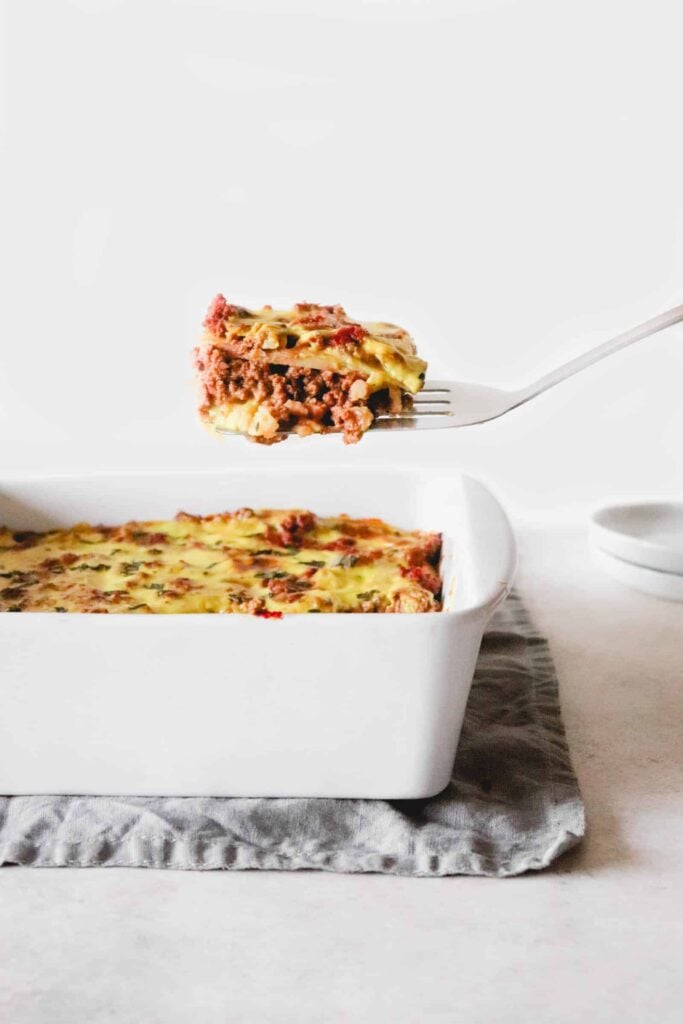 This Sweet Potato Lasagna is so good, I promise you won't miss the dairy, nightshades or gluten. It's one of my favourite hearty and comforting Fall dishes. As always, it's paleo and AIP. This recipe is made with white sweet potatoes, nomato sauce, ground beef and a thickened coconut milk for a creamy cheese-like sauce. It's a definite crowd-pleaser!
I know many of you are Sunday meal preppers and this is the perfect meal-prep dish because, as with all lasagna, it involves a few different components. If meal prepping this dish, I would recommend making your sauces and the ground beef and waiting to assemble things until the night you are ready to eat the lasagna.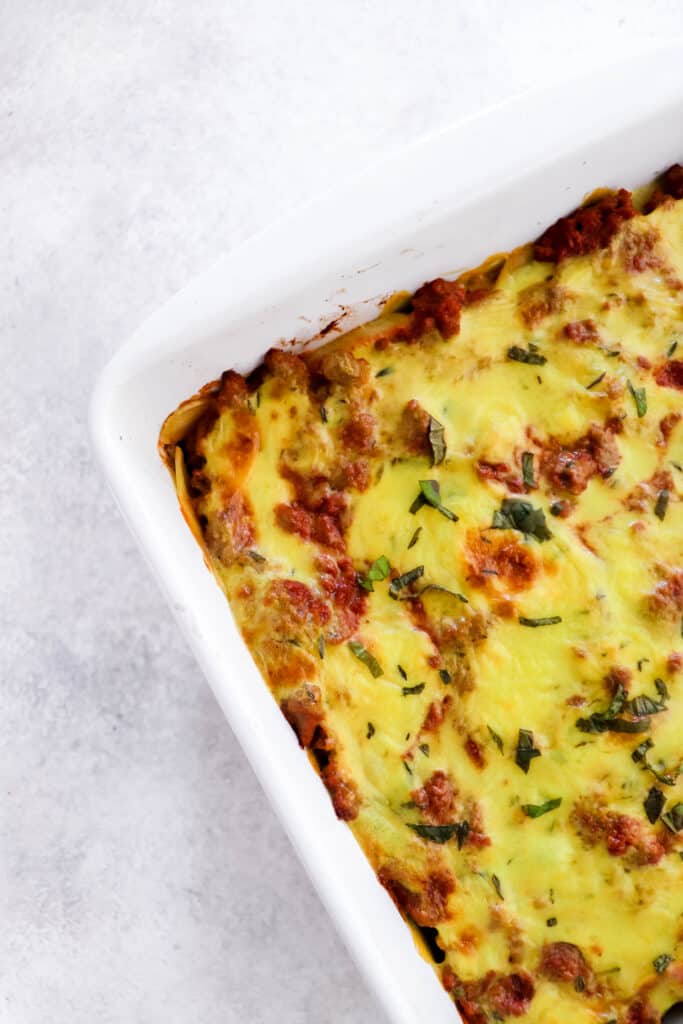 Here's what you'll need for this sweet potato lasagna:
Full fat additive free coconut milk, tapioca starch, apple cider vinegar and turmeric (optional) for your "cheese" sauce
Ground beef
Fresh Basil, Garlic Powder and Dried Thyme
1 large white sweet potato – you'll want to look for one that is both large and long so that you get the benefit of long slices of potato that mimic lasagna sheets.
Another thing I love about this dish is that you can also use the sauces you create for this recipe in other meals throughout the week. In fact, sauces are one of my favourite things to meal prep because they can add so much flavor to the simplest of quick meals for the week ahead.
Sweet Potato Lasagna FAQs
Can I use orange sweet potatoes in this recipe?
If you're new to the Heal Me Delicious blog, you should know that I am obsessed with white-fleshed sweet potatoes and almost always use them over orange ones in my recipes. Japanese Murasaki sweet potatoes have a reddish-purple skin with a white interior. Their texture is slightly dry and their flavour almost nutty.
I don't recommend orange-fleshed sweet potatoes here for two reasons:
They are much sweeter than white-fleshed sweet potatoes and can make this dish taste overly sweet when paired with the nomato sauce.
White-fleshed sweet potatoes are drier in texture and won't get as soggy when boiled, making them ideal to serve the role of pasta in this recipe.
Where can I buy white-fleshed sweet potatoes?
In Toronto and many major metropolitan cities these often are available in Asian markets and groceries, Latin American and Caribbean grocers/markets and many major supermarkets.
Can I freeze this dish?
I haven't tried freezing but if you'd like to do so, I would recommend simply slicing the sweet potatoes and layering them into the dish without boiling them. To cook, defrost for at least 6 hours in the fridge and then increase the baking time by 15-20 minutes.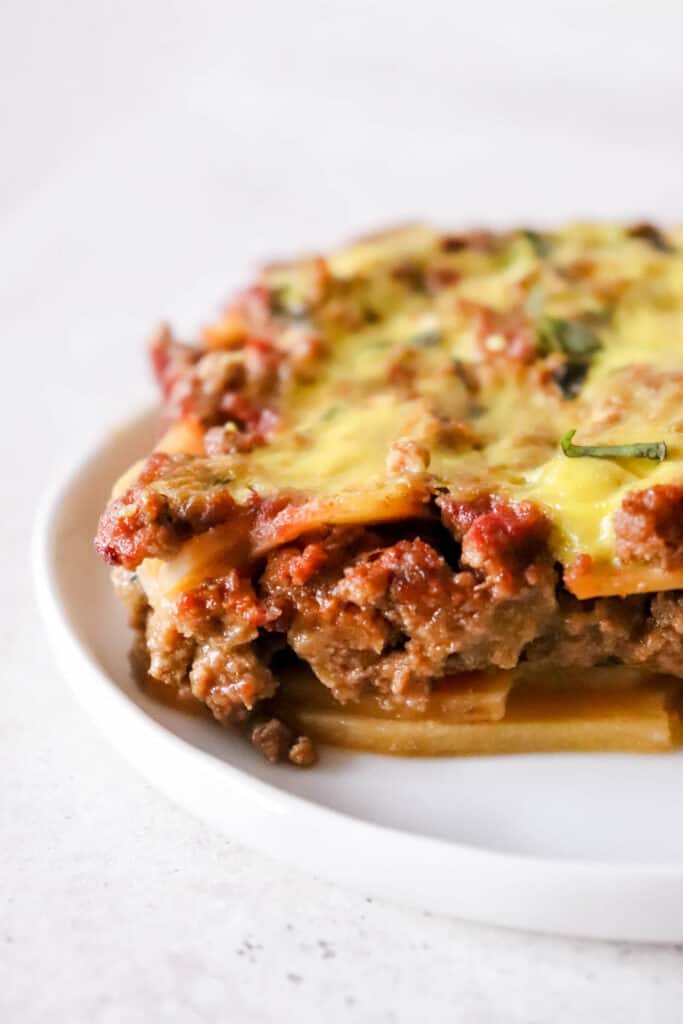 If you try this AIP Sweet Potato Lasagna I would appreciate it if you would give it a rating and short review. Also, be sure to snap a picture of the finished product and share it with me on Instagram by tagging @healmedelicious.
Print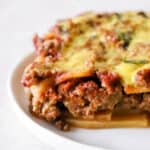 Sweet Potato Lasagna (AIP, paleo)
---
Description
This sweet potato lasagna is grain-free, dairy-free, nightshade free, comforting and delicious. It's AIP and paleo
---
Beef
1.5 TBSP

olive oil

1

pound ground beef

1/2 TBSP

fresh basil, chopped

1/2 tsp

garlic powder

1 tsp

sea salt

1 cup

nomato sauce
"Cheese" Sauce
1 TBSP

extra virgin olive oil

1/2 tsp

dried thyme

1/2 tsp

garlic powder

1/2 tsp

sea salt
pinch of turmeric (optional – for yellow colour)

1 tsp

apple cider vinegar

2 TBSP

tapioca starch +

1 TBSP

water
Sweet Potato "Pasta"
1

very large white-fleshed sweet potato*
---
Instructions
Preheat oven to 375 F and place large pot of water on stovetop to boil.
In a large skillet, heat olive oil on medium heat. Add ground beef, basil, garlic powder and salt and sauté 3-4 minutes, stirring intermittently. Next, add in nomato sauce. Lower heat and cook an additional 4-5 minutes. Remove beef from heat and set aside.
To make your "cheese" sauce, heat olive oil in a small saucepan over medium heat. Add dried thyme, garlic powder, salt, turmeric (if using), apple cider vinegar and coconut milk and bring to a low boil.
In a small bowl, mix together tapioca starch and water to make a slurry. Once coconut milk mixture has reached a rolling boil, add in slurry and whisk continuously until mixture begins to thicken. Remove from heat and set aside.
Peel your white sweet potato and use a mandolin to slice the sweet potato lengthwise into slices at least 1/4 inch thick. You don't want to make these too thin because they won't hold up when boiled.
Place sweet potato slices into large pot of boiling water for 2 minutes. You want to just slightly soften the potatoes, but don't leave them in the water too long or they will break apart. Drain sweet potato and set aside.
Assemble your lasagna in an 8 x 8 baking pan, beginning with meat sauce, followed by a layer of sweet potato and then a layer of "cheese sauce". Repeat once more.
Bake in a 375 F oven for 12 -15 minutes and broil for an additional 3-5 minutes.
Notes
* Choose a sweet potato that is not only large but long, so that when you slice your potato lengthwise you end up with long slices that resemble sheets of lasagna pasta.
Prep Time:

60 minutes

Cook Time:

20 minutes
Keywords: lasagna, sweet potato lasagna, nomato sauce, grain-free, dairy free, aip lasagna, aip pasta