These Pumpkin Chocolate Chip Muffins are super moist, fluffy, perfectly sweetened and warmly spiced. Loaded with dairy-free chocolate chips, these vegan and gluten-free pumpkin muffins are a deliciously cozy Fall treat!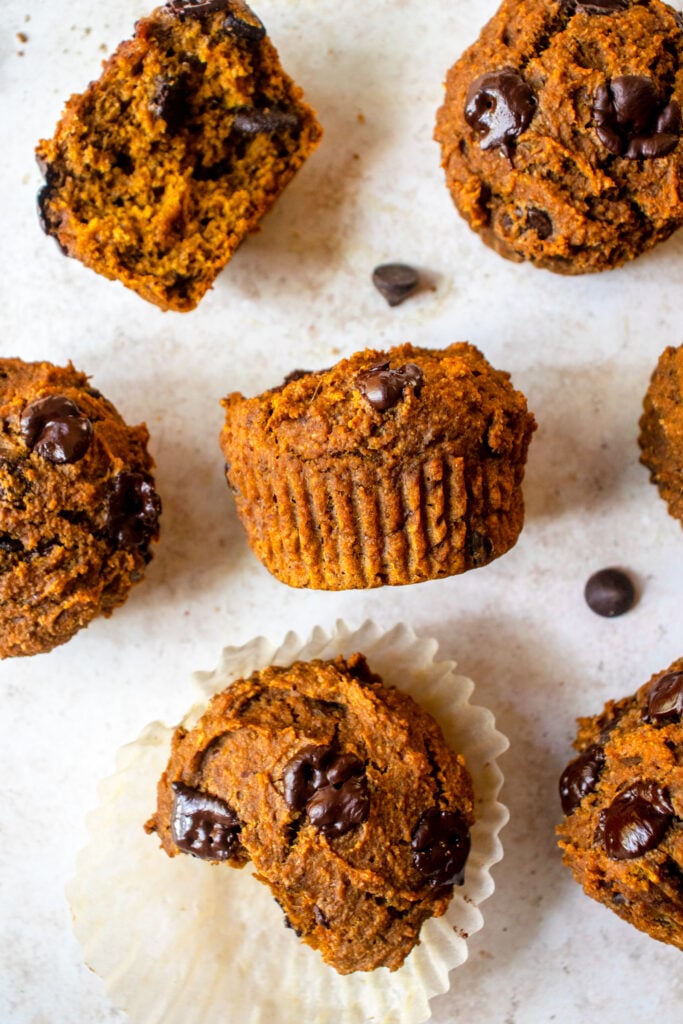 It's almost October which means one thing – pumpkin season! Bring on the pumpkin spice and Fall baking!
As the creator of an online dairy-free and gluten-free baking school, I know how difficult it is to find delicious, allergy-friendly baked goods and treats! But my easy pumpkin chocolate chip muffins recipe more than meets the mark and is one of my new favorites. It's quick to make, egg-free, nut-free, and easily coconut-free. If you love pumpkin flavor + really soft and moist muffins, these might be your new fave too!
Pumpkin Chocolate Chip Muffins (Gluten Free, Vegan)
Pumpkin purée provides the flavor base with its naturally sweet, slightly earthy and nutty taste. A medley of warm spices provides a depth of flavor – cinnamon for sweetness, ginger for some spiciness, nutmeg for a slightly nutty taste and cloves to balance the flavors with a slightly peppery pungency. This homemade pumpkin spice blend enhances the pumpkin flavor, and the muffins are sweetened naturally with unrefined coconut sugar. A little salt brings out all of the flavors.
Oat flour, combined with cream of tartar and baking soda activated by apple cider vinegar, creates the light and airy feel of these fluffy muffins. These pumpkin muffins get their extreme moisture from the purée, applesauce, and olive oil. Together with the flour, the applesauce and pumpkin purée create a soft and tender crumb. They also lend some natural binding power to these egg-free pumpkin muffins while the flax egg is the main binding agent and keeps this recipe vegan. Finally, slightly gooey dairy-free chocolate chips are studded throughout for some more sweetness and chocolaty flavor.
With their perfect balance of rich chocolaty goodness, natural sweetness, and aromatic pumpkin spice in every bite, these muffins are the essence of cozy Fall flavor! Like my gluten-free and vegan Pumpkin Scones, you can enjoy these pumpkin muffins with chocolate chips as a dessert AND for breakfast or brunch!
Recipe Ingredients
flaxseed meal
oat flour – use certified gluten-free oat flour or learn how to make your own oat flour in the Tips & Tricks section.
ginger
nutmeg
ground cloves
salt
pumpkin purée – you can use canned or homemade pumpkin purée; check the Tips & Tricks to learn how. If using the canned kind, ensure it's not pumpkin pie filling since it's already sweetened and spiced, which will affect the flavor balance.
applesauce – use unsweetened applesauce since we're adding natural, unrefined sweeteners.
olive oil
dairy-free/vegan chocolate chips – most dairy-free chocolate chips I've seen available are vegan, but you should check the ingredients to be sure.
Ingredient Substitutions
You can replace coconut sugar with maple sugar. The main difference will be the color since coconut sugar is darker than maple sugar so the muffins will be a deeper orange if you use coconut sugar.
Flaxseed meal is interchangeable with ground flaxseed.
You can also use carob chips instead of dairy-free chocolate chips if you prefer, but note that this recipe isn't AIP modifiable. (See the FAQs for more info).
How To Make Pumpkin Chocolate Chip Muffins
Step 1. Preheat the Oven and Prepare the Muffin Tin.
Preheat the oven to 350F and line a muffin tin with 10 non-stick paper liners.
Step 2. Make a Flax Egg
Whisk together the flaxseed meal with water in a small bowl or cup. Let is rest for at least 5 minutes so it thickens into a gel-like consistency. Continue with the other steps while it congeals.
Step 3. Prepare Dry Ingredients
Stir together the dry ingredients in a large bowl with a mixing spoon or whisk.
Step 4. Combine Wet Ingredients
In a separate medium-sized bowl, add the pumpkin puree, applesauce, olive oil, apple cider vinegar and the thickened flax egg and stir until well combined.
Step 5. Combine Wet and Dry Ingredients
Add the wet mixture to the center of the dry ingredients and stir well to combine fully, while avoiding overmixing the batter. The muffin batter should be quite moist yet light and fluffy.
Step 6. Fold in Chocolate Chips
Gently fold in the chocolate chips to distribute them evenly throughout the batter.
Step 7. Fill the Muffin Cups
Use a spoon or a cookie scoop to evenly distribute the batter into the prepared muffin cups. Fill them up to just below the top of the liner. Feel free to sprinkle a few more chocolate chips on the top of the batter.
Step 8. Bake
Place the muffin tin in the preheated oven and bake for 25 minutes in the middle rack of the oven, or until a toothpick inserted into the center of a muffin comes out clean or with a few moist crumbs.
Step 9. Cool and Serve
Allow the muffins to cool in the tin for about 5 minutes, then transfer to a wire cooling rack to further cool before serving.
Variations
Try some additional toppings or add-ins like pumpkin seeds, shredded coconut, or chopped nuts if you'd like! For even more chocolaty goodness, melt some chocolate chips and drizzle over the tops to make these pumpkin muffins an extra decadent pumpkin dessert.
Expert Tips & Tricks
Ensure the freshness of ingredients, especially the spices for the best aromatics and flavor, and the leavening agents for rise and fluffy texture. Using old or expired baking soda and cream of tartar may result in dense or gummy muffins since they won't rise properly.
Allow the flax egg to rest and thicken for at least 5 minutes, until it becomes a gel-like texture. It needs time to congeal to be an effective binder for these vegan muffins.
If you're making your own oat flour, ensure the oats are finely ground and sifted to achieve the best texture. Sifting the flour is particularly important to achieve a smooth batter to create the ideal texture for these muffins. If the flour is too course or gritty the texture will be affected. (See more below).
If you use homemade pumpkin purée you may need to drain off some liquid. Although these muffins are quite moist, excess moisture can result in really dense, heavy muffins, whereas these muffins are soft and fluffy. (See more below).
Wet ingredients like the pumpkin purée and applesauce should be at room temperature rather than very cold, so they mix easily and evenly.
Avoid overmixing the batter to maintain a light and fluffy texture for the muffins.
Check for doneness with a toothpick test. They're ready if the toothpick comes out clean. A few moist crumbs is also fine. You don't want to these muffins to dry out by over-baking them.
As with all gluten-free baked goods made without eggs, let the muffins cool properly so they fully set and don't crumble. However, reheating them slightly before serving really enhances the texture and brings out the flavor.
Homemade Pumpkin Purée
Typically I use canned pumpkin purée for its convenience when I'm baking one-off pumpkin desserts, but it's really simple to make it yourself.
Start with a ripe, fresh pumpkin. I like the sugar pumpkin variety and pie pumpkins also work well. These are smaller, sweeter and are ideal to use for baking, but don't use your typical Halloween carving pumpkins.
Cut the pumpkin in half and scoop out the seeds and stringy parts.
Roast the pumpkin pieces skin side down on a baking sheet in the oven at 375F for 45-60 minutes. Or, steam them over boiling water for 20-30 minutes or until the flesh is tender and can be pierced with a fork easily.
Let the pieces cool a bit before scooping out the flesh. Discard the skins.
Blend or pulse the pumpkin flesh in a blender or food processor, or mash until it becomes smooth and creamy.
Strain excess liquid in a cheesecloth or with a fine mesh strainer.
Pro Tip: Batch cook this and store in the fridge for 1 week or in the freezer for up to 3 months. That way you'll always have homemade pumpkin purée on hand to make these muffins and other dairy-free and gluten-free pumpkin desserts and treats like my Paleo Pumpkin Pie, these Vegan Pumpkin Pancakes or my Pumpkin Spice Cake Donuts.
How to make oat flour
I always make my own oat flour because it's so quick and easy!
Firstly, ensure you use certified gluten-free oats, any type of oats will work. However, steel-cut oats are denser and can create a grittier flour, so will require more blending and sifting than rolled or quick oats.
Add the oats to a high-powered blender or food processor and blend or pulse until it becomes a smooth, fine powder or flour-like consistency.
Then, sift the blended oats well with a flour sifter. You may need to do this a few times to attain a finely ground flour.
Lastly, always measure the required amount of oat flour after sifting.
For this gluten-free pumpkin muffin recipe, I blended about 2.5-2.75 cups of gluten-free rolled oats in my Vitamix. After sifting thoroughly it yielded 2.5 cups of oat flour.
Frequently Asked Questions
Can I make these dairy-free and gluten-free pumpkin muffins AIP compliant?
These muffins contain oats, nutmeg, and flaxseed meal. These grains and seeds are eliminated in the first stage of the AIP diet. I haven't tested this recipe with grain-free flours or a gelatin egg so I cannot recommend any modifications to make it AIP-compliant. For moist and fluffy AIP and paleo pumpkin muffins, try my Pumpkin Banana Muffins!
Can I substitute the flax egg with regular eggs?
I have not tested with regular eggs myself but would 'guesstimate' two small eggs could work.
Storage Instructions
Room Temperature: Once fully cooled, store these muffins in an airtight container on the countertop for 2-3 days. In warm temperatures the chocolate chips will begin to melt, so you may prefer to refrigerate these muffins.
Fridge: Store fully cooled muffins in an airtight container or resealable bag in the refrigerator for up to 1 week. Reheat in the microwave or oven.
Freezer: Store muffins in an airtight freezer-safe container or resealable bag for 2-3 months. Reheat in the microwave or oven.
If you loved this Gluten Free Pumpkin Chocolate Chip Muffins recipe I would appreciate it if you would give it a rating and review. Be sure to snap a picture of the finished product and share it with me on Instagram by tagging @healmedelicious and using the hashtag #healmedelicious.
Print
Pumpkin Chocolate Chip Muffins Recipe (Gluten Free, Vegan)
---
Description
Moist and fluffy Pumpkin Chocolate Chip Muffins are perfectly sweet with warm pumpkin spice! Studded with dairy-free chocolate chips, this vegan and gluten-free pumpkin muffin recipe makes a delicious and cozy Fall treat!
---
---
Instructions
Preheat oven to 350F and line a muffin tin with non-stick paper liners.
In a small bowl or cup, make a flax egg by combining flaxseed meal and water. Whisk together with a fork and set aside to let thicken and congeal for at least 5 minutes.
In a large bowl, combine oat flour, cream of tartar, baking soda, cinnamon, ginger, nutmeg, ground cloves, sea salt, and coconut sugar.
In a medium-sized bowl, combine pumpkin puree, applesauce, olive oil, apple cider vinegar and flax egg.
Make a well in the center of the dry ingredients and pour in the pumpkin puree mixture.* Stir until fully combined into a batter without overmixing.
Gently fold chocolate chips into the batter.
Use a cookie scoop or spoon to evenly distribute the batter into the prepared muffin cups.**
Bake the muffins in the middle rack of oven for 25 minutes.
Allow muffins to cool in the muffin tin for a few minutes before transferring them to a wire rack to cool completely before eating.
Notes
*Use a spatula to help scrape all of the wet ingredient mixture into the bowl of dry ingredients.
**Add a few more chocolate chips to the top of the muffins if you'd like.
Prep Time:

10 minutes

Cook Time:

25 minutes

Category:

Breakfast/Desserts

Method:

Baked

Cuisine:

American
Keywords: pumpkin chocolate chip muffins, pumpkin muffins, vegan pumpkin muffins, gluten-free pumpkin muffins, pumpkin spice, pumpkin desserts, gluten-free dairy-free desserts, fall treats, fall baking