This rustic vegan, paleo and AIP sourdough bread is made with a blend of grain-free flours and white sweet potato mash. It's gluten-free, nut-free, and so good!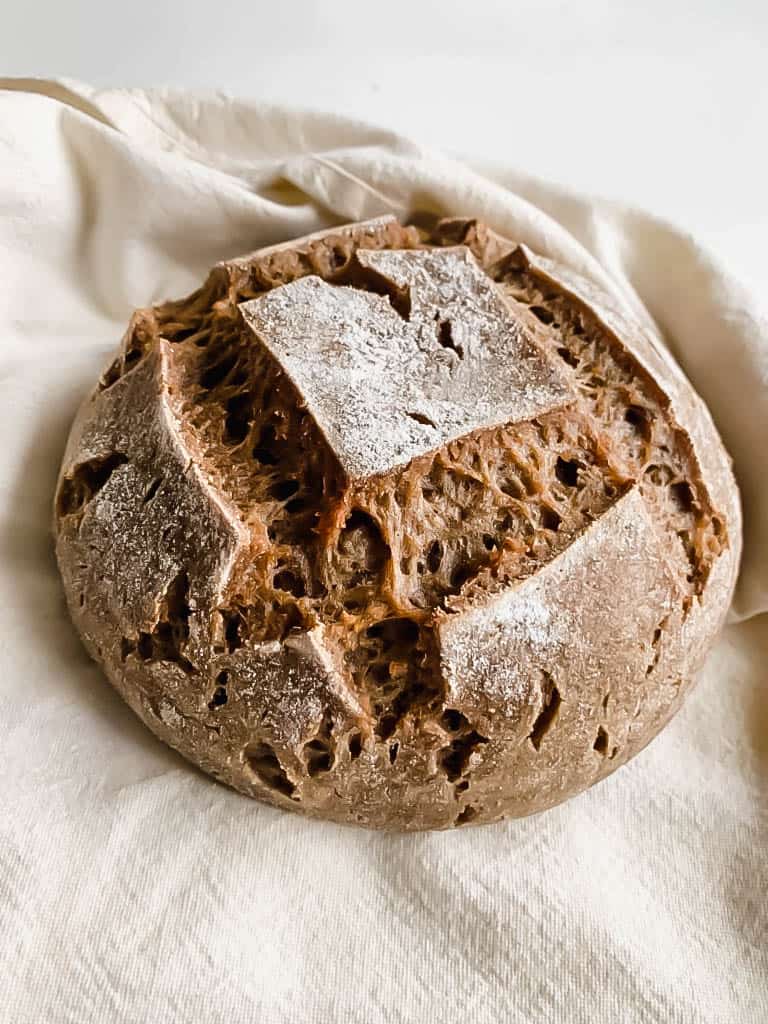 I've joined the sourdough baking craze with this grain free, AIP sourdough bread!
AIP friends, do you remember the last time you bit into a delicious piece of fresh sourdough bread? Not AIP Irish soda bread or flatbread (both delicious in their own right), but the real deal? I'm talking warm, soft bread with a great depth of flavour and a good crust.
Well, I've got you covered with this AIP Sourdough Bread recipe. It's totally AIP-approved: grain-free, nut-free, vegan, gluten-free, egg-free and 100% delicious.
After scouring the internet for recipes, tips and tricks on AIP-sourdough bread, I had very little luck. While there are tons of gluten-free sourdough recipes, most have nuts and/or eggs, making this a problem for those of us following AIP lifestyles.
I'm so happy to share a contribution to the internet archive!
There's something so satisfying about creating wild yeast out of just two ingredients, feeding it everyday, and watching it bubble and bloom. Getting the AIP starter going does take time and is likely the most challenging part of the process, but it's worth it.
With a little love, and a week's worth of your time, your starter will be the gift that keeps on giving. If you're anything like me, you might even enjoy the process of keeping this baby alive!
Baking your Grain-free, AIP Sourdough Bread
Once your grain-free sourdough starter is active and ready, you are ready to begin the baking process.
Begin by mixing the ingredients into a shaggy dough and allowing it to rest for two hours.
After shaping the dough, let it proof for at least 8 hours before baking.
Once out the oven, allow your bread to cool fully for at least 2 hours before cutting in to it. This part is key!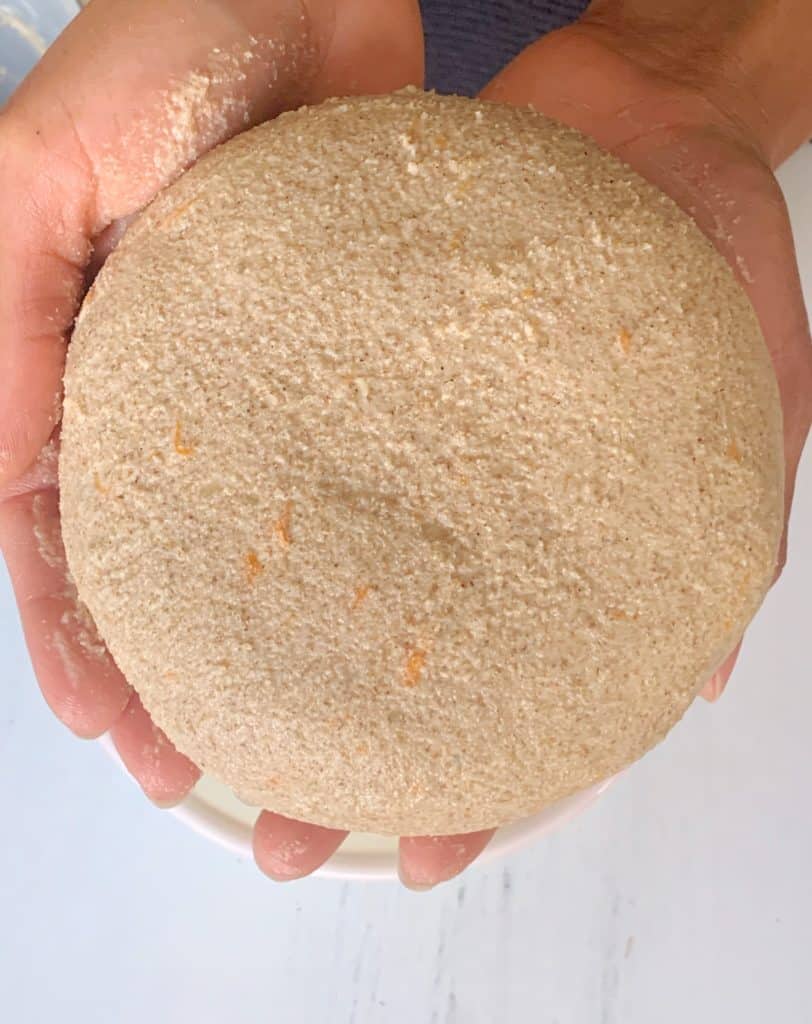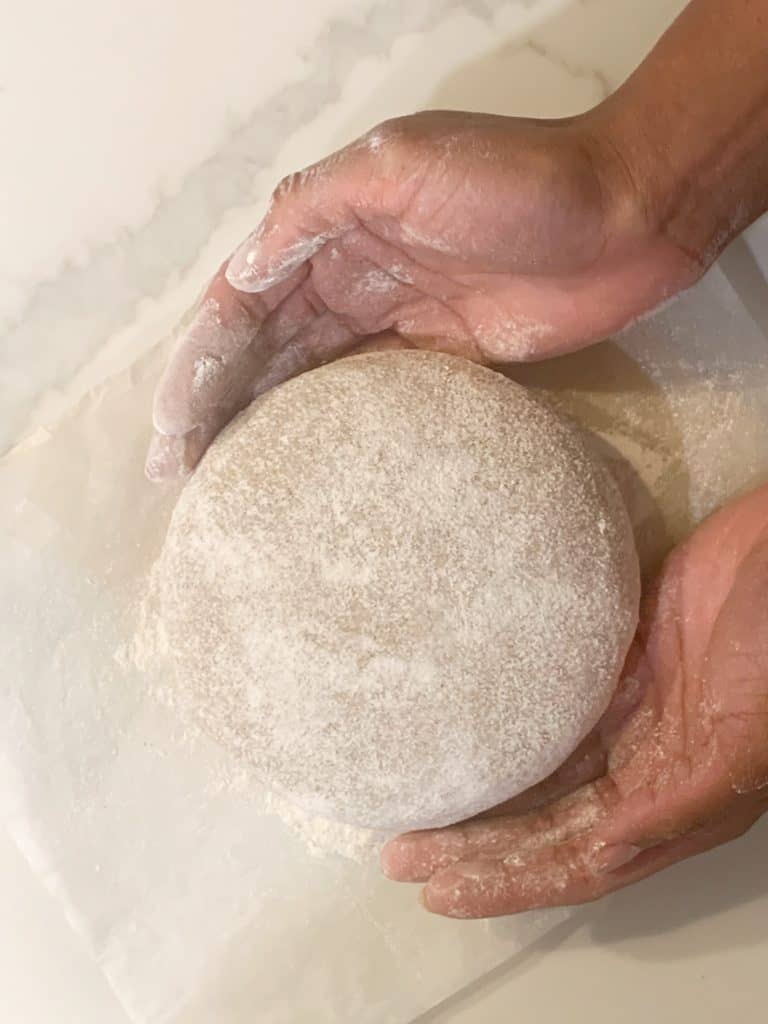 This AIP bread has a wonderfully crispy crust and a tender and soft crumb.
It won't be like bread made with gluten, but it is super moist and soft and holds together well. It is also slightly sweet because of the white sweet potato mash as well as the tigernut flour.
Helpful Tips
Your sourdough starter
Ensure your starter is well-fed and active before baking.
Sometimes despite the best laid plans, your starter might not be ready to bake when you are. "Listen" to the starter and only bake if it's actively bubbling and there is a clear sweet/sour smell to it. If your starter isn't active, your bread will not rise.
In my experience, 5 – 6 hours after feeding my starter it will be very active, slightly domed/puffy on top, and only then will I mix my dough.
Creating steam
Ensure your oven and your dutch oven have preheated to 450F for at least 45 minutes before attempting to bake.
Preheating your dutch oven with the lid on is super important for creating steam, and steam helps your bread rise.
If you'd like to create some extra steam, you can throw a couple cubes of ice into the baking tray that I recommend placing on the rack beneath the dutch oven (see notes).
Looking for troubleshooting tips and more information on AIP Sourdough baking?
Check out my complete AIP Sourdough Baking Guide and Grain Free Academy – my self-paced grain-free baking school that takes the stress out of allergen-friendly baking.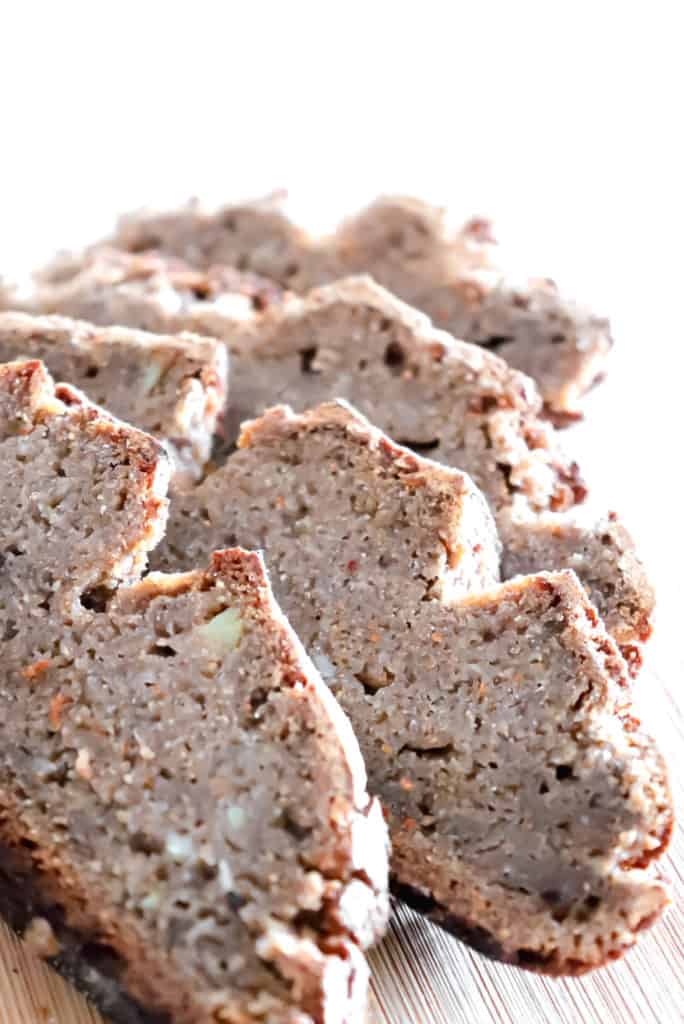 Grain-free, AIP Sourdough Bread Recipe FAQs
Must I use white sweet potato?
In this recipe I recommend making your mash using either white sweet potato or Japanese Murasaki sweet potatoes. These similarly have a reddish-purple skin with a white interior. The texture of these sweet potatoes is drier and starchier than others.
Orange-fleshed sweet potatoes can get too soggy/watery (especially when boiled), and you don't want that in your bread. That said, if you only have access to orange sweet potatoes, I would recommend baking them first rather than boiling them before mashing.
Can I use sweet potato flour in place of the sweet potato mash?
The sweet potato mash adds some moisture and binding in this recipe, so a flour substitute is unlikely to work in the same way.
I don't have a Dutch oven. Can I still make this vegan, paleo sourdough bread?
I recommend a dutch oven for this recipe and have suggested this one here. This doesn't have an enamel bottom and so can be preheated at a high temperature.
In lieu of a dutch oven, I would suggest using a cast iron pan or pizza stone. To create steam, you can fill a small oven-safe baking dish with ice or with water (~1 cup). Place it in the oven on a rack directly under your cast iron pan/ pizza stone 5-10 minutes before you place your bread in the oven.
Looking for more AIP Sourdough Recipes and tips ? You might also enjoy:
Try these other fluffy, grain-free, paleo/AIP bread recipes:
If you tried this recipe, I would appreciate it if you would give it a star rating and short review. Also, be sure to snap a picture of the finished product and share it with me on Instagram by tagging @healmedelicious and using the hashtag #healmedelicious.
Print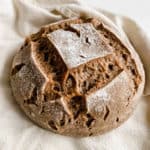 AIP Sourdough Bread (paleo, vegan, grain-free)
---
Description
This rustic grain-free, AIP sourdough bread is made with a blend of grain-free flours and white sweet potato mash. *This recipe was updated on May 22, 2020.
---
---
Instructions
In a large bowl, add filtered water, oil, honey, well-fed sourdough starter, white sweet potato mash and apple cider vinegar. Stir until combined.
In a separate bowl, sift together cassava flour, tapioca starch, green banana flour, tigernut flour and salt.
Add dry ingredients to wet ingredients, stirring well to ensure all flour is incorporated into a shaggy dough. Dough should be tacky but not wet and shouldn't impart on your fingers too much – add more tigernut flour by the TBSP until this consistency is achieved.
Cover with kitchen towel and set aside for 1.5-2 hours.
Dust a towel-lined bowl with cassava flour.
After 1.5-2 hours, dough should feel quite spongy and moist. Be gentle with it and try not to over-manipulate/deflate as you shape into a round/boule about 5 – 5.5 inches in diameter. Dipping your hands in water if necessary, smooth out the surface of the bread.
Place the shaped and smoothed dough into the towel-lined and floured bowl and cover with towel/plastic wrap.
Place the covered dough in the refrigerator for 8 hours (or overnight up to 12 hours). It should rise about 1/2 – 3/4 inch. After this time, take dough out the fridge and allow time for it to warm a bit before the next step.*
45 minutes before baking, place an empty Dutch oven into the oven and preheat to 450 degrees F.
While oven preheats, cut a piece a parchment paper slightly larger than your dough and transfer dough to paper.
Lightly dust the dough once more with flour and score the top using a lame, scissors or a sharp knife.**
Remove dutch oven from the oven and carefully lower your dough into the very hot dutch oven. Cover and place in oven.***
Bake covered for 30 minutes.
At the 30 minute mark, remove lid and bake for another 30-35 minutes or until internal temperature is 195°F.
Resist the temptation to cut into the bread and allow to cool fully for 2 hrs before slicing.
Notes
* You might notice that your dough has cracked/split open a bit during the proofing process due to the moisture and lack of gluten that forms that smooth elastic surface on dough and keeps the bubbles inside. If this happens, simply wet your hands again and gently smooth the dough in an attempt to reduce further cracking while baking. Scoring your bread also helps direct the flow of air and expansion and so helps prevent further cracks.
**For more on scoring see this tutorial.
*** I like to place a baking sheet on the rack below my dutch oven once I place the bread in. This prevents the bottom of the bread from absorbing too much heat and browning too fast. Just before baking, I add a few cubes of ice to the baking sheet to create more steam that helps the bread rise.
Prep Time:

10 hours

Cook Time:

60 minutes

Category:

Bread

Method:

Baking
Keywords: grain-free, bread, sourdough bread, aip bread, grain-free sourdough