This Grain-free Sourdough Starter is AIP, paleo and vegan. It's made using green banana flour and ready in about 7 days depending on the warmth of your environment (more on this below).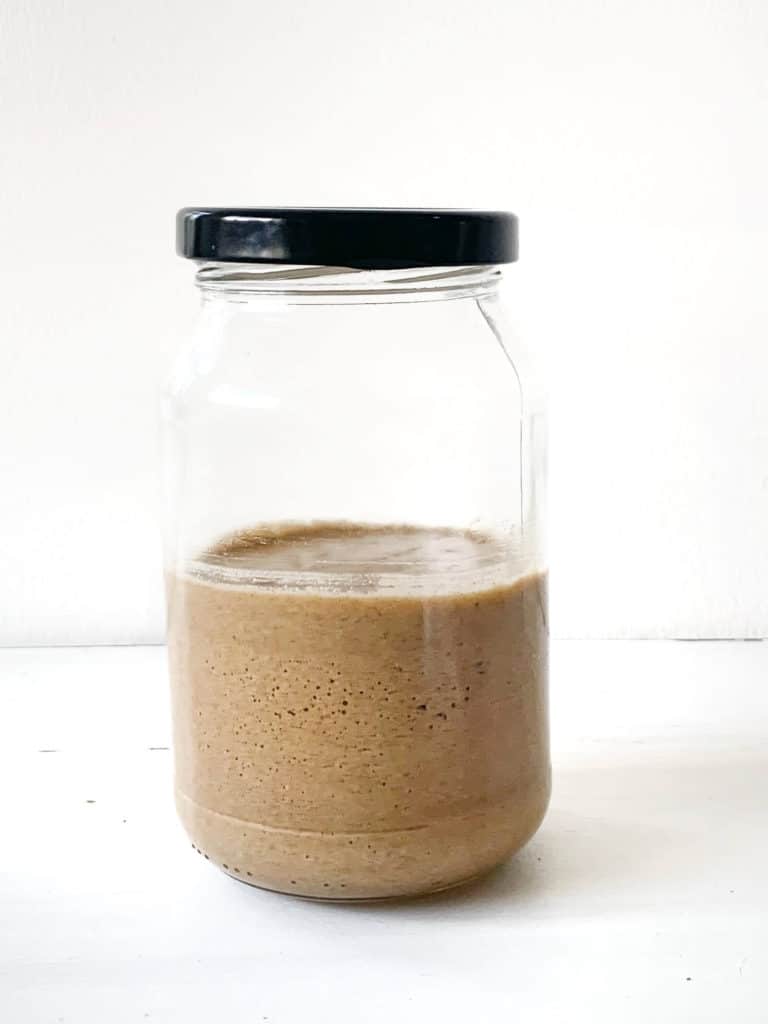 Even when following a recipe exactly, there are so many factors that can influence your starter. From the absorbency of your flour and the temperature of your environment, to the level of chlorine in your water, there are lots of things at play.
That said, you are going to have to employ a bit of intuition throughout this process while following these guidelines set out here. For example, when you begin your starter, you initially want the flour to be fully absorbed by the water into a thick, just pourable paste. Depending on the brand of green banana flour you use, you might need to add more water than I've recommended to achieve this consistency.
Growing your starter
While you are growing your starter, the ideal temperature is about 68°F to 80°F. If your kitchen is cooler than this, your starter will grow more slowly.
At the above temperature, your starter should be ready to use in about a week, and should have a yeasty, slightly sweet and sour smell, and be light and bubbly beneath the surface. See pictures below.
In my original recipe for this grain-free sourdough starter I only fed my starter once a day. That worked really well, but after experimenting further, I've found that feeding my starter twice a day (morning and night) really increases the oven spring on my bread and so I've updated this recipe to include feedings twice a day. Where I note Morning & Night, it means you're going to do this step twice (e.g. at 8am and 8pm).
How to use your starter
In addition to AIP sourdough bread, you can use your starter for pancakes, donuts and anything else you might typically use yeast in. Your discarded starter also provides a wonderful flavour to other baked goods like flatbreads and brownies, without necessarily providing them with the rise.
Storing your starter
Once your starter is active and ready you have two options for storing:
Keep it on the kitchen counter away from direct heat and maintain regular feedings.
Keep it in the back of/ very cool part of your fridge. This option is great if you aren't planning to use your starter every day. A starter stored in the fridge will require feedings (and discards) about once a week to maintain it. I typically discard 1/2 cup and then feed with 1/2 cup of flour and 1/2 cup water. After feeding, leave the starter out at room temperature for a few hours until it gets puffy and expands, then cover it and place back in the fridge.
What other flours can I use to make my starter?
I didn't have luck personally with cassava flour. I haven't tried using tigernut flour, but suspect that it might work similarly to green banana flour. Ultimately, I went with green banana flour as it's one of the most affordable grain-free flours, and you do go through quite a lot of flour during the feeding process.
Looking for troubleshooting tips and more information on AIP Sourdough baking?
Check out my complete AIP Sourdough Baking Guide for purchase.
Print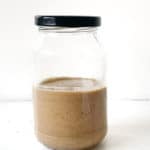 Grain-free Sourdough Starter
---
Author:

Total Time:

7 days
Description
*This recipe was updated on June 9, 2020*
Where I note Morning & Night, it means you're going to do this step twice (e.g. at 8am and 8pm).
---
---
---
Notes
Your starter should be ready to bake with after one week assuming you are keeping it in a relatively warm place throughout its growth process. Because this is a grain-free starter it won't look like a typical sourdough starter, but should still have a yeasty, slightly sweet and sour smell and be light and bubbly beneath the surface. This will give you the indication that your starter is active and ready to be used. If at any point in the process you notice any indication of mold, dump and start over.
Keywords: grain-free sourdough starter, AIP sourdough starter
This post contains affiliate links.
If you try this recipe I would appreciate it if you would give it a star rating and short review! Also, be sure to snap a picture and share it with me on Instagram by tagging me @healmedelicious and using the hashtag #healmedelicious.