These Easy Vegan Gluten-Free Biscuits are soft, light, tender and fluffy. Make these herbed AIP/paleo drop biscuits in under 30 minutes, for a quick and delicious dinner side to enjoy for the holidays or at anytime!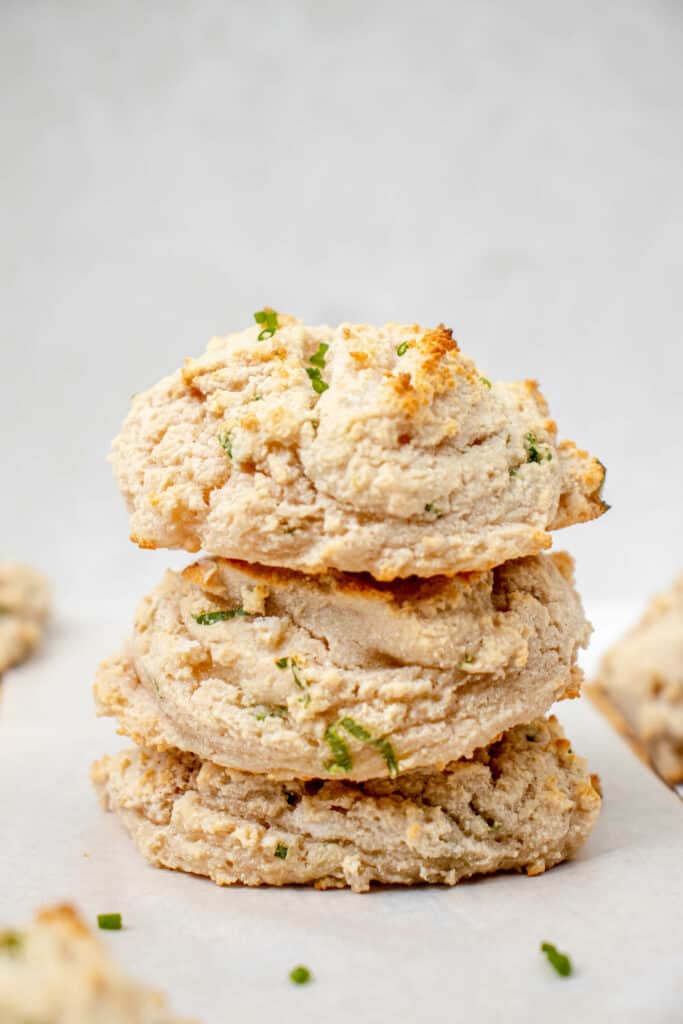 This post is sponsored by Bob's Red Mill. Products used in this recipe were sent to me by Bob's and the opinions and text are all mine.
Freshly baked, warm and soft breads – especially biscuits – are so comforting and delicious. The smell, the taste, the texture – YUM!
Finding great bread baked without dairy, eggs, or grains, that doesn't compromise on taste or texture, can be really difficult!
That's why I'm so excited to share my simple and quick recipe for Easy Vegan Gluten-Free Biscuits, just in time for the holidays! This healthier spin on drop biscuits caters to many dietary requirements so that all eaters can partake and enjoy this delicious holiday side.
If you'd like to learn more about how to create grain-free, egg-free, nut-free and dairy-free breads, check out Grain Free Academy's The Bread Course.
You'll love these Vegan Gluten-free Biscuits because they're:
These gluten-free, vegan drop biscuits are a great addition to any meal and they're sure to be a hit at your next holiday gathering!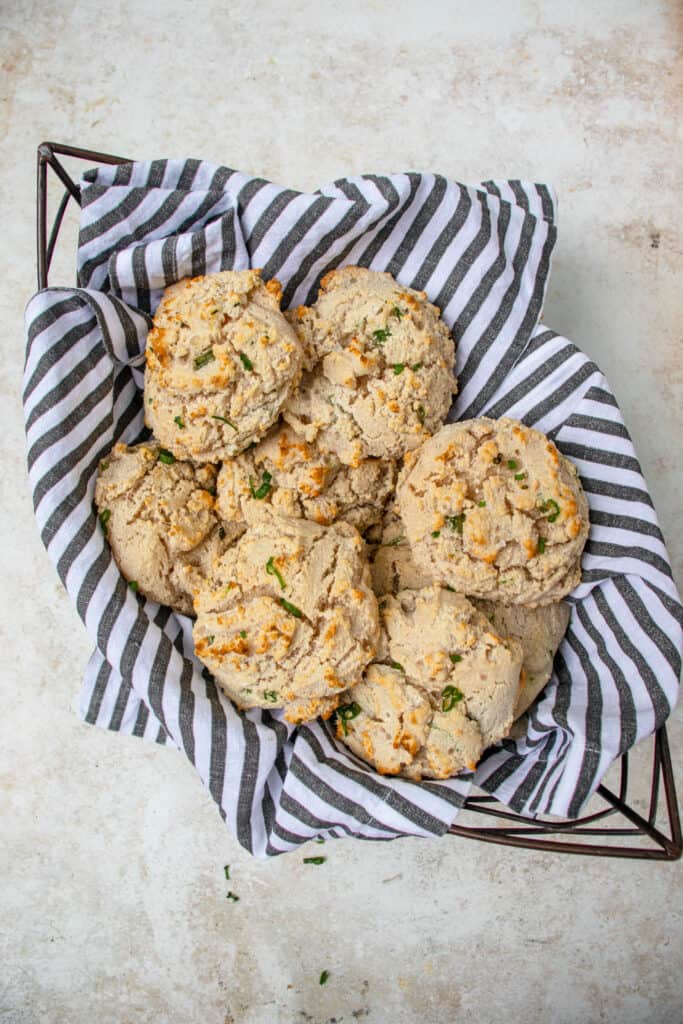 what are drop biscuits?
Drop biscuits are a type of quick bread that have more liquid in its dough than rolled biscuits. The dough's texture is softer, wetter and more runny than traditional rolled biscuits.
Since the dough is moister, it cannot be kneaded, rolled out or cut out. The batter is simply 'dropped' from a spoon onto a baking sheet or pan and then baked.
The dough doesn't require much manipulation and there's no rolling or cutting, so these biscuits are really fast and easy to make. Drop biscuits have a beautiful freeform shape and textured exterior.
They're quick, rustic and delicious!
here's what you'll need to make these easy vegan and gluten-free biscuits from scratch:
how to make homemade drop biscuits without eggs or dairy
It's really easy! Follow these step by step instructions to make the best, quick and easy egg-free, dairy-free, and gluten-free biscuits:
First, preheat your oven to 450F and line a baking sheet with parchment paper.
Second, combine the dry ingredients in a large bowl.
Then, in a separate bowl, combine coconut milk, coconut yogurt and maple syrup.
Next, add the wet coconut mixture to the dry ingredients.
Gently fold in the apple cider vinegar, carbonated water and chopped herbs.
Then, scoop and drop the batter onto the lined baking sheet. Top with additional herbs and flaky salt (optional).
Finally, bake in the middle rack of the oven until the tops are golden brown, about 13 minutes.
Allow to cool fully before serving. First, let the biscuits cool on the baking sheet for a few minutes. Then, transfer the drop biscuits to a cooling rack to cool further before eating.
tips for making vegan, gluten-free drop biscuits with the best taste and texture
You want to make sure your drop batter is optimal to get soft and fluffy biscuits that are lightly golden and crispy on the outside. Follow these tips for the best results!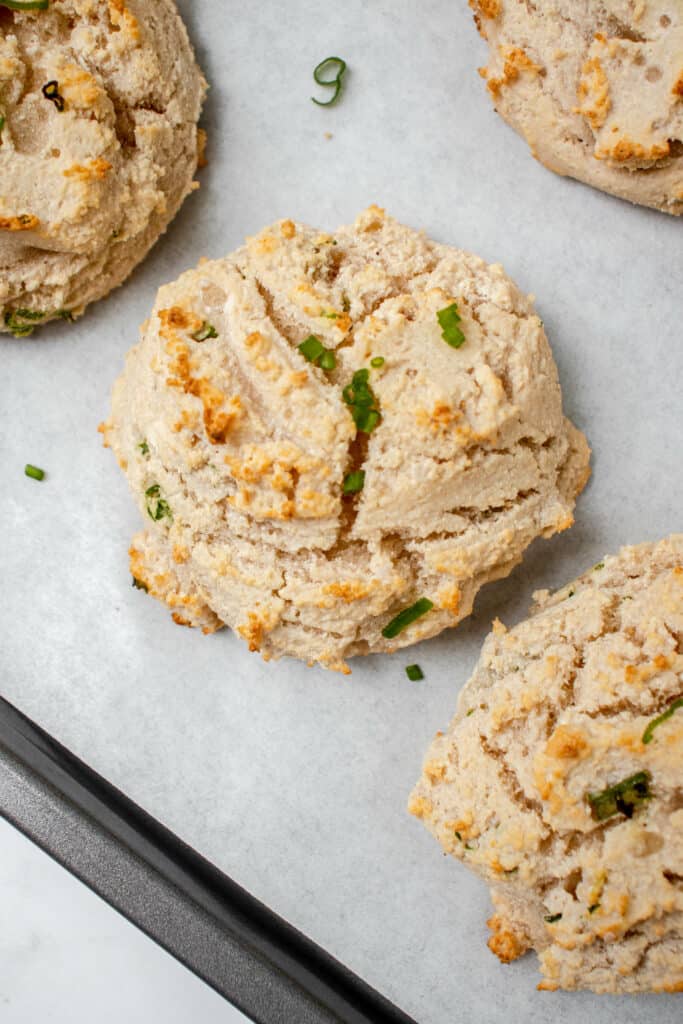 easy vegan gluten-free biscuits FAQs
can i make any changes to the flour combination?
These vegan biscuits are made with a specially customized blend of grain and gluten free flours to achieve the perfect consistency and texture. I don't recommend any substitutions to this flour combination. If you want to learn more about combining grain-free flours, check out my Secrets to Grain-free Baking Guide.
can i make these without coconut?
No, the coconut flour, coconut milk and coconut yogurt are all integral to the biscuits' texture and moisture. If you're looking for a coconut-free bread, try my vegan and grain-free AIP/paleo Sourdough Bread.
can i make any other ingredient substitutions?
I don't recommend any replacements in this recipe except for the optional chives. You can use any herbs that you'd like!
what can I eat with these savory vegan drop biscuits?
These herb biscuits are the perfect accompaniment to hearty holiday meals and quick weeknight dinners alike!
Pair them with soups, stews and chilis like this Turkey & Kale Soup, Nightshade-free Paleo Chili, Trinidadian inspired Beef Stew or this BBQ Pulled Pork.
They go well with mains like this One-pan Chicken Thighs with Apples, some greens like this Roasted Beet and Citrus Salad and alongside veggie dishes like these Crispy Brussels Sprouts.
Also check out AIP Holiday Eats for more great accompaniments to these biscuits.
how do I store them?
These are definitely best eaten fresh! You can store any leftovers in a sealed container on a countertop for up to 3 days or in the fridge for a bit longer. Remember to toast or reheat them in the oven before serving.
can i freeze these vegan gluten-free biscuits?
Definitely! You can freeze these in a resealable freezer bag or freezer safe container. Try thawing them at room temperature for a bit, then reheat them in the oven or microwave before serving!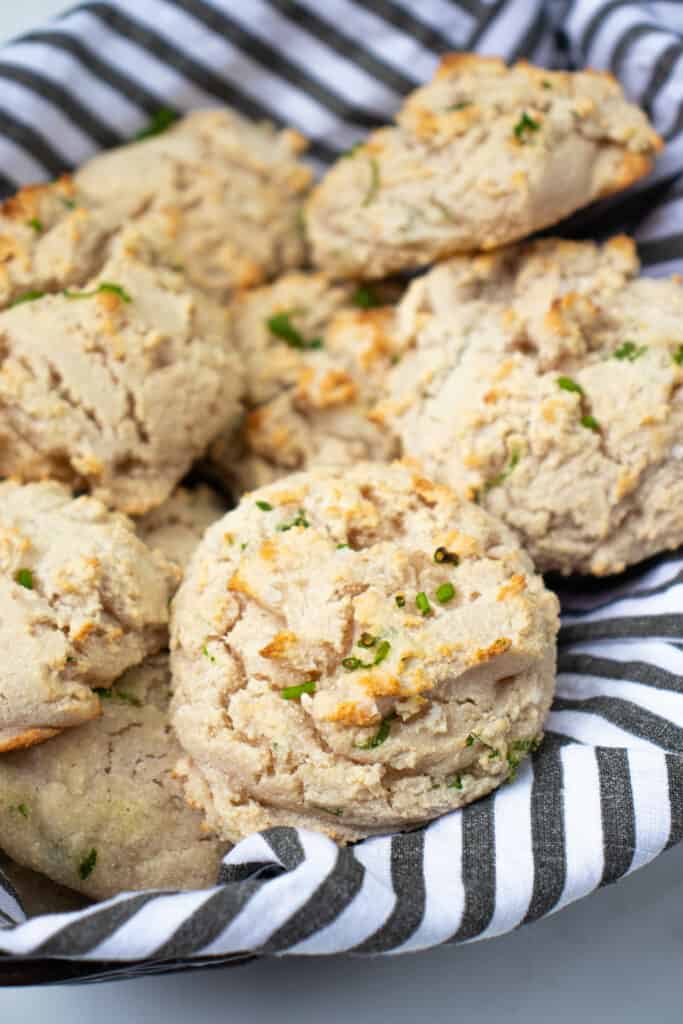 If you try these Easy Vegan Gluten Free Biscuits, I would love it if you would give it a star rating and short review. Also, be sure to snap a picture of the finished product and share it with me on Instagram by tagging @healmedelicious and using the hashtag #healmedelicious.
here are some more delicious grain-free, AIP/paleo holiday sides you'll love:
you might enjoy these other gluten and grain free aip/paleo breads:
Print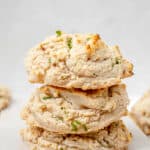 Easy Vegan Gluten-Free Biscuits (AIP/paleo, Dairy-free, grain-free, nut-free)
---
Description
These Easy Vegan Gluten-Free Biscuits are soft, light, tender and fluffy, and the most delightful AIP/paleo, grain-free and dairy-free drop biscuits! Ready in under 30 minutes, they're a quick and delicious dinner side to enjoy for the Holidays or anytime!
---
---
Instructions
Preheat oven to 450F and line a baking sheet with parchment paper.
In a large bowl combine cassava flour, coconut flour, tapioca flour, cream of tartar, baking soda and sea salt and set aside.
In a separate bowl combine coconut yogurt, full fat coconut milk, and maple syrup.
Make a well in the centre of the dry ingredients and add in the coconut milk mixture.
Finally, gently fold in the apple cider vinegar, freshly carbonated water and finely chopped herbs. Batter should be extremely light and fluffy. DO NOT OVERMIX or you will change the texture of the batter and thus the biscuits.*
Let batter sit and rest for 2-3 minutes to continue to absorb liquid.
Use a 1/3 cup measuring cup to mound the dough onto the prepared baking sheet, spacing biscuits at least 1 inch apart.
Sprinkle the top of each biscuit with flaky salt (if desired).
Bake in middle rack of oven for 13 minutes or until the tops are golden brown.
Remove from oven and allow to cool 5 minutes. Transfer to a cooling rack using a spatula and allow to cool 10-15 minutes further. They will "set" in this time, so resist the urge to break into them before then so the texture will be nice and fluffy.
Notes
* Refer to the video to see the texture of the batter before baking.
Cook Time:

13 minutes

Category:

Breads/Sides

Method:

Baked

Cuisine:

American
Keywords: drop biscuits, vegan drop biscuits, gluten-free drop biscuits, grain-free baking, aip, paleo, dairy-free, breads, quick breads, sides, holiday sides, thanksgiving sides, christmas sides, egg-free, nut-free, vegan herb biscuits, gluten-free baking, top 8 free, allergy-friendly, vegan biscuits, dairy-free biscuits, aip biscuits, paleo biscuits, easy bread, easy biscuits, easy recipe, side dish, vegan side dish