This post contains affiliate links.
These Pumpkin Spice Cake Donuts are soft, moist and chewy. They're baked instead of fried and topped with a delicious maple-coconut glaze. They're AIP, paleo and vegan!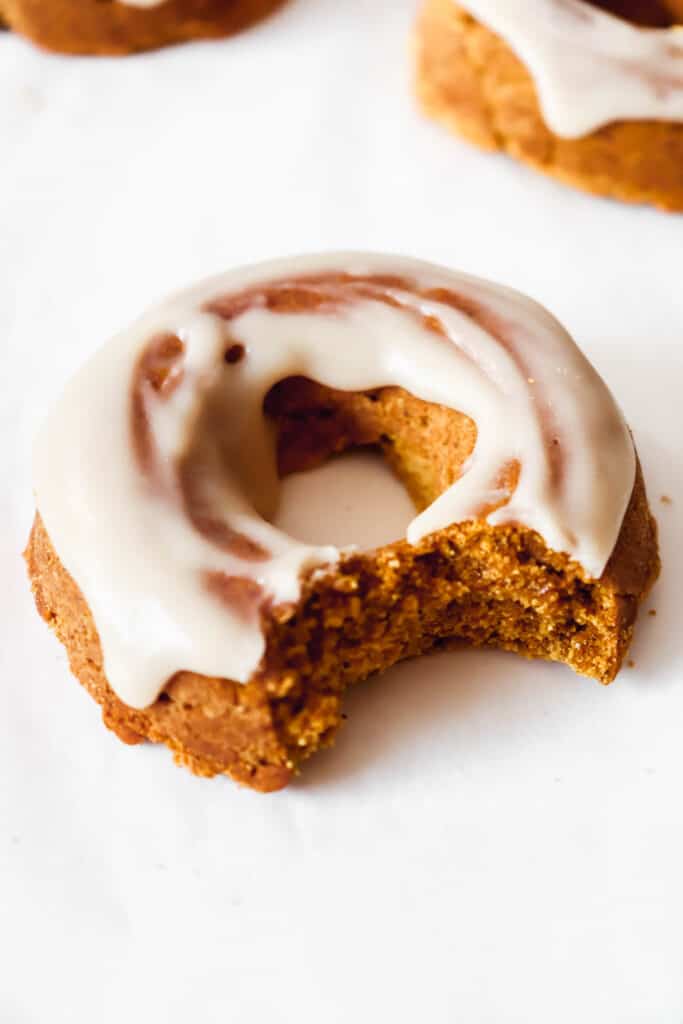 These AIP/paleo and vegan pumpkin spice cake donuts are a cross between pumpkin bread and cake in the shape of a donut. They're soft, moist, a little chewy and absolutely delicious served warm with some tea. The maple-coconut glaze is totally optional but really adds a little something special.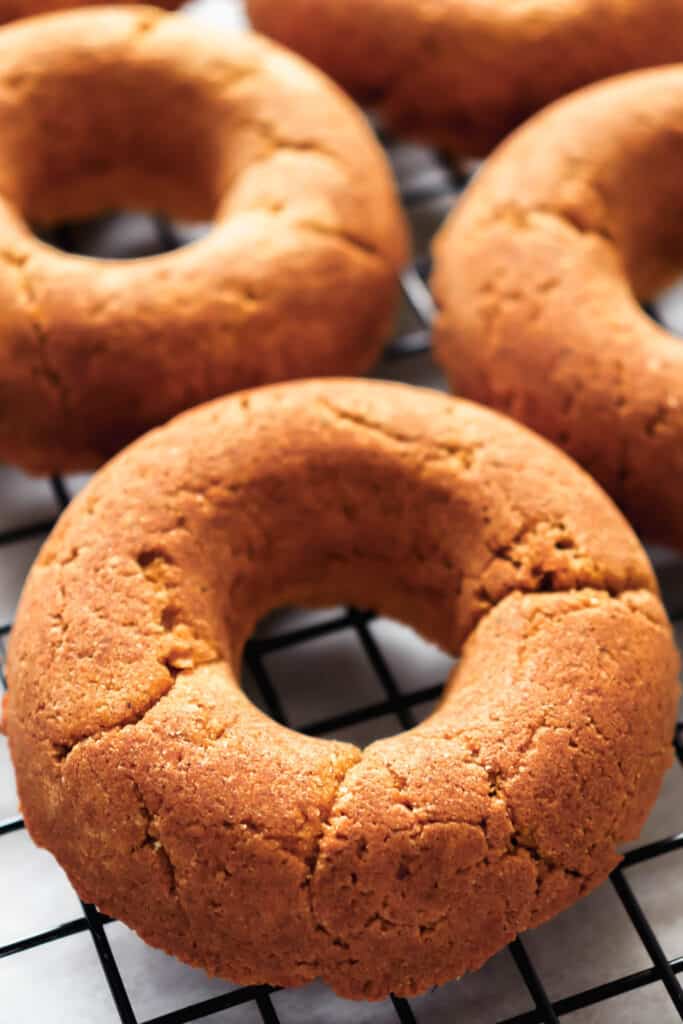 Here are the main ingredients in these Pumpkin Spice Cake donuts:
Cassava flour and coconut flour – I wouldn't recommend substitutions to this combination
Cinnamon, ginger and cloves – the ultimate AIP-approved spice mix.
Maple syrup + coconut sugar – I've tested these with just syrup and just coconut sugar and the results weren't the same. The combination of both really creates the optimal texture for these donuts.
Additive free, full fat coconut milk – this is a must in these donuts for the texture.
Pumpkin puree – I used canned pumpkin puree in this recipe.
For the coconut-maple glaze you'll need coconut butter, full fat coconut milk, maple syrup and pure vanilla extract.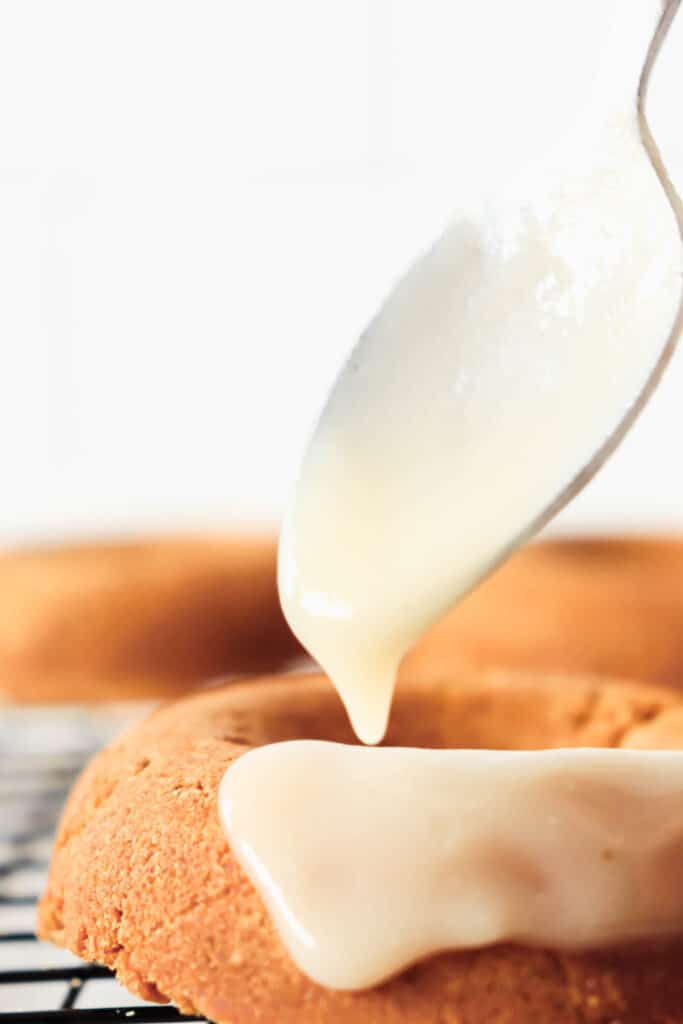 Pumpkin Donut FAQs
I don't have a donut pan, can I still make these?
I recommend this donut pan. You can also roll these into donut holes and bake on a parchment-lined baking sheet. Check the donut holes around the 10 minute mark to ensure they don't dry out.
Can I substitute cassava or coconut flour?
I haven't tried other flour combinations in this recipe so can't recommend anything else with the same results.
How do I store these donuts?
These pumpkin spice cake donuts are best served fresh. Keep in an airtight container in the refrigerator for up to 2 days and reheat before serving.
Looking for more AIP Fall treats? Check out:
Sweet Potato 'Chocolate' Chunk Bars
Cinnamon Streusel Mini Muffins
You might enjoy these other AIP and paleo donuts:
Gotta have more Pumpkin Spice goodness? You'll love:
If you loved these Pumpkin Spice Cake Donuts I would appreciate it if you would give it a rating and review. Be sure to snap a picture of the finished product and share it with me on Instagram by tagging @healmedelicious and using the hashtag #healmedelicious.
Print
Pumpkin Spice Cake Donuts (AIP, paleo, vegan)
---
Description
These Pumpkin Spice Cake Donuts are soft, moist and chewy. They're baked instead of fried and topped with a delicious maple-coconut glaze. They're AIP, paleo and vegan!
---
Donuts
1 cup

cassava flour

2 TBSP

coconut flour

1 tsp

baking soda

2 TBSP

coconut sugar

1/4 tsp

sea salt

2 tsp

cinnamon

1/4 tsp

powdered ginger
Pinch of cloves

1/3 cup

maple syrup

3/4 cup

pumpkin puree

1/3 cup

coconut oil, melted

1 tsp

pure vanilla extract

2

TSBP apple cider vinegar
Coconut-maple glaze
---
Instructions
Preheat oven to 350F. Lightly oil donut pan with coconut oil.
In a large bowl, mix together cassava flour, coconut flour, baking soda, coconut sugar, sea salt, cinnamon, powdered ginger and pinch cloves.

In a separate bowl, combine maple syrup, coconut milk, pumpkin puree, melted coconut oil, and vanilla extract.

Make a well in the centre of the dry ingredients and add the wet ingredients. Stir to combine. Finally, fold in apple cider vinegar.Do not overmix.
Immediately spoon batter into oiled donut pan.*
Bake in middle rack of the oven for 15 minutes.** Use a toothpick to check for doneness. If it comes out clean, remove from oven, otherwise, continue cooking until toothpick comes out clean.
Allow to cool 5 minutes before removing from donut pan. To do so, place a cooling rack upside down on top of the donut pan. Using two hot pads, grab the sides of the donut pan and the cooling rack at the same time and in one smooth motion, flip them upside down. The donuts will release onto the cooling rack and this will minimize the amount you are actually handling the donuts before they have cooled.
To make the glaze, combine melted coconut butter, maple syrup, warm coconut milk, vanilla extract and sea salt in a small bowl. Drizzle onto donuts once they have cooled.
Notes
* You want to ensure that you bake these right after folding in the apple cider vinegar to get the optimal texture and rise. If you leave the batter to sit out, the texture will not be the same.
** Some readers have noted that their donuts were not quite cooked at the 15 minute mark, possibly due to variations in often temperatures. I would suggest checking with a toothpick for doneness at 15 minutes and cooking longer if necessary.
Prep Time:

15 minutes

Cook Time:

15 minutes

Category:

Desserts
Keywords: pumpkin, pumpkin spice, pumpkin spice cake donuts, baked donuts, aip, paleo, vegan, fall desserts