These deliciously fluffy Lemon Glazed AIP Blueberry Donuts are both yeast-free and baked rather than fried. They're super quick to come together and sure to brighten up your day!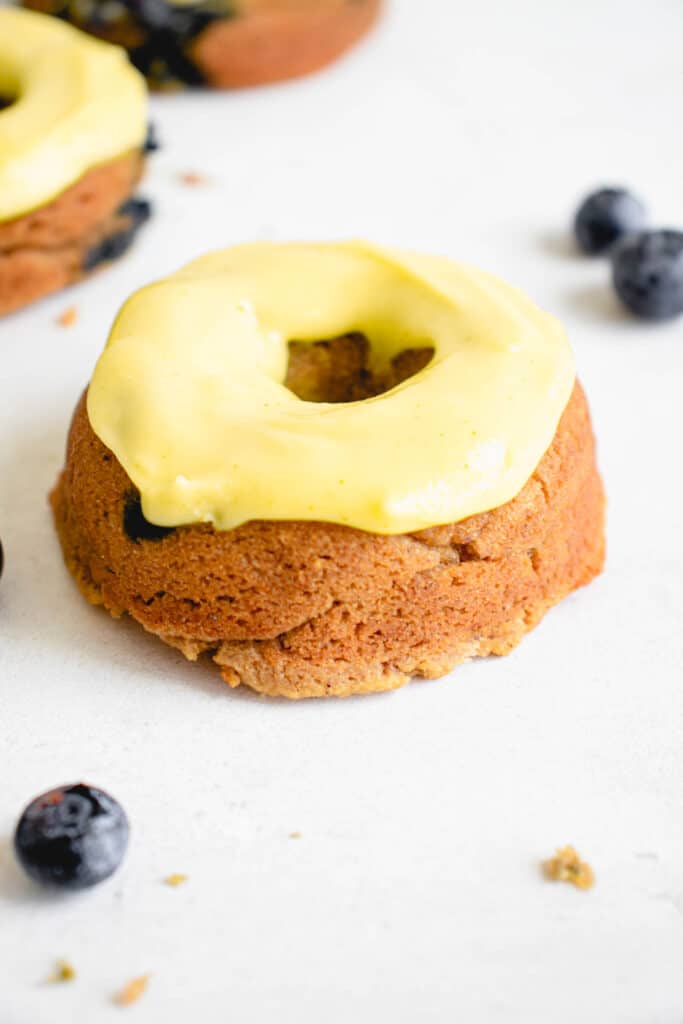 This was one of the first recipes I created on the blog and every time I make them it takes me back to the summer of 2020 when Heal Me Delicious first began. In their first iteration these donuts were vegan, but after testing with different brands of tigernut flour, I've found that they really do need more of a binder to keep them together. In the updated version of this recipe, I've added a gelatin egg to do just that.
These baked AIP donuts are light and soft and have a cake-like texture. The lemon glaze is made by adding just a pinch of turmeric to the coconut butter-based mixture to achieve a beautiful bright yellow colour. Don't worry, it doesn't impart its flavour, just a lovely burst of colour!
You can also opt to decorate your donuts with some unsweetened shredded coconut and a few more blueberries if you're really feeling fancy.
Here are the key ingredients in these AIP Blueberry Donuts:
Tigernut flour, coconut flour and tapioca starch – this combination makes for a wonderfully light texture and I don't recommend any substitutions.
Coconut oil – you'll want to ensure it's melted for this recipe
Full fat coconut milk – as always, ensure it's additive free and unsweetened. For this recipe I also recommend warming the milk before adding it to the oil, just so that it doesn't cause the oil to solidify.
Unsweetened applesauce – these add both sweetness and moisture to the donuts
Cinnamon, vanilla extract and maple syrup – all contribute to the delicate and delicious flavour of these donuts
Blueberries – you can use either frozen or fresh blueberries and both wild and regular varieties of blueberries work here too to provide bursts of natural sweetness.
Gelatin powder – this is used to make a gelatin egg and serves as an egg replacement and is key for the donuts to stay together.
Apple cider vinegar – don't worry, you won't taste it. This provides some acidity for the baking soda to interact with.
An optional lemon coconut glaze takes things up a notch and transforms these into a beautiful treat that will be sure to impress even your non-AIP friends and family members. For the glaze you'll also need coconut butter and turmeric (for color)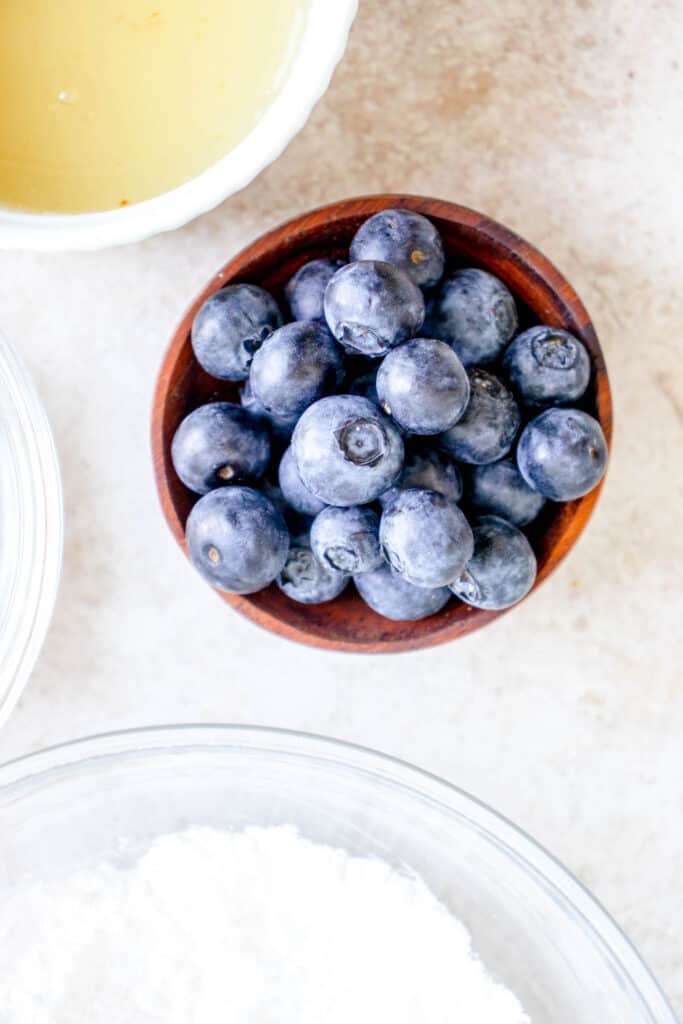 As with many AIP baked goods that don't have real eggs, it's important that you let these donuts cool slightly before transferring them to a cooling rack to cool completely before icing/eating. Try moving them too soon and they are guaranteed to crumble.
Blueberry Donut FAQs
Can I substitute any of the flours?
This combination of flours and starches is what I've found to work best in this recipe to achieve the desired texture so I can't recommend any other AIP substitutions.
Can I make these without a donut pan?
You could try rolling them into donut holes and baking them on a parchment lined baking sheet. They probably won't need as much time in the oven so you'd have to check in on them!
How do I store these?
You can store these in a sealed container at room temperature for 2 days. Beyond that, I like to store them in the fridge for up to 4 days for optimal freshness. You can also freeze them!
My donuts are crumbling, what should I do?
These donuts are delicate so the best way to prevent them from crumbling is to let them cool! As noted above, you want to ensure these donuts cool slightly before transferring them to a cooling rack to cool completely before icing/eating. It's also very fimportant that you grease the donut pan – even if it says non-stick. You want the donuts to be able to slide out the pan when baked to minimize any crumbling.
Looking for more AIP berry-licious recipes? Try:
Here are some other AIP and paleo donuts you might enjoy:
If you try these AIP Blueberry Donuts, I would appreciate it if you would give the recipe a star rating and short review. Also, be sure to snap a picture of the finished product and share it with me on Instagram by tagging @healmedelicious and using the hashtag #healmedelicious.
Print
AIP Blueberry Donuts (paleo, yeast-free)
---
Description
These deliciously fluffy, baked AIP Blueberry Donuts are grain free, yeast-free and dairy-free and topped with an optional lemon coconut glaze for a pop of colour.
---
Donuts
1/2 cup

tapioca starch

1/2 cup

tigernut flour

2/3 cup

coconut flour

1/2 tsp

sea salt

1 tsp

baking soda

1/2 tsp

cinnamon

1/2 cup

applesauce

1/2 tsp

pure vanilla

extract

2 TBSP

maple syrup

1/4 cup

warm coconut milk

1/2 cup

coconut oil, melted

gelatin egg (1 TBSP apple cider vinegar, 1 TBSP gelatin powder, 1/4 cup hot water)

1/4 cup

blueberries
Lemon Glaze
1/4 cup

coconut butter

2 TBSP

maple syrup

1 tsp

vanilla extract

3 TBSP

full fat coconut milk

(additive free)

3 TBSP

lemon juice

1/4 tsp

turmeric for colour (optional)
---
Instructions
Donuts
Preheat oven to 325 F and lightly oil donut pan with olive or coconut oil.*
In a large bowl, combine tapioca starch, tigernut flour, coconut flour, salt, baking soda and cinnamon and set aside.

In a separate bowl, combine applesauce, apple cider vinegar, vanilla, maple syrup, warmed coconut milk and melted coconut oil.

Add wet ingredients to dry ingredients and mix until just combined.
Make gelatin egg by combining apple cider vinegar and gelatin powder in a small bowl and whisking in the hot water until the mixture is frothy.
Immediately fold the gelatin egg into the batter. Batter will be thick (not pourable), but should feel light.

Fold in blueberries.
Place the batter into a piping bag and pipe the mixture into the donut pan, OR use your hands to shape batter into moulds, filling each mould 3/4 way full.

Bake 15 minutes in the middle rack of the oven or until a toothpick inserted into the donut comes out clean.
Let donuts sit 5 minutes before removing from the donut pan and then transfer to cooling rack and allow to cool completely.**
Glaze
As donuts cool, make glaze by mixing together in a wide bowl the coconut butter, maple syrup, vanilla extract, coconut milk, lemon juice and optional turmeric. Mix until smooth. Add more coconut milk and/or coconut butter as necessary to create your desired consistency.
Once donuts are cooled completely, drizzle glaze onto donuts.
Notes
* Don't skip this step (even if your pan is non-stick), this really helps the donuts come out the pan and gives them a golden exterior.
**To remove the donuts from the pan, I recommend placing your cooling rack upside down on top of the donut pan. Using two hot pads, grab the sides of the donut pan and the cooling rack at the same time and in one smooth motion, flip them upside down. The donuts will release onto the cooling rack and this will minimize the amount you are actually handling the donuts before they have cooled and while they are still subject to breaking apart.
Prep Time:

15 minutes

Cook Time:

15 minutes

Category:

Desserts
Keywords: blueberry, AIP donuts, lemon glaze, baked donuts, yeast free, paleo, blueberry donuts