This AIP Dandelion Chicory Latte is rich and creamy with a great depth of flavour without the dairy and caffeine. It's AIP, paleo, vegan and Whole30 compliant.
When I first began following the AIP lifestyle, coffee was a sad thing to let go of. Though I was never a regular coffee drinker, I did enjoy the occasional cup. While I love herbal teas, there's something about that first morning cuppa that begs for richness and thickness, for lack of a better word.
Enter roasted dandelion and chicory "coffee."
If you've been to New Orleans, you likely know chicory coffee. Chicory café au lait is a delicious and essential part of the city's history. For decades, the city dominated the coffee industry. When its supply chain was interrupted during the Civil War, locals began experimenting with different products as coffee additives and substitutes and turned to chicory for its depth of flavour.
In addition to their earthy, deep and bitter flavours, dandelion and chicory roots are also known to support the liver function and detoxification, so that's a great added bonus. I buy organic versions and roast them myself (I enjoy the ritual), but you can also buy pre-roasted versions online as I've linked to in the recipe below.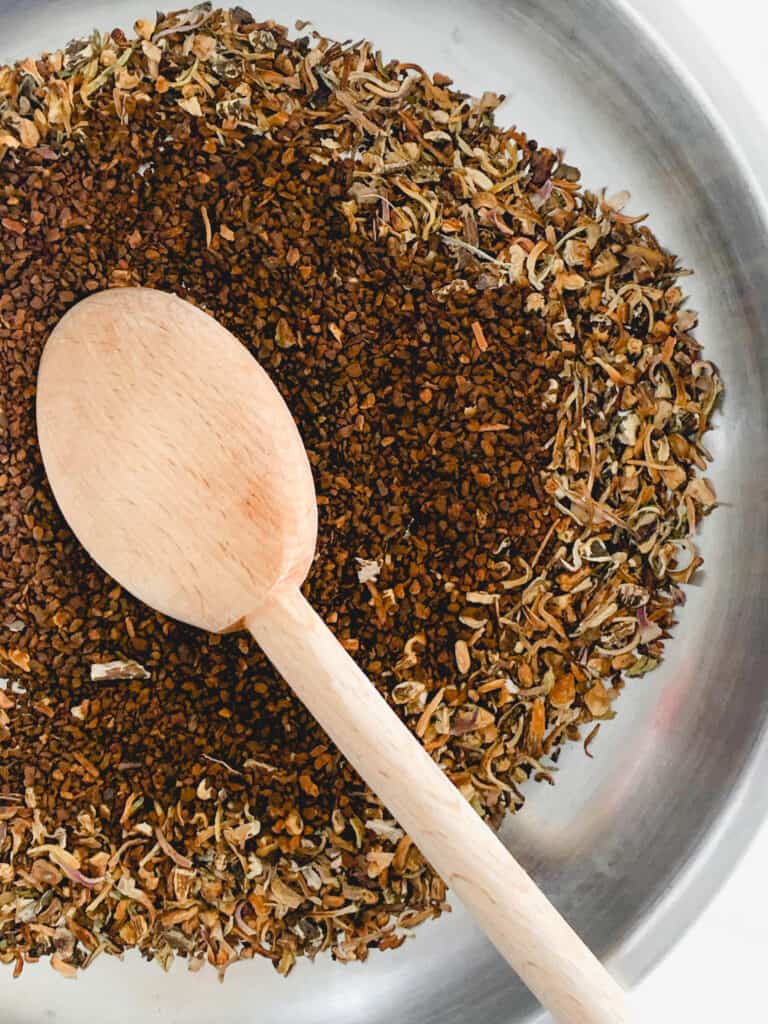 How to make this Roasted Dandelion Chicory Latte
To make this Dandelion Chicory Latte, I roast the roots and steep in boiling water for 5 minutes. Next, I top with steamed, full-fat coconut milk (additive free), and a dash of cinnamon.
Here's a step-by-step video
While my avid coffee drinking partner emphasizes this drink does not taste like coffee, he agrees that it does have that very satisfying bold, bitter-sweet and smooth taste 🙂
Want to enjoy this latte cold? Simply serve it over ice for a delicious summer treat.
Try this latte with these AIP treats:
If you try this Dandelion Chicory Latte, I would appreciate it if you would give the recipe a star rating and short review. Also, be sure to snap a picture of the finished product and share it with me on Instagram by tagging @healmedelicious.
Print
AIP Dandelion Chicory Latte
---
Description
Though caffeine and dairy-free, this AIP Dandelion Chicory Latte is rich and creamy with a great depth of flavour.
---
---
Instructions
If not already roasted, roast dandelion and chicory in heated skillet for 3-5 mins stirring frequently and until they're giving off a toasted aroma.

Place the dandelion and chicory root in tea pot or French press and cover with boiling water. Let steep for 5 minutes

Meanwhile, place full fat, additive free coconut milk into milk steamer and steam until frothy.

Pour steeped tea into mugs and top with frothed milk and dash of cinnamon (optional)
Keywords: dandelion, tea, chicory, coconut milk, breakfast, coffee replacement
This post contains affiliate links.