Crispy Gluten Free Apple Fritters with a soft interior filled with tender, sweet cinnamon-spiced apples! Perfectly complemented with a maple glaze, this apple fritters recipe is also vegan and AIP/paleo.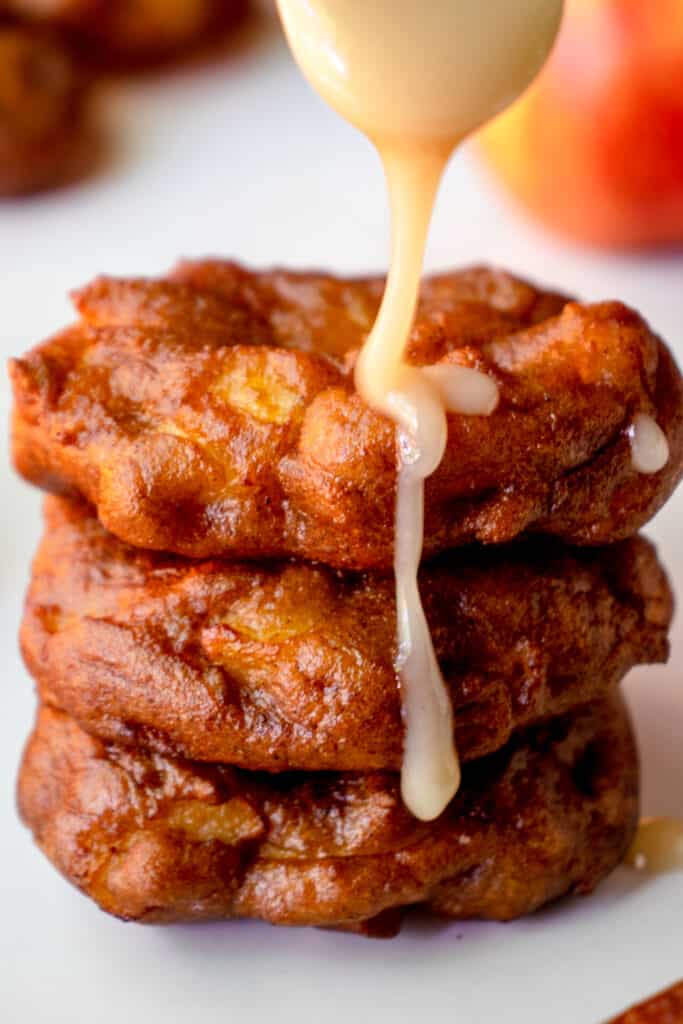 One of my favorite things about Fall is creating (and eating!) gluten-free and dairy-free apple treats. From my warm Spiced Apple Cupcakes to my beautifully rustic Paleo Apple Tart and my irresistible Apple Spice Cake, I think apples and cinnamon go together like a dream. This divine duo stars in my Gluten-Free Apple Fritters recipe, an allergy-friendly twist on the classic fried apple donut.
As the creator of an online dairy-free and gluten-free baking school, I know how difficult it is to find delicious gluten-free baked goods that are just as good as conventionally made treats. My Gluten-Free Apple Fritters promise warm cinnamon flavor, crisp exteriors with tender insides that rival traditional fritters, so you can enjoy all the tastes and textures that you crave without any grains, dairy, or eggs!
Gluten Free Apple Fritters
Cassava flour with tapioca starch is the base of the apple fritters. Together, they provide the best structure and contribute to the crispy, golden brown exterior once fried and the light, moist, slightly chewy interior. Baking soda reacts with apple cider vinegar to leaven the fritters, achieving an airy crumb. Maple (or coconut) sugar and maple syrup naturally sweeten the batter and impart that sweet, warm maple flavor, while the syrup adds some rich moisture. Aromatic cinnamon spices the batter and combined with the apples, creates the characteristic apple fritter flavor. Some sea salt enhances and balances the overall flavors and sweetness.
Freshly carbonated water is essential to this fritter batter, contributing to the light, airy texture and outer crunch. Finally, fold in sweet-tart apple chunks into the batter, and fry the apple fritters until perfectly golden brown and crispy. These fritters are bursting with juicy, fork-tender cinnamon apples in every bite!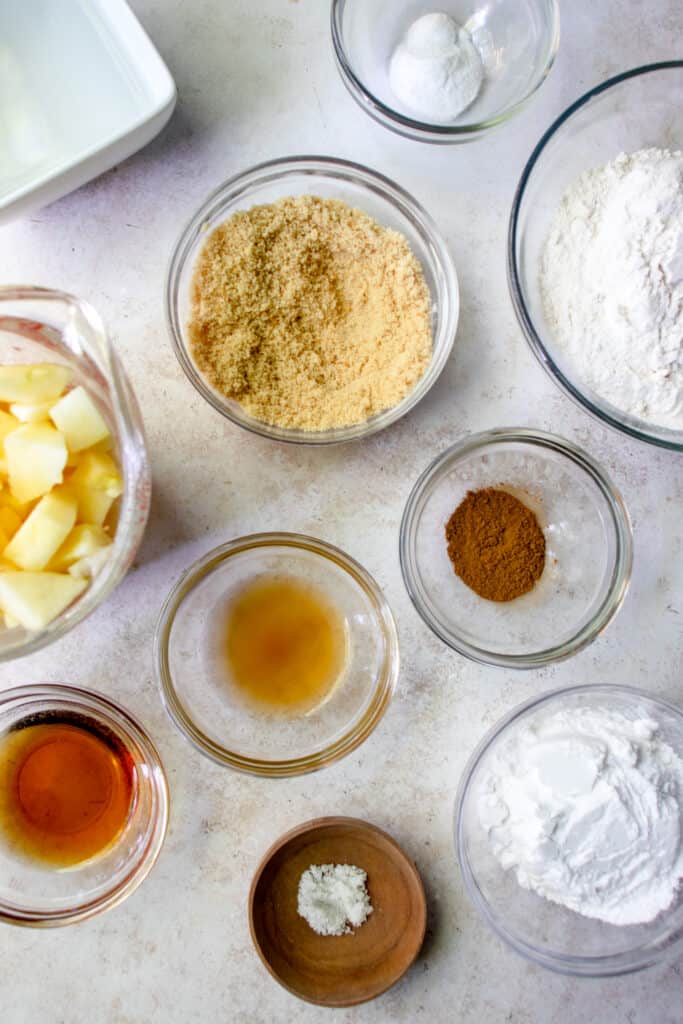 I made a cinnamon-free version of my maple icing from my pumpkin scones to drizzle on the apple fritters. If you're avoiding coconut, feel free to skip the optional maple glaze. Otherwise, I highly recommend it! Coconut butter and coconut milk create a creamy, smooth glaze with a naturally sweet coconut flavor. Maple syrup provides a richer maple flavor and sweetness, enhanced by some warm vanilla, with a pinch of salt to balance the sweetness and flavors. This maple glaze creates a really luxurious drizzle that pairs beautifully with the apple fritters!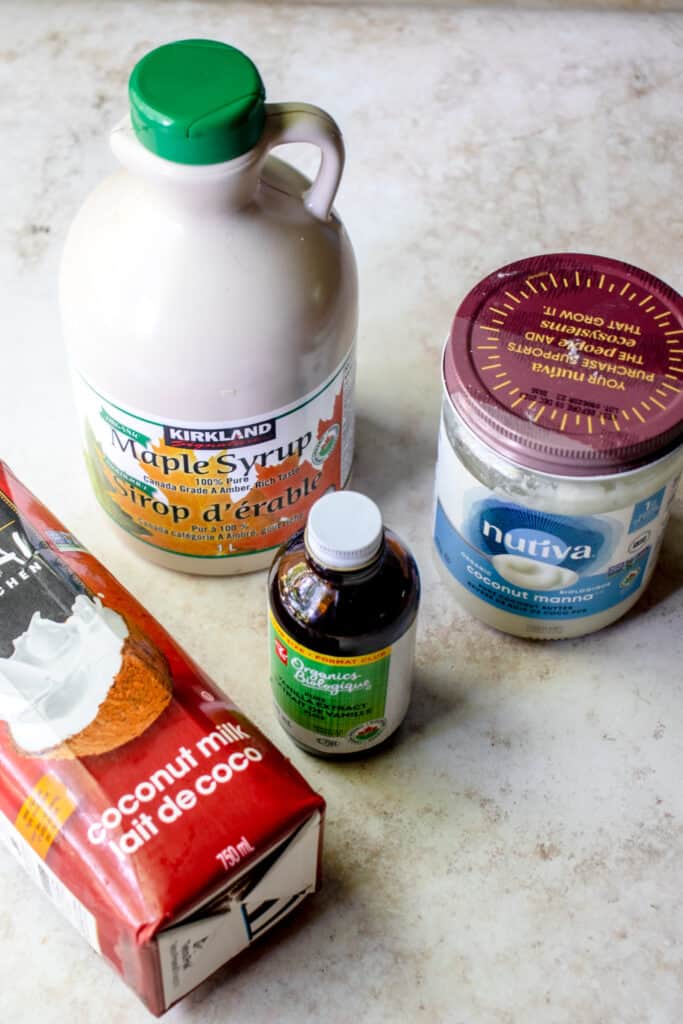 How To Make Gluten Free Apple Fritters
Step 1. Make the Fritter Dough
In a large mixing bowl, combine the cassava flour, tapioca flour, baking soda, sea salt, cinnamon, and maple sugar. Then make a well in the center of the dry ingredients, and pour in maple syrup, carbonated water, and apple cider vinegar. Mix the ingredients together to form a smooth batter.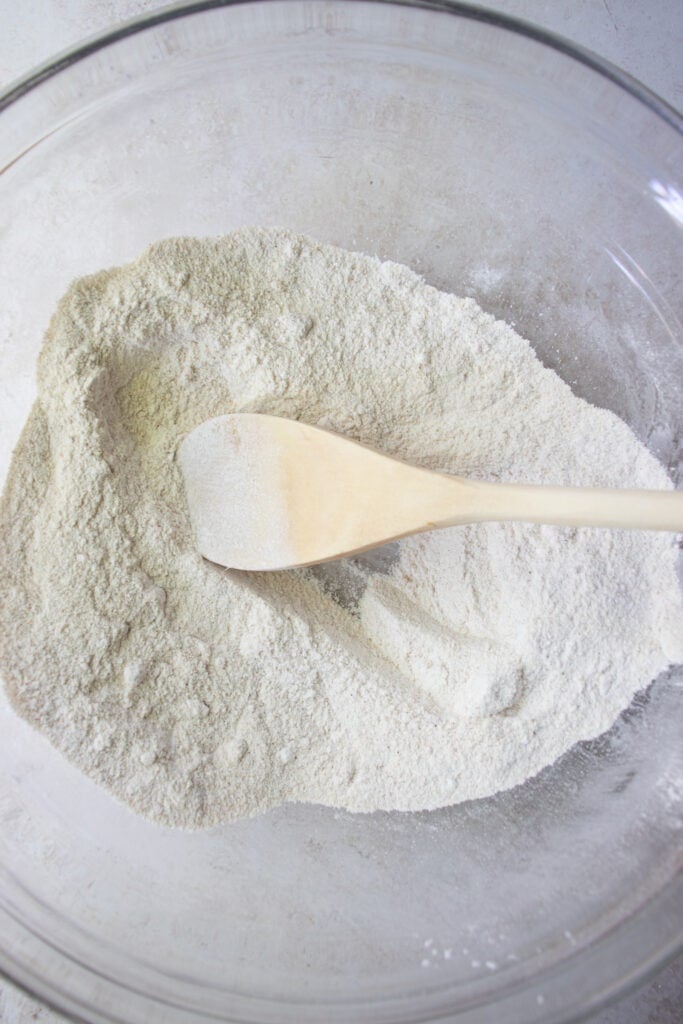 Step 2. Incorporate Apples
Gently fold in the diced apples into the batter with spoon, to distribute them evenly throughout the mixture.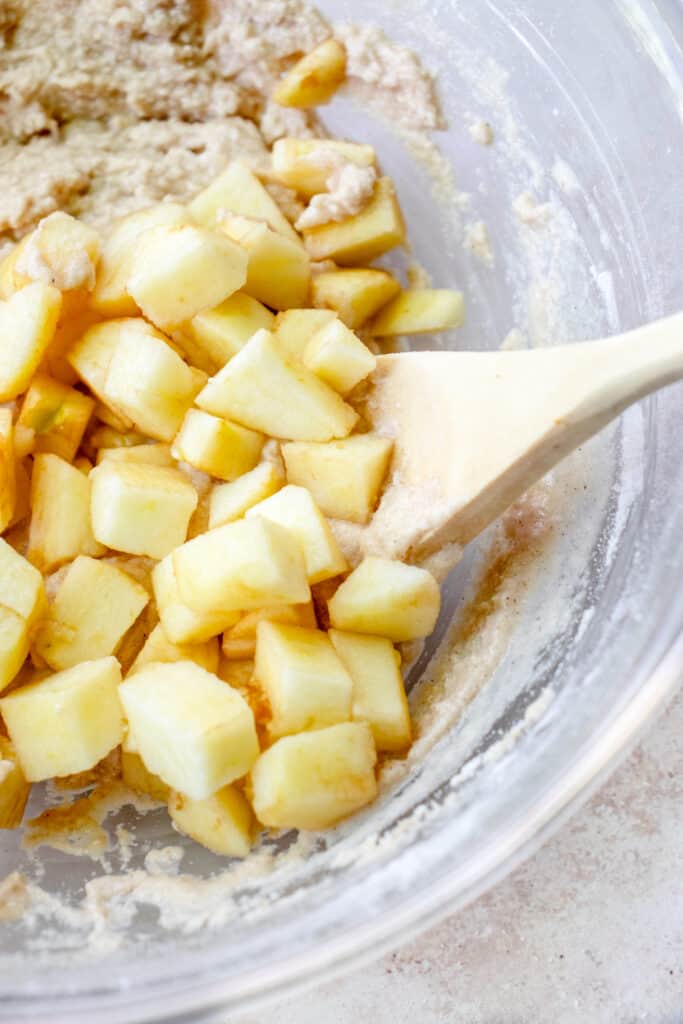 Step 3. Heat Oil
Add avocado oil to a pot or deep pan and heat over medium to medium-high heat for frying. Oil should be between 350F-365F and remain at a constant temperature.
Step 4. Shape the Dough
Use a large cookie scoop, ice cream scoop or large spoon to divide the dough into 7 or 8 pieces. Flatten them slightly with your palm or the back of the spoon, so that they can fry undisturbed.
Step 5. Fry the Apple Fritters
Carefully lower the fritter dough into the hot oil using tongs or a slotted spoon and deep fry for about 2-2.5 minutes or until a deep golden brown.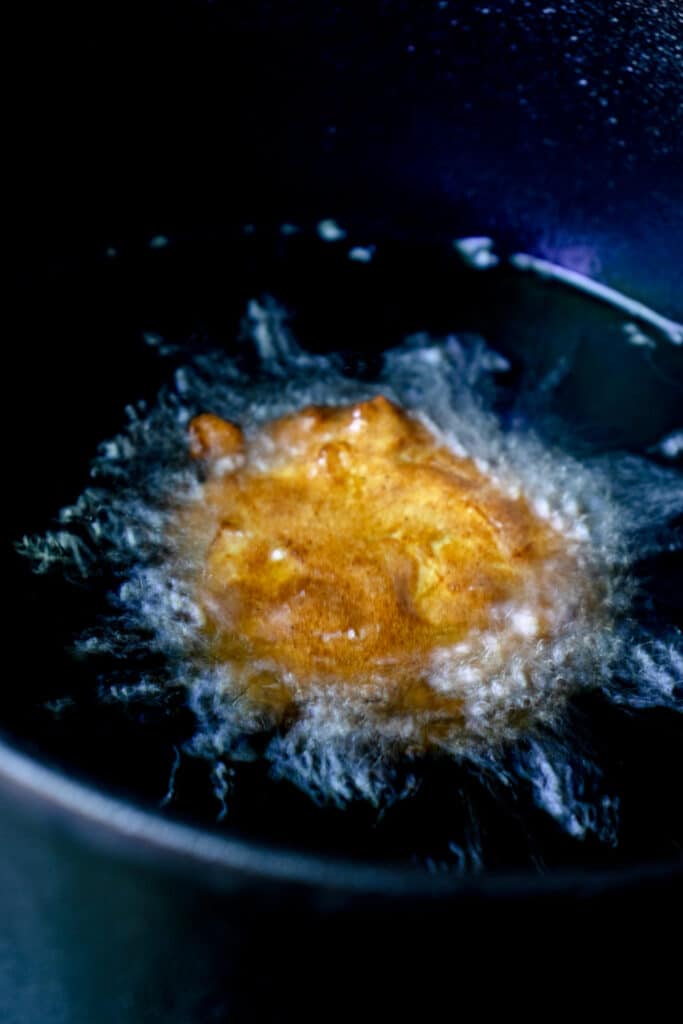 Step 6. Drain and Cool Slightly
Remove the fritters from the pot with the slotted spoon or metal tongs. Transfer to a wire cooling rack to cool slightly.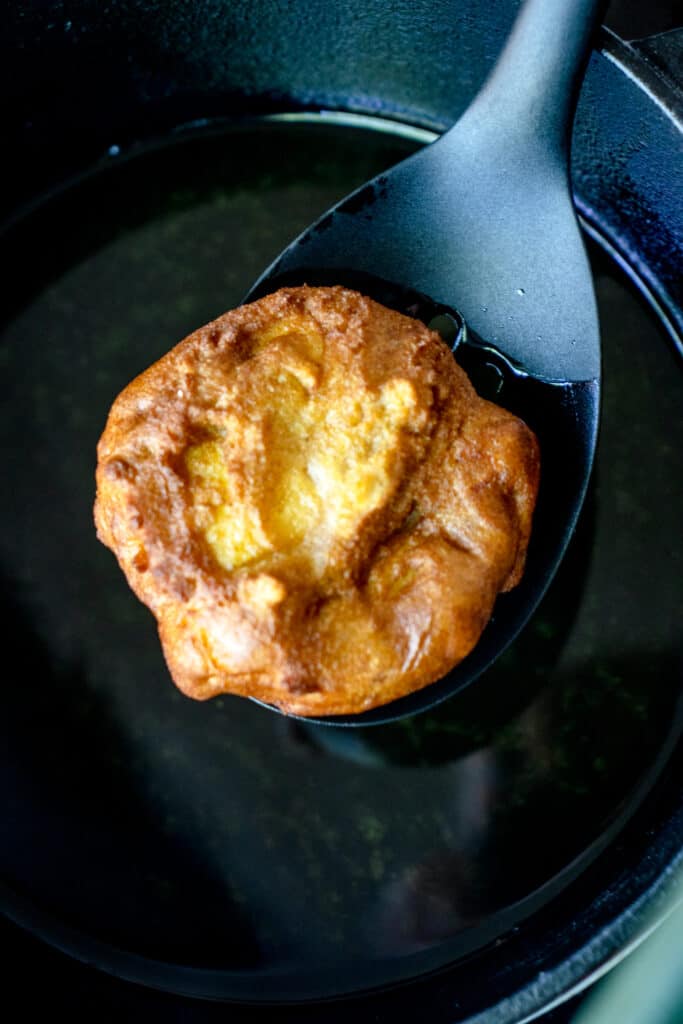 Step 7. Make the Glaze (optional)
Combine the ingredients in a saucepan and warm over low heat. You can add more coconut milk as necessary for a thinner, pourable consistency to easily drizzle over the apple fritters.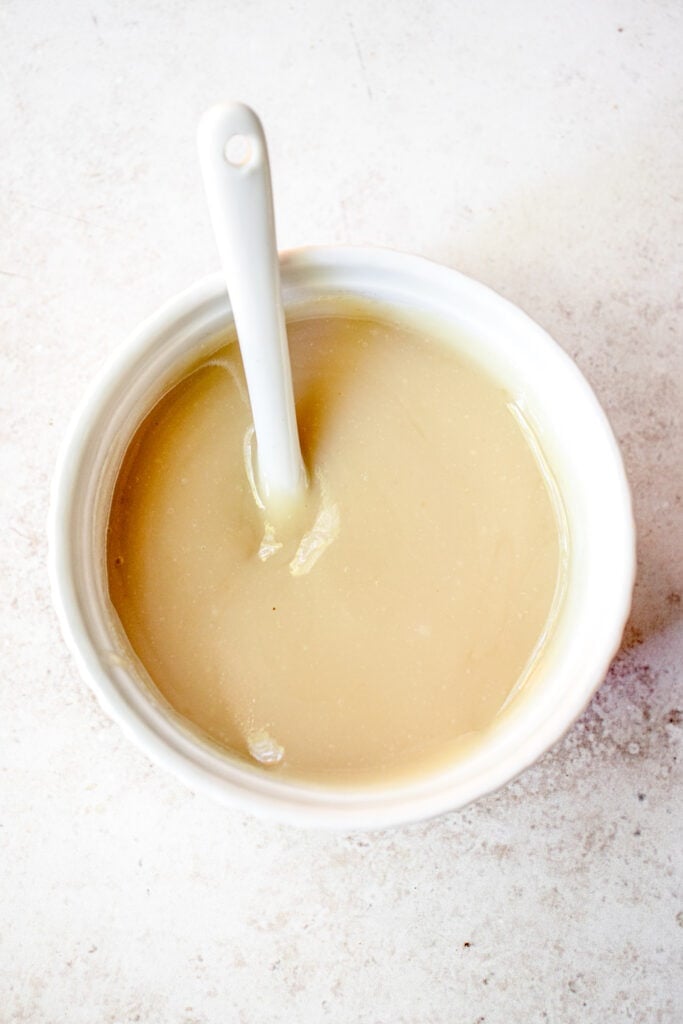 Step 8. Serve and Enjoy!
I recommend enjoying these warm while they're still crispy, as soon as they're cool enough to handle.
Expert Tips & Tricks
Ingredient Substitutions:

You can substitute coconut sugar for maple sugar in the fritters. The main difference is that a batter with coconut sugar will be darker than with maple sugar so the apple fritters will also be a darker color.
You can use palm shortening for frying instead of avocado oil. This will also be a neutral fat with a high smoke point.

Newly open your favorite brand of unflavored carbonated water or freshly make your own. It must be fresh and bubbly since carbonation is crucial to achieve the aeration and desired textures.
Use a food or candy thermometer to check that the oil temperature remains constant during frying, between 350F and 365F.

During my recipe testing, my oil was too hot at first. Although the outside crisped perfectly and got to a nice golden brown color in under 1 minute, the inside was still undercooked.
If the temperature is below 350F, oil might seep in, creating greasy fritters.
If you don't have a thermometer, you'll need to monitor the frying and adjust accordingly, looking for signs of doneness.

Remember that you're looking for a crisp, golden brown exterior, with a cooked-through inside. You can use metal tongs to squeeze open the apple fritters to check that the insides are cooked. Apples should be softer than their 'raw' state but not mushy. Depending on the type of apple and dice size, they may still have some crunch. The inside should be soft, slightly chewy, but not wet or gummy.
Use a pot or deep pan for frying – I used this cast iron dutch oven pot.

I cooked my gluten-free apple fritters one at a time and poured in a few inches of oil to fully submerge them without touching the bottom. They were 2.5 inches long and cooked about 2-2.5 minutes each without flipping.
If you're using a shallower or wider pan or the apple fritters aren't fully covered by the oil, you might need to cook them for longer, flipping at the halfway mark. Try cooking them for about 1.5 minutes per side.

Avoid overcrowding the pan since this can result in soggy or underdone apple fritters that fall apart.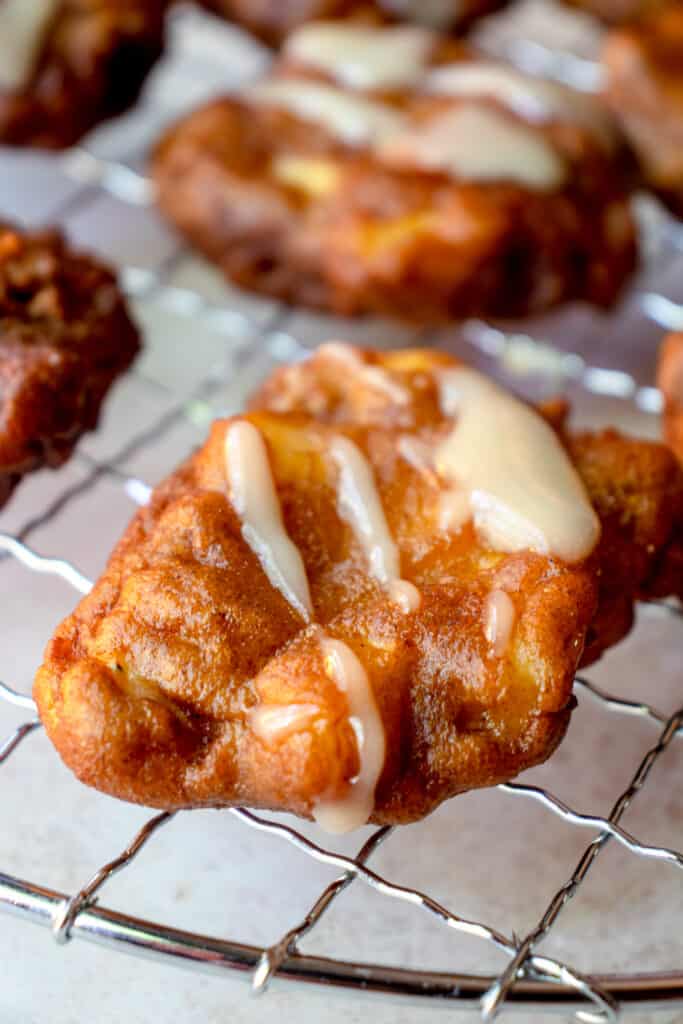 Frequently Asked Questions
What types of apples should I use to make gluten-free apple fritters?
Any type of "baking apple" will work here. I used Honeycrisps, and think Gala apples would work well too since they're both a sweet, slightly tart variety that will retain some crispness. Granny Smiths will also work really well and provide a nice contrast with their stronger tartness. I recommend you dice them a bit smaller to make it easier for them to cook-through since they're a firmer apple. However, I wouldn't use Red Delicious or Golden Delicious apples as they can get too soft or mushy during the cooking process.
Can I substitute the tapioca with arrowroot starch? What is the best gluten-free flour blend to use in this recipe?
I don't recommend substituting tapioca starch with arrowroot starch in this recipe. This specific grain-free, nut-free, and gluten-free flour blend is crafted to specifically achieve the desired tastes and textures, and cannot be substituted with all purpose gluten-free flour blends. Moreover, this recipe is free of yeast and popular gums which are often included in these blends.
I did use Otto's Naturals brand Cassava Flour, which I recommend using for the best results. Want to learn more about baking with grain-free flours and making your own blends? I teach you how in The Basics.
Can I make the batter in advance and refrigerate it?
No, I recommend you prepare the batter just before cooking. This is especially important to preserve the carbonation effect.
Can I bake these or make them in the air fryer?
No, these apple fritters are meant to be fried in oil and cannot be baked or air fried. However, you can reheat them in the air fryer until they re-crisp.
Does the maple glaze harden when it cools?
While the glaze does thicken and set, it doesn't harden like a powdered sugar glaze would. I wouldn't stack glazed fritters because they'll smear. Instead, serve them laid out flat on a plate.
How do I keep my apple fritters crispy?
Once fried properly, these apple fritters are wonderfully crispy. However, they do lose their crispiness over time and become soft and soggy. I strongly recommend eating these fritters fresh, right after making them and once they've been glazed (if using) and are cool enough to touch! If needed, they can be reheated in a dry pan or air fryer to warm and re-crisp.
Storage Instructions
These apple fritters are best eaten hot and fresh to enjoy their crispy texture that softens once left out.
Fridge: If you have leftovers, store them in an airtight container in the fridge for 1-2 days. Reheat them on the stovetop in a dry pan over low-medium heat until they are warmed through and have regained crispiness, about 2-3 minutes per side. You can also reheat them in an air fryer at 350F for about 10 minutes or until they re-crisp.
Freezer: I don't recommend freezing these apple fritters.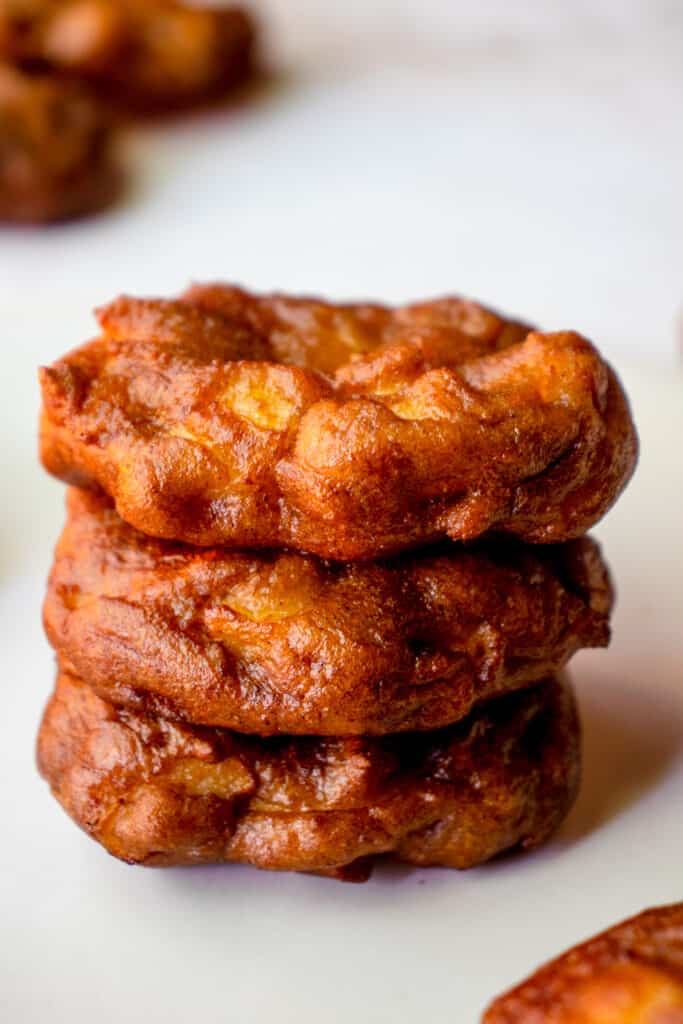 If you loved these Gluten Free Apple Fritters I would appreciate it if you would give it a rating and review. Be sure to snap a picture of the finished product and share it with me on Instagram by tagging @healmedelicious and using the hashtag #healmedelicious.
Print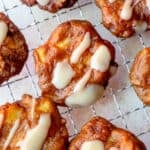 Gluten Free Apple Fritters Recipe (Vegan, AIP/Paleo)
---
Description
These crispy gluten-free apple fritters have a soft and chewy interior and are bursting with sweet maple and cinnamon-spiced apple chunks! A complementary maple glaze is the finishing touch on these easy homemade apple fritters.
---
Apple Fritters
Maple Glaze (optional)
---
Instructions
Apple Fritters
To a large bowl, add cassava flour, tapioca starch, baking soda, sea salt, cinnamon, and maple sugar, and stir to combine.
Make a well in the center of the dry ingredients and add maple syrup, carbonated water, and apple cider vinegar. Stir until combined into a smooth batter.
Gently fold apples into the batter.
In a pot or deep pan, add avocado oil and heat over medium to medium-high heat for frying.*
Divide the dough into 7 or 8 even sized pieces and slightly flatten the pieces.**
Gently lower each piece of dough into the hot oil so it is fully submerged and deep fry for about 2-2.5 minutes or until golden brown.***
Use a slotted spoon to remove the fritter from the oil and place on a cooling rack with parchment paper-lined baking sheet or paper towel-lined plate underneath to catch drained oil. Let cool slightly and continue frying the remaining dough fritters.
Serve apple fritters warm, with optional maple glaze.
Maple Glaze
In a small saucepan, combine coconut butter, coconut milk, maple syrup, sea salt and vanilla extract over low heat. If the glaze is too thick add more coconut milk as necessary.
Drizzle over apple fritters.
Notes
*Oil should reach a temperature of 350-365F.
**Alternatively, you can flatten the dough by gently spreading the batter once placed in the oil.
***I fried these apple fritters one at a time. If doing multiple at a time, avoid overcrowding the pot. This may also change the frying time. Check the Tips & Tricks section for more info.
Prep Time:

15 minutes

Cook Time:

14 minutes

Category:

Desserts

Method:

Fried

Cuisine:

American
Keywords: apple fritters, gluten-free apple fritters, vegan apple fritters, apple desserts, gluten-free dairy-free apple recipes