Light and fluffy vegan and Gluten-Free Apple Cider Donuts made with rich apple cider, grain-free flours, and warm spices. These baked mini donuts are dusted with an apple spice blend and are an irresistible Fall treat!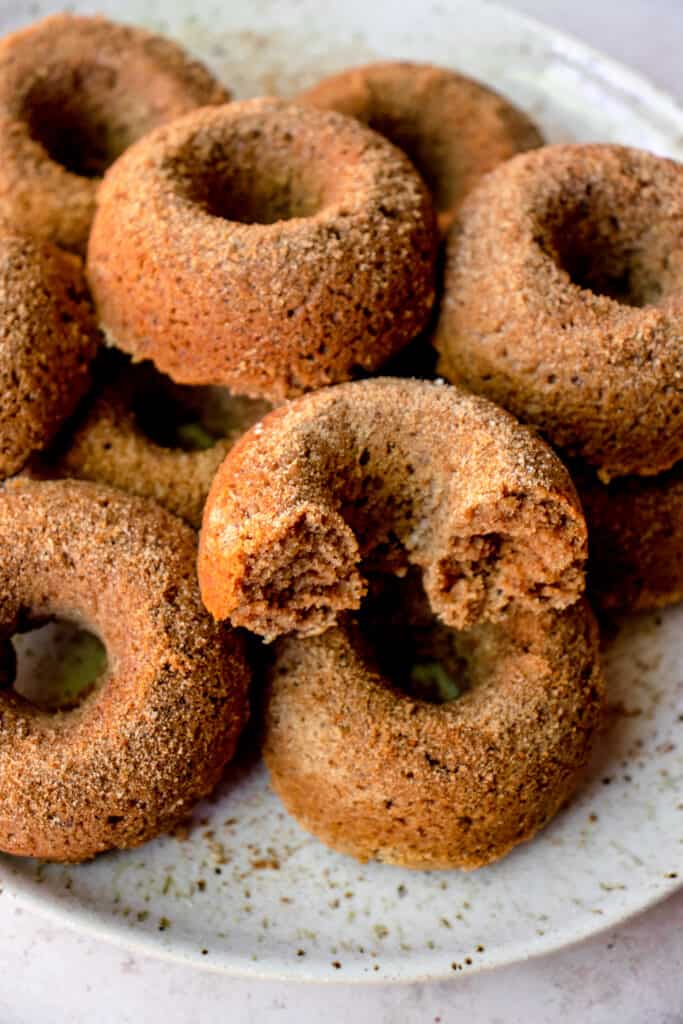 Apple cider plus cozy spices in donut form is like a warm hug on a crisp Fall morning. It's no wonder freshly baked apple cider donuts are the perfect comfort treat this time of year. They're widely available here in Ontario but typically made with dairy, eggs, grains, and gluten. Since I love creating cinnamon apple treats like my apple pie tarts and gluten-free apple fritters, I wanted to make my own allergy-friendly recipe for apple donuts this season.
As the creator of an online dairy-free and gluten-free baking school, I know how difficult it is to find delicious gluten-free baked goods that taste just as great as conventionally made treats. If you're a fan of my spiced apple cupcakes or apple spice cake, I think you'll love my baked apple donuts that are tender, moist and free of the top 8 allergens.
Apple Cider Donuts
This Fall version of my grain-free mini donuts is inspired by the traditional donuts at the apple orchard. But my gluten-free apple cider donuts are also vegan, grain-free and nut-free. They can easily be made AIP, too! Plus, they're easy to make and so quick to bake.
A blend of tigernut flour, cassava flour, and tapioca starch forms the base of these donuts and creates a soft, light texture. Reduced apple cider provides concentrated apple flavor and some moisture along with applesauce which also helps with binding. Olive oil contributes moisture and helps create a really soft crumb.
The donut batter is sweetened with coconut sugar and infused with a ground spice medley for depth and warmth – sweet, woodsy cinnamon, mildly nutty, earthy nutmeg, and a touch of cloves for some spicy sweetness. Vanilla and salt enhance and balance the overall flavors and sweetness. Baking soda with apple cider vinegar helps the donuts rise and get really light and fluffy.
I spiced up the traditional cinnamon sugar topping for this recipe. This custom mix blends maple and coconut sugar, unrefined granulated sugars with a caramel-like sweetness, more cinnamon, some zesty, spicy ginger, and a touch of nutmeg and cloves. Dust it as liberally as you'd like to form a lightly textured, indulgent topping that beautifully complements the apple cider donuts.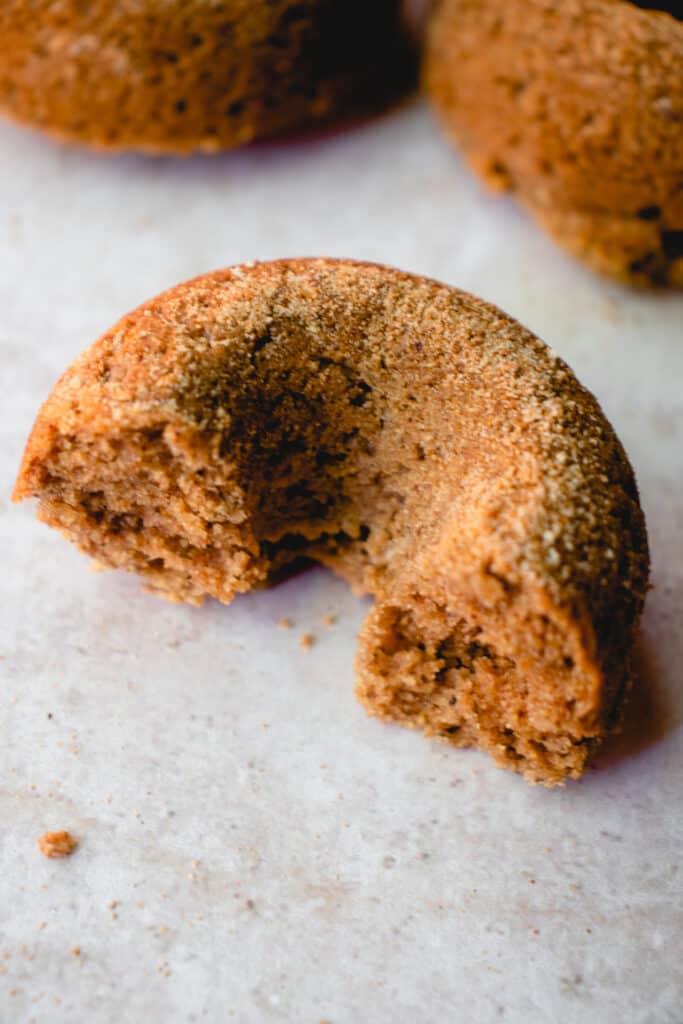 Ingredients
Apple Cider Donuts
sea salt
ground nutmeg – or mace for AIP
ground cloves
flaxseed meal – if you aren't vegan and want to make these AIP, use a gelatin instead
apple cider – apple cider is naturally gluten-free but it's always a good practice to check the label!
olive oil
applesauce – ensure it's unsweetened, plain applesauce since we're adding our own spices and unrefined natural sugars.
Apple Spice Sugar Topping
coconut sugar
cinnamon
nutmeg
ginger
cloves
Ingredient Substitutions
You can substitute the coconut sugar with maple sugar in the donut dough. The main difference will be the color since maple sugar is lighter than coconut sugar so the donuts will be a lighter brown. Similarly, the two sugars are substitutable in the spiced cinnamon sugar coating.
AIP substitution: If you're following the autoimmune paleo protocol (AIP diet) and want to make these AIP apple cider donuts, use mace instead of nutmeg and gelatin as the binding agent.
Instructions
Step 1: Prep Oven and Donut Pan
Preheat the oven to 350F and brush the mini donut pan with olive oil.
Step 2: Reduce the Apple Cider
Bring 1 cup of apple cider to boil in a small saucepan over medium to medium-high heat. Once boiling, lower the heat and allow the apple cider to simmer gently, uncovered, while stirring occasionally. This might be about 5-10 minutes. When the apple cider thickens and reduces to 1/2 cup, remove the apple cider from the heat. Let the reduction cool before adding it to the donut batter.
Step 3: Make the Donut Batter
In a large mixing bowl, combine the cassava flour, tapioca starch, tigernut flour, sea salt, baking soda, cinnamon, nutmeg or mace, cloves, and coconut sugar. In a separate small bowl, whisk together the cooled and reduced apple cider, applesauce, olive oil, and vanilla. Then, pour the wet ingredients mixture into the dry ingredients, stirring to combine.
Next, make a flax egg by combining flaxseed meal and water into a small bowl and stir to combine. Allow mixture to sit 5 minutes to thicken and then fold into dough.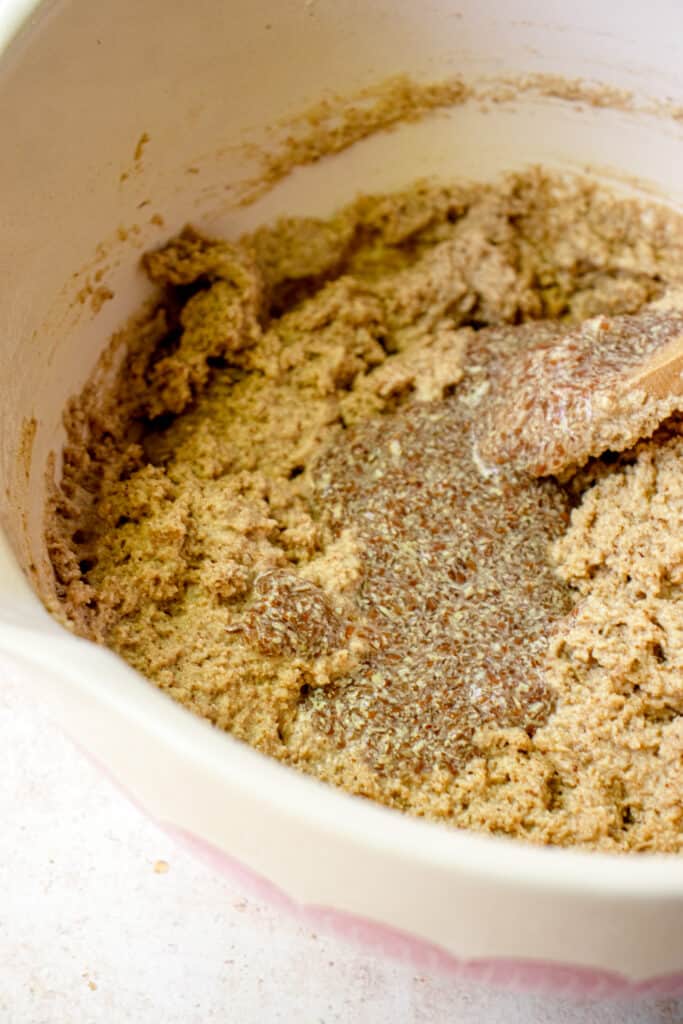 Step 4: Fill the Donut Pan
You can spoon or pipe the donut batter into the donut cavities about 3/4 way. If you don't have a piping bag with a plain tip, transfer the dough to a resealable plastic bag, like a slider storage bag. Cut off one corner, then squeeze the bag to distribute the batter evenly into the donut pan.
Step 5: Bake
Place the donut pans in the middle rack of the oven and bake for 10 minutes.
Step 6: Cool
Remove the donut pans from the oven and let the donuts cool in the pan for about 10 minutes. Run a butter knife around the donuts to help loosen them from the pan. Place an inverted wire cooling rack on top of the baking pan. Flip over to release the donuts onto the cooling rack, where you'll leave them to cool further for at least 15 minutes.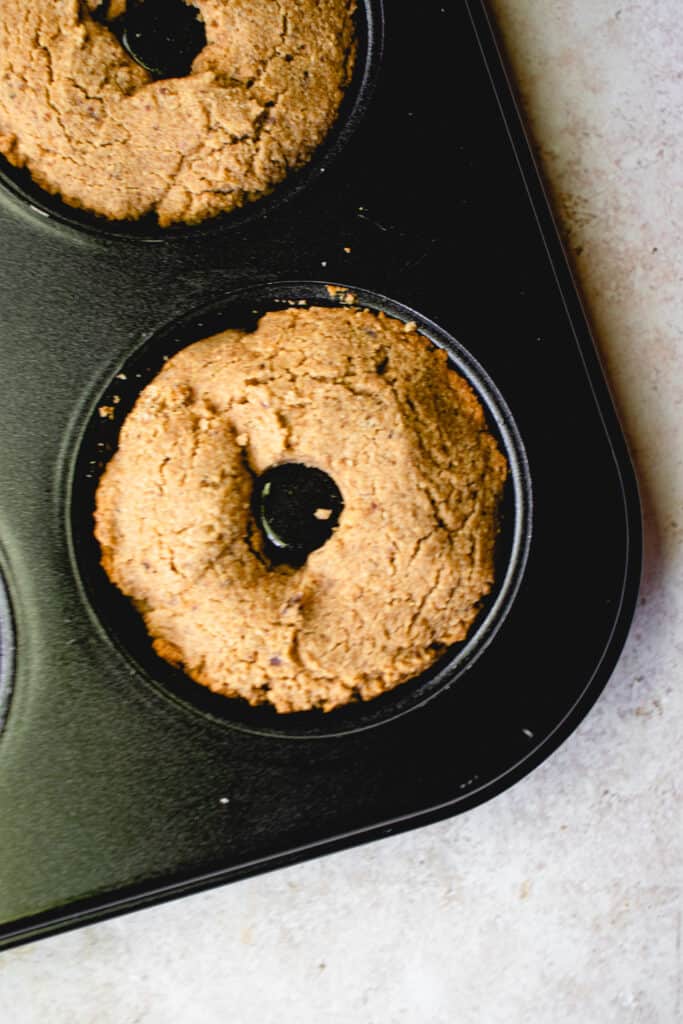 Step 7: Make Spiced Cinnamon-Sugar Coating
In a small bowl, mix the warm spices and unrefined sugars and generously sprinkle over the donuts. Dust the donuts as liberally as you'd like for this final touch. I really love how this sweet apple spice blend tastes and the added texture it gives the donuts. It looks pretty, too!
Step 8: Serve and Enjoy
I recommend eating these fresh! Enjoy with coffee or tea for a mid-morning snack or get cozy with some warm apple cider for an evening treat!
How To Make Apple Cider Donuts Gluten-Free and Vegan
Follow these suggestions to achieve soft, fluffy, and moist apple cider donuts.
Sift the tigernut flour. Tigernut flour is notoriously gritty and should always be sifted with a flour sifter or pulsed in a food processor before using.
Egg replacements

Flax egg: Make the flax egg while reducing the apple cider so it has enough time to congeal. Use a fork to whisk the flaxseed meal with water in a small cup or bowl. Let it rest for at least 5 minutes to thicken into a gel-like consistency.
AIP option – Gelatin egg: Combine gelatin and apple cider vinegar into a paste. Use a fork to whisk in hot water until there are no clumps of gelatin and the mixture is light and frothy. Or, you can make the gelatin egg with just water and gelatin powder if you have already added the apple cider vinegar to the dough. Once you add the gelatin egg the batter should loosen significantly.

Don't overmix the batter to maintain the donuts' light and fluffy texture. Gently fold in the egg replacement until just combined with the batter.
Remember, these donuts don't need long to bake and should be ready quickly. Overbaking will result in a dry texture.
Let the donuts cool properly. As with all gluten-free baked goods made without eggs, they need to cool thoroughly to set and not break apart completely. However, reheating them slightly before serving really enhances the texture and brings out the flavor. Note that these donuts are delicate; they will still be a bit crumbly once fully cooled.
Want to learn more about grain-free baking without eggs or dairy? I teach you how in The Basics.
More Tips & Tricks
Grease the donut pan, even if it's non-stick. It's necessary to remove the donuts easily without breaking them.
I strongly encourage you to use real apple cider, without substitution. Once reduced, let it cool before adding to the batter. Also, don't skip making the reduction! The apple cider needs to reduce to concentrate the flavor in a smaller and thickened (reduced) volume of liquid. If you use 1 cup of apple cider, the batter will be too wet and soggy, resulting in really dense donuts with a bland flavor. Similarly, if you only use 1/2 cup of apple cider, the flavor will be too mild and its thin consistency may affect the donut texture. The reduced apple cider provides the ideal flavor and balance of moisture in this recipe.
Enjoy with some tea, coffee, or caffeine-free drinks like my Dandelion Chicory Latte or Cinnamon Dolce Latte for breakfast or as a dessert or snack at any time!
Frequently Asked Questions
Are there different gluten-free flours or a gluten-free flour blend I can use?
You can substitute tapioca starch with arrowroot starch. Otherwise, I don't recommend substituting any flours. This grain-free, nut-free, and gluten-free flour blend is crafted to achieve the desired tastes and textures, and cannot be substituted with all purpose gluten-free flour blends. Moreover, this recipe is free of yeast and gums often included in those blends.

Want to learn more about baking with grain-free flours and making your own blends? I teach you how in The Basics.
Can I use apple juice instead of apple cider?
I don't recommend this substitution. Apple cider is the signature ingredient and the reduction's flavor and consistency is optimal to create the desired flavor and texture of these apple cider donuts.
What about boiled cider instead?
No I don't recommend this substitution. Boiled cider is a sweet, thick, apple cider syrup with a low liquid content that won't work in this recipe.
Can I fry these donuts?
No, this apple cider donut recipe is designed for baking and frying this donut batter wouldn't work. If you're looking for a fried apple donut recipe, check out my gluten-free apple fritters recipe.
Can I make the dough ahead of time and refrigerate or freeze to use later?
I don't recommend making this dough in advance or freezing it, especially once the leavening agents and the binding agent (egg replacement) are added.
Can I make these mini donuts regular-sized or without a donut pan?
I don't recommend making them any larger. Since there's no chicken egg binding the mini donuts, their small size helps them maintain shape and structure. Similarly, I wouldn't try to make this as a loaf or a cake in a different-sized or shaped pan. Mini muffins might work although I haven't tested them so I can't guarantee the results.
Storage & Reheating Instructions
If you're not eating these right away or you have leftovers, you can keep these donuts in a sealed container at room temperature for 1-2 days.
Fridge: Keep cooled donuts in a sealed container in the fridge for up to 4 days. Warm in the microwave before serving.
Freezer: Wrap cooled donuts in plastic wrap and store in a sealed, freezer-safe container or bag for up to 1 month. Thaw them in the fridge or at room temperature and reheat them in the microwave to serve warm.
If you loved these Gluten Free Apple Cider Donuts I would appreciate it if you would give it a rating and review. Be sure to snap a picture of the finished product and share it with me on Instagram by tagging @healmedelicious and using the hashtag #healmedelicious.
Print
Apple Cider Donuts (Gluten-Free) Recipe
---
Description
These light and fluffy baked vegan and Gluten Free Apple Cider Donuts are super moist and tender! They're made with grain and gluten free flours, real apple cider and an aromatic spice infusion, complemented with a spiced sugar topping. This recipe is nut-free and Paleo and can be AIP!
---
Apple Cider Donuts
Apple Spiced Sugar Topping
---
Instructions
Apple Cider Donuts
Preheat oven to 350F and grease mini donut pan with olive oil.**
In a saucepan over medium to medium-high heat, reduce 1 cup apple cider to 1/2 cup. Remove from heat and set aside to cool before adding to the donut batter.
Make flax egg by stirring together flaxseed meal and water. Set aside to thicken and congeal, at least 5 minutes.***
In a large bowl, combine cassava flour, tapioca starch, tigernut flour, sea salt, baking soda, cinnamon, nutmeg or mace, cloves, and coconut sugar. Then make a well in the center of the dry ingredients.
In a medium-sized bowl, combine olive oil, applesauce, apple cider, vanilla, and apple cider vinegar. Pour in the wet ingredients and combine with the dry ingredients.
Fold flax egg into the donut batter.
Spoon batter into prepared donut pans about 3/4 full. Alternatively, transfer batter into a piping bag or a resealable plastic bag with the corner snipped off, and squeeze batter into the greased mini donut cavities.
Bake in the middle rack of the oven for 10 minutes.
Allow donuts to cool at least 10 minutes and then use a knife to loosen the edges of the donuts before flipping over onto a cooling rack to cool completely.
Once cooled, top with optional spiced sugar mix. Serve and enjoy!
Apple Spiced Sugar Topping
In a small bowl, mix together maple sugar, coconut sugar, cinnamon, nutmeg or mace, ginger and cloves.
Generously sprinkle spiced sugar coating over donuts.
Notes
* For AIP option make gelatin egg using 1 TBSP gelatin powder + 1/4 cup hot water
**Don't skip greasing the donut pan even if it says it's non-stick.
*** If using a gelatin egg you'll want to make it just before you add it in rather than at this stage so it doesn't set completely. Skip to step 4 and add the gelatin egg in at step 6.
Prep Time:

15 minutes

Cook Time:

10 minutes

Category:

Desserts, Breakfast

Method:

Baked

Cuisine:

American
Keywords: apple cider donuts, gluten-free apple cider donuts, gluten-free dairy-free donuts, vegan donuts, gluten-free dairy-free apple desserts, mini apple cider donuts, paleo donuts, grain-free donuts, egg-free donuts, baked donuts, apple cider, gluten-free baking, grain-free baking