This deeply savory, slightly sweet Gluten-Free Stuffing is the perfect Thanksgiving side dish. Gluten-free bread, caramelized onions, juicy sautéed ground pork, and lots of fresh, aromatic herbs and vegetables bake to tender perfection with a crisp, golden brown top. This holiday dressing is egg-free, dairy-free, and AIP/paleo-friendly.
The holidays can be tricky for those of us with food intolerances who want to relish our favorite nostalgic foods without making dietary sacrifices. Don't worry, I've got you covered with my easy gluten-free stuffing recipe. It's made without eggs, dairy, or any of the top 8 food allergens, and can be paleo and AIP-compliant. Plus, it's way better than any pre-packaged gluten free stuffing mix. My stuffing is bursting with all the rich, classic flavors you love for a delicious holiday side all eaters will enjoy.
If you're working with dietary restrictions and craving delicious, comforting holiday dishes, you might like the recipes in my AIP Holiday Eats ebook. Complete your holiday menu with more allergy-friendly, gluten-free dishes in my roundup of Easy Paleo Thanksgiving Recipes.
Gluten-Free Stuffing Recipe
My warm and comforting homemade gluten free stuffing gets its signature savory flavor from staple ingredients like garlic, onion and celery, with fragrant thyme, sage, and rosemary. But the slow cooking process of caramelizing the onions with the additional mushrooms, apples, and ground pork introduces sweet and umami elements that really elevate this traditional dish with a complex depth of flavor.
The caramelized onions create a rich, sweet base, while aromatic garlic and celery build on this flavor base. Mushrooms add some umami notes while the apples impart light and refreshing sweetness for contrast. Ground pork works similarly to cooked sausage or bacon, which are sometimes added in stuffings and is essential to this dish's texture and flavor. Its meaty flavor, savory depth, and subtle sweetness enhance the overall flavor profile. It's perfectly complemented by earthy thyme, savory sage, and woody rosemary. The fresh herbs add warmth and complexity, infusing the stuffing with herbaceous and earthy undertones.
Torn gluten-free bread pieces are added to the mixture and poured over with a gluten-free broth. The bread soaks up the flavors and succulent juices released from the ground pork's fattiness. As the stuffing bakes, the flavors meld, and the bread absorbs the moisture, preventing the stuffing from drying out. This ensures a perfect balance of moisture so the inside of the stuffing is soft and tender with lightly crisped pieces of pork and moist, toasted bread with a slightly crispy top.
My gluten-free stuffing is layered with delicious flavors and is the perfect side dish to accompany turkey and complete your Thanksgiving or holiday spread.
Ingredients
olive oil
yellow onion
garlic
celery
apple
button or cremini mushrooms – button mushrooms are the younger version of cremini mushrooms.
ground pork – produces a complex flavor with savory, sweet, and umami notes that won't be replicated with other ground meats.
fresh thyme
fresh rosemary
fresh sage
gluten-free bread – use any kind of gluten-free bread that you like once it meets your dietary needs.
broth or stock – if using a store-bought product, ensure it's gluten-free, low sodium, and that the ingredients comply with your dietary needs.
sea salt + black pepper – to taste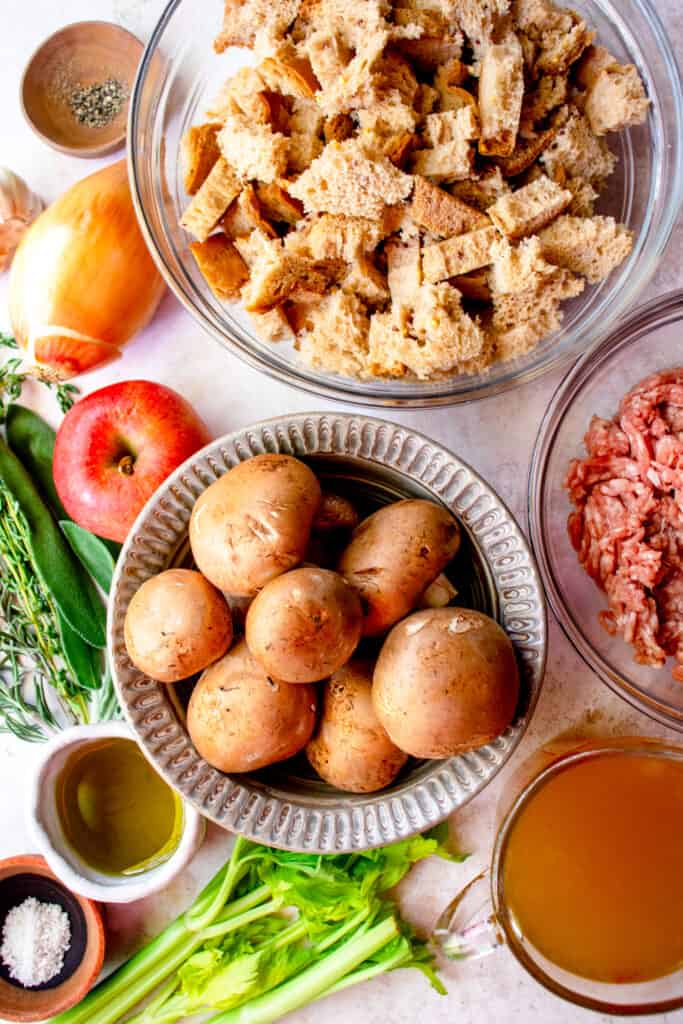 Ingredient Substitutions
Apples: Sweeter varieties like fuji and gala apples work nicely in this flavor profile, but you can use any kind you like.
Fresh herbs: I highly recommend using fresh herbs for the best flavor; they really pack a punch. If you need to use dried herbs, use half the amount of fresh herbs called for in the recipe.
Broth/stock: Use your choice of vegetable, chicken, or beef bone broth or stock.
AIP modification: If you are in the elimination stage of the autoimmune protocol (AIP diet), omit the black pepper, ensure the bone broth uses AIP-compliant ingredients, and use AIP-compliant bread like my AIP sourdough bread. I recommend baking it a few days in advance and slicing and leaving it to dry or toasting it to really dry it out.
Gluten-free bread: You can use any gluten-free bread you like. Note that while this stuffing recipe has no added eggs or dairy, some gluten-free breads may contain them. Always check the label and ingredient list carefully.

Paleo modification: Ensure your gluten-free bread is also paleo-compliant (i.e. no grains or dairy. Paleo breads may contain eggs).
Dairy-free and Egg-free modification: Ensure the gluten-free bread you use is also dairy-free and egg-free. For readers in the US, Bread SRSLY is a good option for gluten-free, vegan bread. In Canada, I often get the Cock-A-Doodle-Do brand from Coco Market. Natura Market also has several options available, and both sites ship Canada-wide.
Want to learn how to bake your own egg-free, dairy-free, and gluten-free bread? Check out The Bread Course at Grain-Free Academy.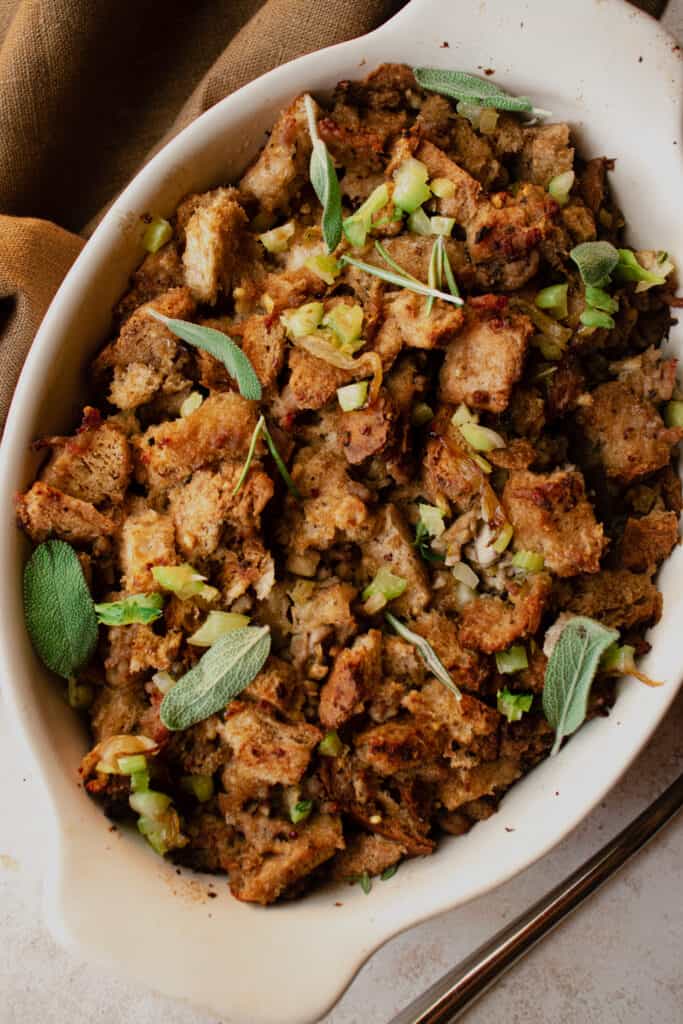 Instructions
Step 1: Prep
Preheat the oven to 350F. Grease a baking or casserole dish with olive oil and set aside.
Step 2: Caramelize the Onions
Heat olive oil in a large and deep skillet over medium-low heat. Once the oil is hot, add the sliced onions. Stir frequently for five minutes. Then, continue to caramelize the onions by leaving them undisturbed, stirring only as needed so they brown but don't burn, for about 5-7 minutes.
Step 3: Sauté the Vegetables
Next, add the vegetables in stages and so they have time to become tender and caramelize. Start with the garlic and celery. Then, add the mushrooms. Lastly, add the very finely diced apples. Stir as needed. You might need to add a splash of water or turn down the heat if they begin to burn rather than caramelize.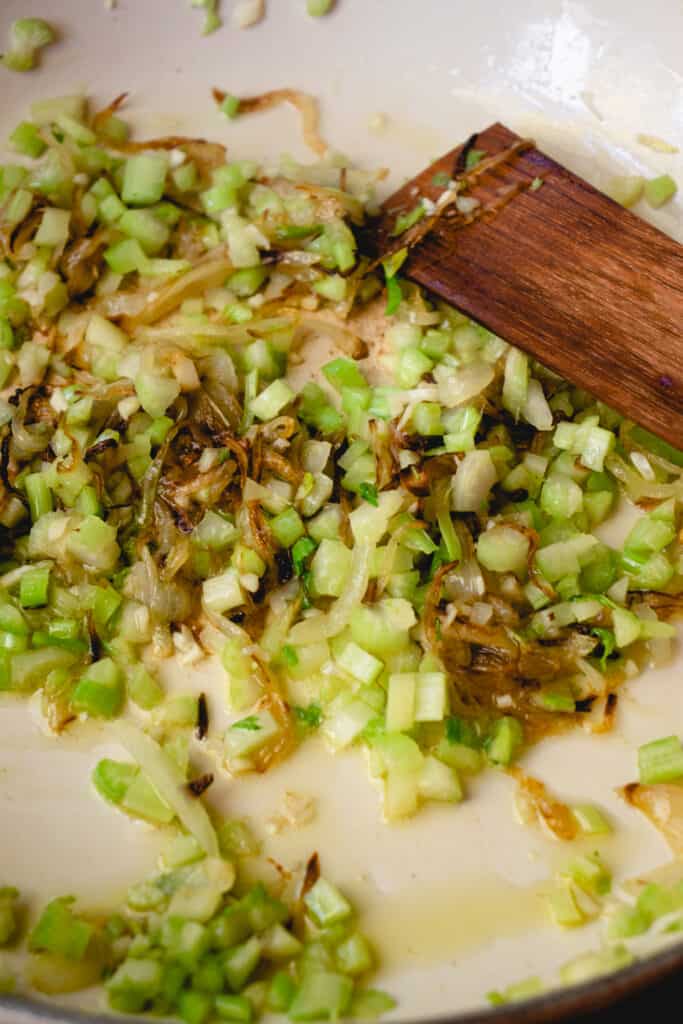 Step 4: Sauté the Pork
Add the ground pork, breaking it into small pieces, and the fresh herbs. Cook until the pork has browned. Season with salt and pepper to taste.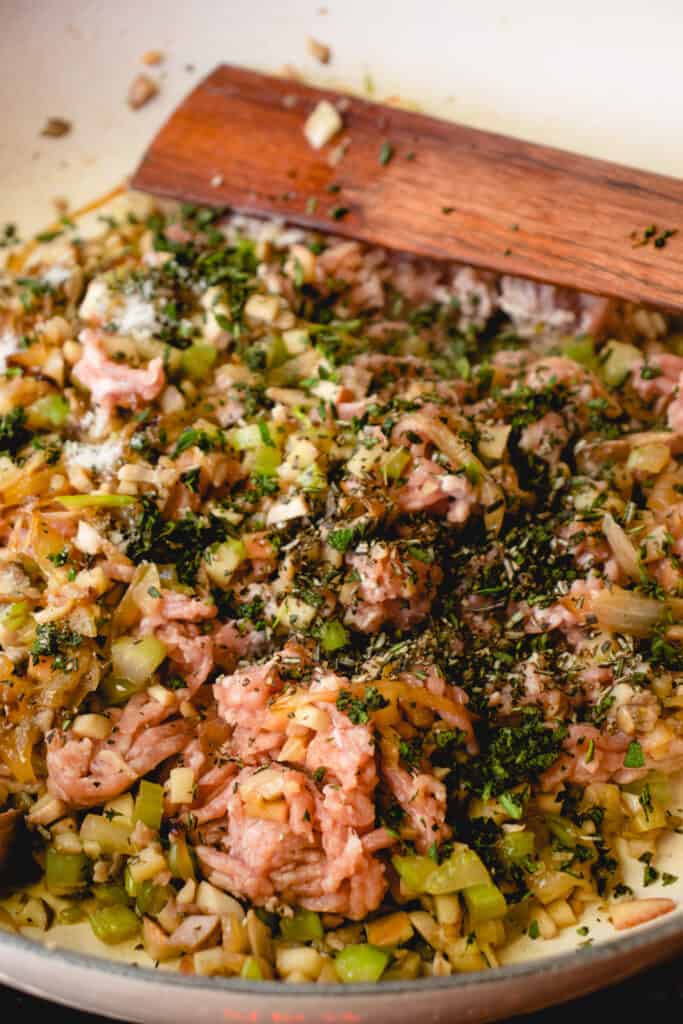 Step 5: Add the Bread
Remove the skillet from the heat and add the torn bread. Alternatively, transfer the sautéed pork and vegetable mixture to a large, heat-safe bowl and add the bread. Pour the broth over and mix gently until well combined, so the bread is evenly coated. We want the bread to be moist but not soggy, and the liquid should be mostly absorbed.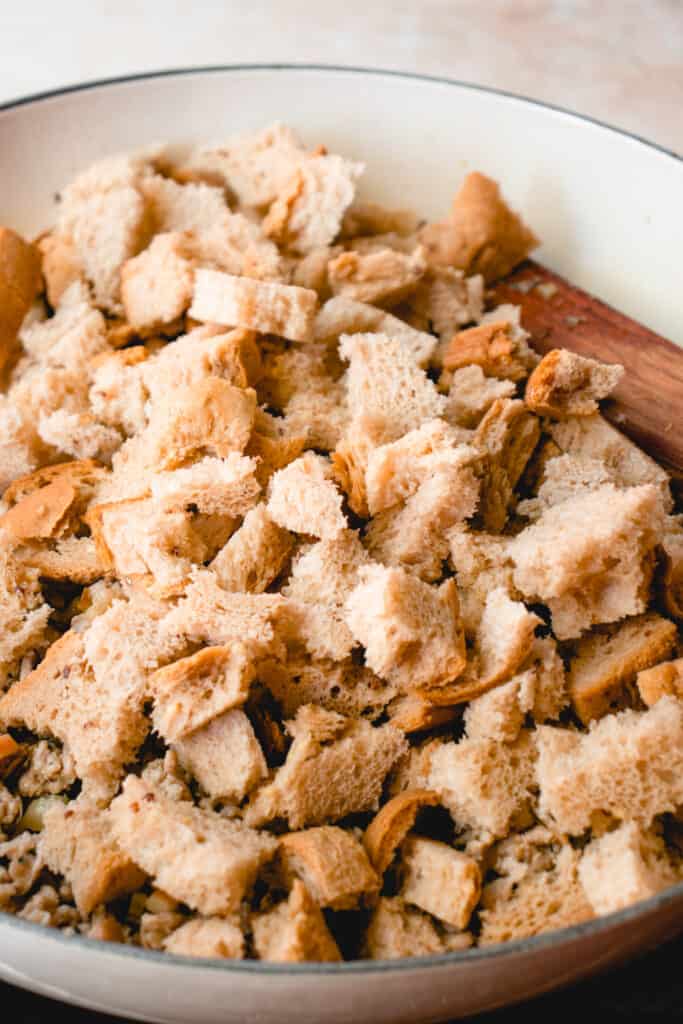 Step 6: Bake the Stuffing
Transfer the stuffing mixture to the prepared casserole dish, spreading it out evenly. Bake uncovered for 35 minutes. Once baked, the stuffing should be juicy and moist with slightly crispy pieces of pork and a golden brown, toasted top.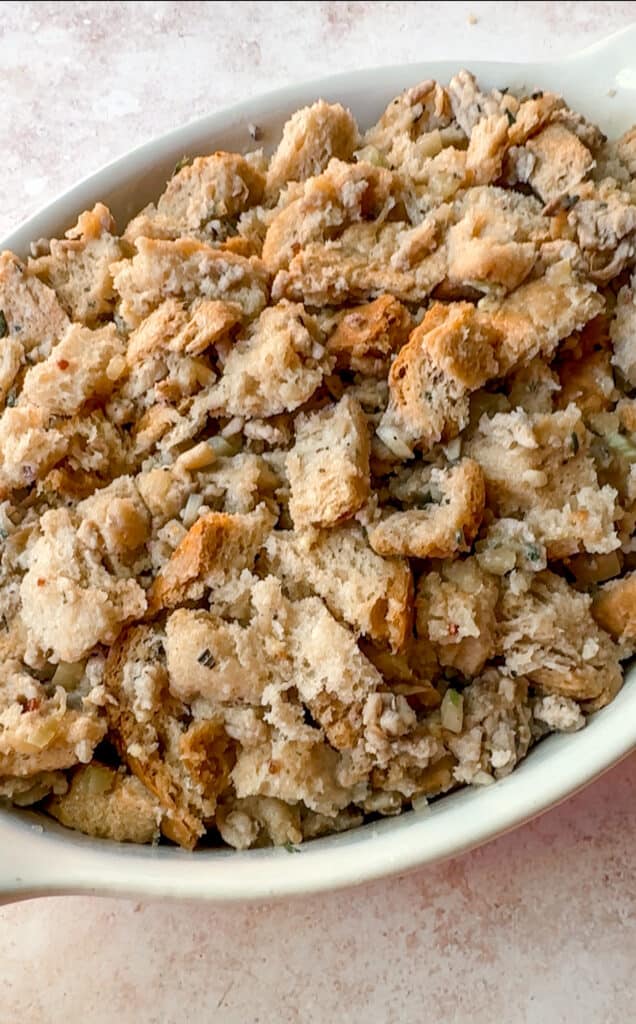 Step 7: Serve
Let the stuffing cool for a few minutes before serving to allow it to set and the bits of pork to crisp further. If you'd like, you can garnish the top of the gluten free stuffing with some finely chopped celery, chopped parsley, whole sprigs of rosemary and whole leaves of sage and thyme. Always serve this dish warm.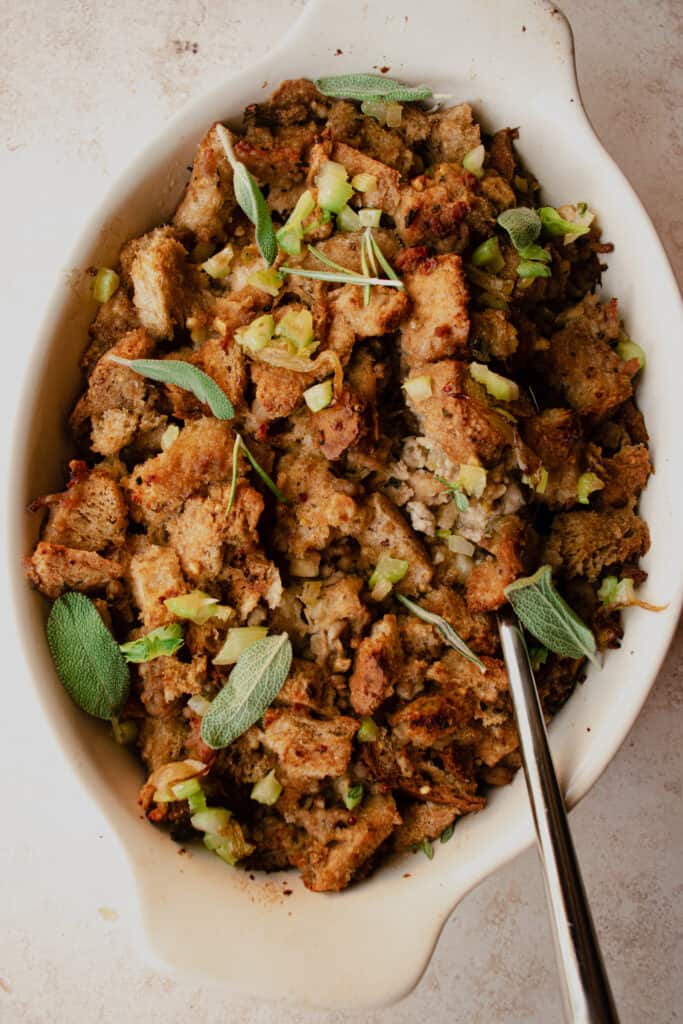 Recipe Variations
I know that the way people like their stuffing varies widely, and I'm no different. The stuffing I'm accustomed to having always had a sweet element to it, hence I added the apples. Another really lovely, optional addition is raisins. I know they aren't a fan favorite so I didn't include them in the recipe base, however if you do enjoy them they're a really great add-in. I recommend 1/2 cup of raisins if you choose to add them. Mix them into the stuffing mixture just before transferring it to the baking dish.
Similarly, dried cranberries or chopped dates would work well in this recipe. If you can tolerate nuts, chopped pecans or chopped walnuts would also be wonderful additions. Customize your additions by using what you like. Use about 1/2 cup of these if you choose to include them.
Expert Tips & Tricks
Remember, we're cooking everything low and slow so they soften and caramelize. This builds the flavor layer by layer with each additional ingredient. Add a splash of water if required and stir only as needed.
Add salt and pepper to the mixture to taste.
Gluten free bread for stuffing
Choose any kind of gluten-free bread that you like and is compliant with your dietary needs. See the Ingredient Substitutions for more on choosing compliant gluten-free breads.
There's no need for toasting the gluten-free bread in the oven beforehand. Gluten-free bread is typically drier than wheat and other breads with gluten and will get too brittle and crumbly in this recipe, especially without any additional moisture from eggs or other binders.
That said, it's always best to use stale bread for stuffing. I recommend buying or making your homemade gluten-free bread a few days in advance.
If your bread is on the fresher side or could benefit from drying out a bit, feel free to do so:

Rip the bread into pieces about 1/2 – 3/4 inch in size. Place in a large bowl or on a baking sheet at room temperature or ideally in a cool, dry place. Let it air dry for 8 hours or overnight.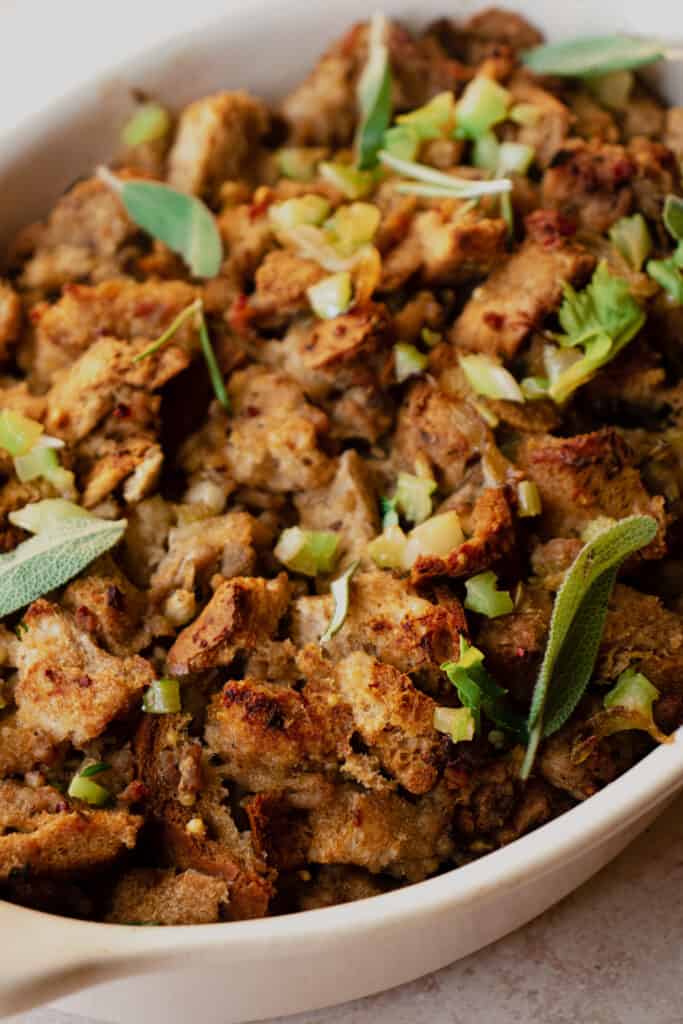 Frequently Asked Questions
Can I use another ground meat instead of ground pork?
Ground pork is essential to creating this stuffing's deliciously rich and complex flavor profile which won't be possible without it. It creates a juicy, deeply savory, umami, slightly sweet flavor that can't be recreated with other ground meats.
Can I make this stuffing in advance?
Yes! I recommend you make the entire dish and bake it for 30 minutes. Let it cool fully and store it in the fridge. Before serving, allow the dish to come to room temperature and reheat it in the oven at 350F and bake it for 10 minutes.
Can I make this stuffing inside the turkey?
No, this stuffing is technically a 'dressing' as it is made outside the turkey. We need to soften and caramelize the veggies and sauté the ground pork on the stovetop first before baking it in the oven.
Storage & Reheating Instructions
Reheat: I recommend serving this dish warm. Reheat in the oven or individual portions in the microwave.
Fridge: Store in an airtight container in the refrigerator for up to 1 week.
Freezer: Store in a freezer-safe container or resealable bag in the freezer for up to 1 month.
I hope you love this Egg-free Gluten-free Stuffing. If you do, I would appreciate it if you would give the recipe a star rating and review. Be sure to snap a picture of the finished product and share it with me on Instagram by tagging @healmedelicious and using the hashtag #healmedelicious.
Print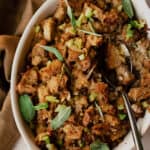 Gluten-Free Stuffing Recipe (Egg-Free, Dairy-Free)
---
Description
This sweet and savory Gluten-Free Stuffing is the perfect Thanksgiving side dish. It features torn gluten-free bread, fresh, aromatic herbs and veggies, and sautéed ground pork baked to perfection – tender and juicy with a crisp, lightly toasted, golden brown top. This paleo holiday dressing is also AIP-friendly.
---
3 TBSP

extra virgin olive oil

1

large yellow onion, thinly sliced

2

cloves garlic, minced

1

cup

finely diced celery

3/4

cup

very finely diced apple (any variety)

2

cups

chopped button or cremini mushrooms

1

lb

ground pork

2 TBSP

finely chopped fresh thyme

1 TBSP

finely chopped fresh rosemary

1 TBSP

finely chopped fresh sage

7

cups

gluten-free bread ripped into 1/2 – 3/4 inch pieces

1 1/2

cups

stock/bone broth (low sodium)
sea salt to taste
black pepper to taste (omit for AIP)
---
Instructions
Preheat oven to 350F. Grease a casserole dish with olive oil and set aside.
To a large, deep skillet, heat olive oil over medium-low heat. Once oil is hot, add sliced onions and sauté 5-7 minutes, stirring frequently to ensure the onions are coated with oil. Ensure onions are evenly spaced out in the pan and leave them to cook for another 5-7 minutes, stirring only as need. You want to leave them alone enough to caramelize and brown, but not burn.
Add garlic and celery and sauté for about 3 minutes, stirring as needed.
Add mushrooms and sauté about 3 minutes, stirring as needed.*
Add apples and stir.
Add ground pork, breaking it up and stirring to combine with the sautéed vegetables.
Add thyme, rosemary, and sage, and stir to combine. Cook until pork is browned and mushrooms and apples have softened.
Turn off stove and remove the skillet from heat. Add the ripped pieces of bread into the pan.**
Pour the broth over the bread and gently mix to combine and until bread is moistened.
Transfer the stuffing mixture to the prepared dish.
Bake in middle rack of oven for 35 minutes.
Let cool a few minutes. Serve warm and enjoy!
Notes
*While sautéeing the vegetables, you can add a splash of water if necessary.
**If your skillet isn't large enough, transfer the sautéed pork and vegetable mixture to a large heat safe bowl and add the torn bread. Pour the broth over the stuffing mixture and mix in the bowl.
Prep Time:

20 minutes

Cook Time:

1 hour

Category:

Sides

Method:

Stovetop & Baked

Cuisine:

American
Keywords: stuffing, dressing, gluten-free stuffing, gluten-free dressing, thanksgiving stuffing, thanksgiving sides, thanksgiving side dish, holiday side dish, gluten-free egg-free stuffing, dairy-free stuffing