My Gluten-Free Green Bean Casserole features crisp-tender green beans with a homemade cream of mushroom soup topped with crispy, golden brown shallots. It's quick, easy, and a great paleo and gluten-free Thanksgiving side that's also vegan-friendly.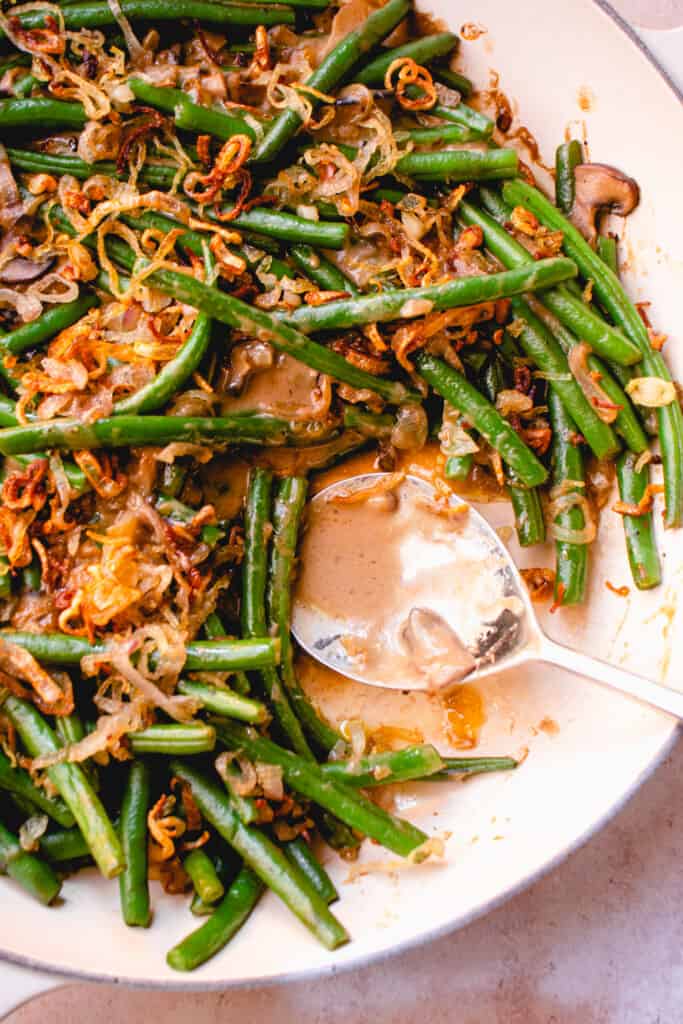 My gluten free version of traditional green bean casserole has all the cozy flavors you love about this popular American holiday side dish without any gluten, grains, or dairy. Instead of using canned green beans or cream of mushroom soup, I made this gluten-free green bean casserole completely from scratch for a fresh and flavorful, allergy-friendly vegetarian dish that all eaters can enjoy!
If you're working with dietary restrictions and craving delicious, comforting holiday dishes, you might like the recipes in my AIP Holiday Eats ebook. Complete your holiday menu with my Gluten-Free Stuffing or any of these gluten-free dishes in my collection of Easy Paleo Thanksgiving Recipes.
Gluten-Free Green Bean Casserole Recipe
Inspired by classic green bean casseroles, my lighter variation is lightly creamy and crispy, with the freshest ingredients. It starts with fresh green beans, blanched to retain their bright green color and tender bite. They're mixed together with my rich, dairy-free creamy mushroom soup. It provides a wonderful depth of flavor with savory and umami notes from two types of mushrooms and lots of fresh herbs and veggies.
Crispy, golden brown fried shallots really elevate this dish and add a nice contrast in color against the vibrant green. I love using them here as my version of homemade gluten free french fried onions but without any heavy batter. They're mixed with the beans and soup for extra crunch, then seasoned with some fresh thyme, salt and pepper.
The whole casserole bakes together for just 10 minutes. It's maybe the quickest and easiest dish to throw together on busy holidays, especially if you've done the prep. Once baked and the flavors meld, it's topped with more delicious crispy, crunchy shallots and ready to be served!
Ingredients
fresh green beans
fresh thyme
sea salt
black pepper
shallots
avocado oil – for frying
Ingredient Substitutions
Fresh green beans: You can use frozen green beans instead of fresh green beans. I do not recommend using canned green beans as they tend to get mushy when cooked.
Vegan modification: This green bean casserole is completely vegan once you follow the vegan modifications for making my cream of mushroom soup.
I do not recommend any other ingredient substitutions. I do not recommend replacing any ingredients with canned products.
Instructions
Step 1: Prep
First, preheat the oven to 400F and grease a casserole dish with olive oil.
Step 2: Fry the Shallots
Then, add avocado oil and sliced shallots to a small saucepan. Turn the stove on to medium heat and allow to shallots to heat with the oil. Use a fork to break up the slices into rings and stir frequently to prevent the edges from burning. Fry the shallots until they just start turning golden brown, then transfer them to a paper towel-lined plate. They'll continue to cook from the hot oil which is why you want to remove the shallots just before they're done. They'll crisp and get some more color as they cool.
Step 3: Blanch the Green Beans
Next, to a pot of boiling, salted water, add the prepared green beans and cook for 2-3 minutes. You don't want to cook these for too long because you want them to retain some firmness and bite. Then, immediately strain or remove the green beans with tongs and place them in a large bowl with ice and cold water. The ice bath stops them stops them from cooking further so they'll have the desired crisp-tender texture. After a few minutes in the ice bath, drain the beans in a colander and set aside.
Step 4: Assemble the Dish
In a large bowl, toss the green beans with sea salt, black pepper, cream of mushroom soup, thyme, and 1/4 of the crispy shallots.
Mix everything together until well combined and pour into the prepared dish.
Step 5: Bake the Green Bean Casserole
Bake uncovered for 10 minutes.
Step 6: Serve
Finally, remove from the oven. Top with the remaining crispy shallots and serve immediately.
How to Make Gluten-Free Green Bean Casserole
Check out these Tips & Tricks for bringing together this easy gluten-free green bean casserole dish.
Crispy Shallots:

Thinly slice the shallots into rings by cutting crosswise with a sharp knife or using a mandolin.
Add the shallots to the oil before turning through stove on. Starting the shallots in room temperature/cold oil will help them to caramelize evenly.
Ensure you use enough oil to fully submerge the shallots.
Keep watch over the shallots as they fry as they can begin to burn easily.
To remove the shallots from the oil, use a slotted spoon or pour them into a fine-meshed metal strainer over a heat-safe bowl to collect the hot oil.
Reserve the shallot infused frying oil. Once strained and cooled, use it as a flavorful addition to salads, stir fries, soups, etc.
Top the baked casserole with the fried shallots just before serving to maintain their crispiness. If you add them too early they can start to soften once in contact with the warm dish.

Thicken the soup if you'd like the casserole to have a thicker consistency. Either use more soup, about 2 cups, or thicken it with a gluten free flour/starch.

In a small saucepan over medium-low heat, add the cream of mushroom soup. Then, make a slurry with 1 TBSP tapioca starch and 2 TBSP water, and whisk it into the soup. Continue whisking and allow the soup to thicken.

If you do thicken the soup, try doing it in an oven-safe dish like a braiser if you have one. Then, you can combine the rest of the ingredients and transfer the braiser from the stovetop to the oven.
Don't overcook the casserole. Since all the individual components are already cooked, there's no need to bake the casserole for a long time. It's really just to warm the dish and bring the flavors together.
How To Prep Gluten-Free Green Bean Casserole
Prep this dish in advance by making the individual components i.e. blanch the green beans, make the cream of mushroom soup, fry the shallots, and store them separately in airtight containers.
Store the soup and the green beans in the fridge. Keep a paper towel in the container with the green beans for freshness.
The crispy shallots can be made a day ahead, cooled to room temperature and stored in a sealed on the countertop.
I do not recommend keeping this dish assembled or fully baked in the fridge before serving.
Reheat the soup slightly on the stovetop if using straight from the fridge, so that it can mix easily and evenly with the other ingredients.
Frequently Asked Questions
Storage & Reheating Instructions
Reheating: This dish is best served fresh on the first day. Reheat portions in the microwave.
Fridge: Store leftovers in an airtight container for up to 2 days.
Freezer: I don't recommend freezing this dish.
I hope you love this Gluten-free Green Bean Casserole. If you do, I would appreciate it if you would give the recipe a star rating and review. Be sure to snap a picture of the finished product and share it with me on Instagram by tagging @healmedelicious and using the hashtag #healmedelicious.
Print
Gluten-Free Green Bean Casserole (Dairy-Free, Paleo)
---
Description
This Gluten-Free Green Bean Casserole is a lightened up version of the classic Thanksgiving side dish. It's made with fresh green beans, a homemade, dairy-free cream of mushroom soup, and topped with crispy, golden brown shallots.
---
avocado oil (for frying shallots)

6

–

7

large shallots, sliced

1.5

lbs

fresh green beans, washed and trimmed

1.5

cups

cream of mushroom soup

1/2 tsp

sea salt

1/2 tsp

black pepper

1 TBSP

fresh thyme (whole leaves)
---
Instructions
Preheat the oven to 400F and grease a baking dish with olive oil.
Add shallots to medium saucepan with enough avocado oil to cover shallots. Turn the stove on to medium heat. As the shallots begin to fry, stir as needed to prevent burning as the edges may begin to brown first. When the shallots become lightly golden brown, remove from the oil and transfer to a paper towel-lined plate. They will continue to crisp as they cool.*
Working in batches, cook green beans in a large pot of boiling, salted water until bright green, about 2-3 minutes. Drain and rinse in an ice bath.
In a large bowl, combine green beans, cream of mushroom, sea salt, black pepper, thyme, and 1/4 of the crispy shallots. Then transfer to prepared baking dish.
Bake uncovered for 10 minutes.
Remove from oven. Top with remaining crispy fried shallots and serve immediately.**
Prep Time:

5 minutes

Cook Time:

20 minutes

Category:

Sides

Method:

Baked, Stovetop

Cuisine:

American
Keywords: green bean casserole, green bean bake, gluten-free green bean casserole, dairy-free green bean casserole, holiday sides, thanksgiving sides, thanksgiving recipes