My Cream of Mushroom Soup features sautéed mushrooms and vegetables seasoned with fresh herbs, broth, and coconut cream for a rich and creamy soup without the dairy. It's slightly sweet and savory with rich notes of umami from two types of mushrooms. This soup is gluten-free, paleo, vegan- and AIP-friendly.
Table of contents
Gluten-Free Dairy-Free Cream of Mushroom Soup
This gluten-free, dairy-free Cream of Mushroom Soup is a bowl of pure comfort. It's warm and earthy, with layers of savory and umami flavors. Sautéed, lightly caramelized onions, leeks, and garlic form the flavor base while a mix of mushrooms creates the primary flavor. These sautéed mushrooms create a robust umami-rich taste and hearty texture. Fresh thyme, rosemary, and bay leaves infuse the soup with herbal and aromatic notes, seasoned with some black pepper and salt.
White wine vinegar adds a kick amidst rich, flavorful broth and silky, mildly sweet coconut cream. The broth forms the liquid base of the soup while the coconut cream thickens and provides a creamy texture without gluten or dairy. Once simmered and the flavors meld, the soup is blended with some coconut aminos for added umami flavor. An optional touch of Dijon mustard adds a subtle tanginess and spicy kick.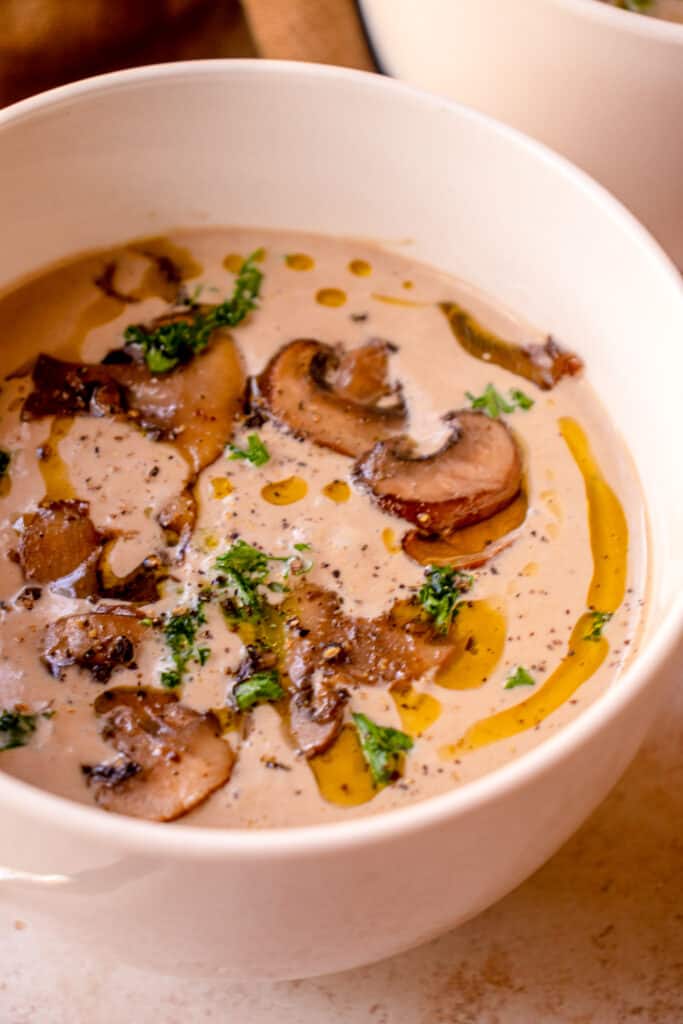 Ingredients
olive oil
yellow onion
leeks
garlic
mushrooms – I recommend using cremini and shiitake mushrooms.
sea salt and black pepper – to taste.
fresh thyme
fresh rosemary
whole bay leaves
white wine vinegar
broth or stock – if using a store-bought product, ensure it's gluten-free, low sodium, and that the ingredients comply with your dietary needs.
coconut cream – provides a rich, creamy texture without any dairy nor an overpowering coconut flavor in combination with the other ingredients.
coconut aminos – for added umami flavor without soy or gluten.
Dijon mustard – for an optional pop of acidity.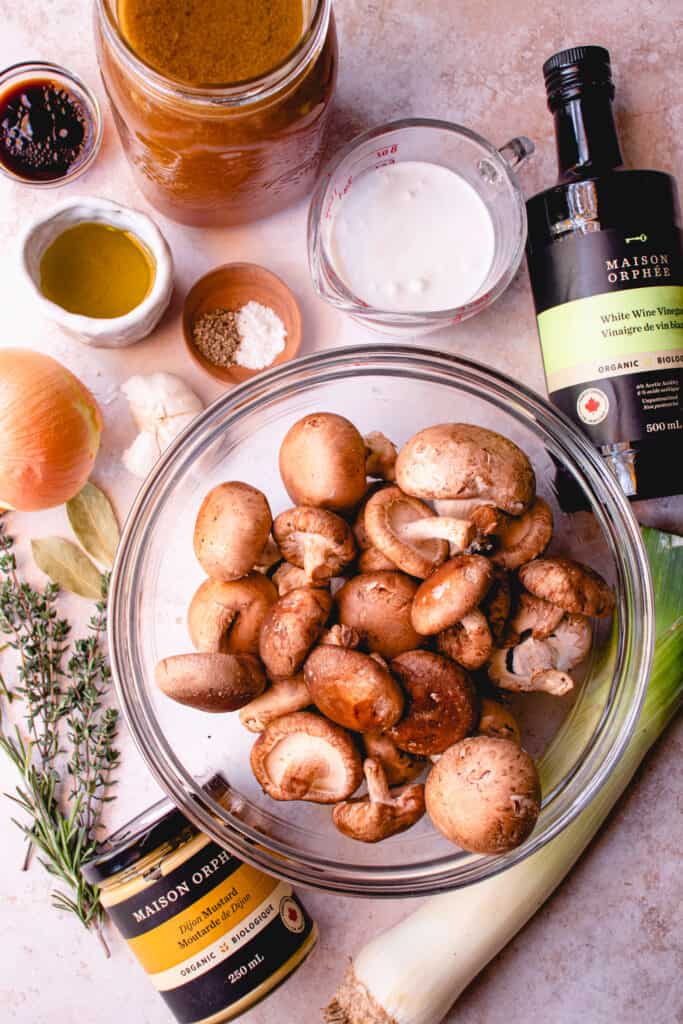 Ingredient Substitutions
Cremini mushrooms: You can substitute cremini mushrooms with button mushrooms.
Broth/stock: Use your choice of vegetable stock, or, if not vegan, opt for chicken or beef bone broth or stock.
Coconut aminos: You can use tamari, a gluten-free soy sauce, instead of coconut aminos if you don't need the soup to be soy-free.
Coconut cream: You can also use the separated cream part of canned, full-fat coconut milk.
AIP modification: If you are in the elimination stage of the autoimmune protocol (AIP diet), omit the black pepper, ensure the bone broth and coconut cream use AIP-compliant ingredients, and omit the Dijon mustard.
Vegan modification: Use a certified vegan vegetable broth or stock.
Instructions
Step 1: Sauté the Aromatics
Add 2 TBSP of olive oil to your soup or stockpot over medium heat and sauté the onions and leeks until they become soft and tender. This light caramelization adds sweet and savory notes and builds the flavor base of this rich soup.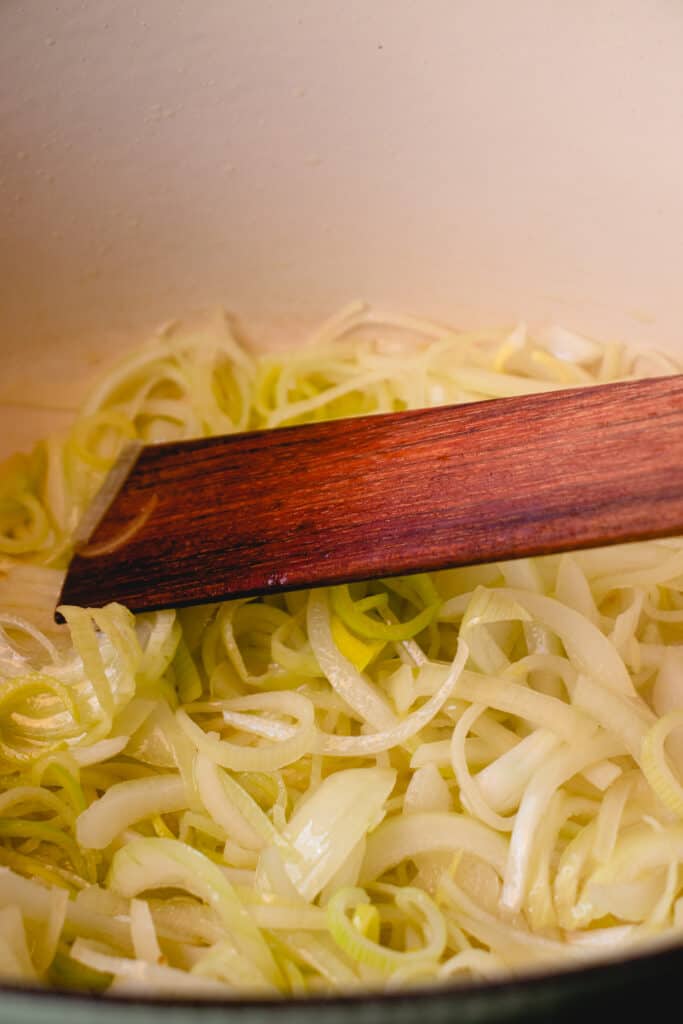 Next, sauté the garlic for a few minutes until fragrant.
Add the remaining olive oil and sauté the mushrooms. We want the mushrooms to get direct contact with the pan and cook in the oil so they release their moisture and flavor, and cook down til they soften. Season with sea salt and black pepper to taste. Then, add the whole fresh herbs.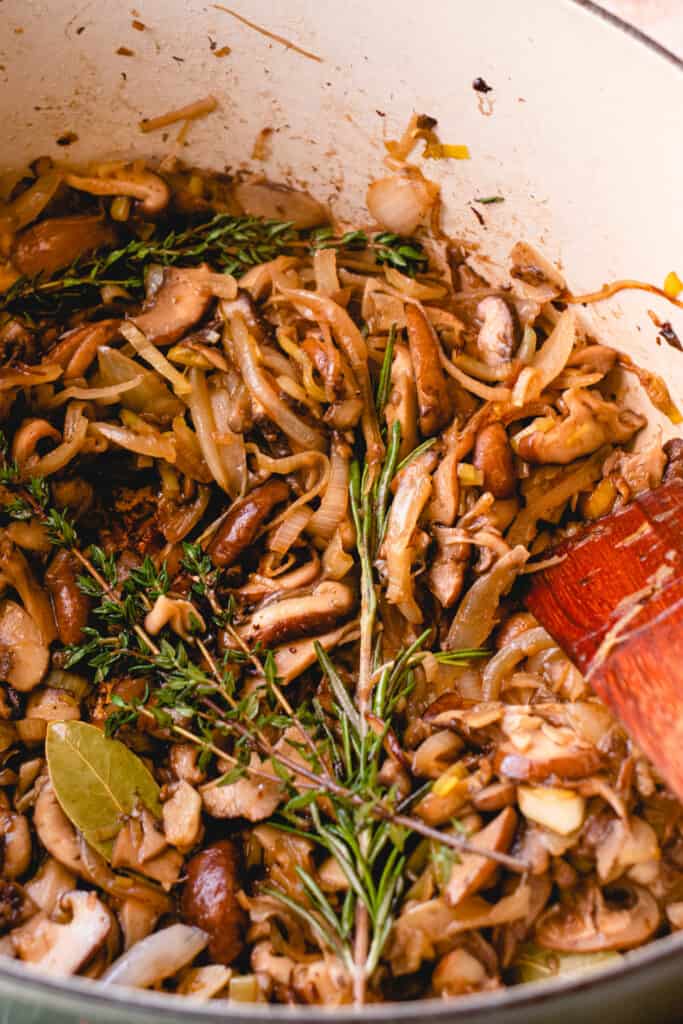 Step 2: Add the Liquids
First, add the white wine vinegar to deglaze the pan. Scrape up the font or the browned bits from the bottom of the pan. Next, add your broth or stock of choice and the coconut cream and mix together. Cover the pot and let simmer for 15-20 minutes.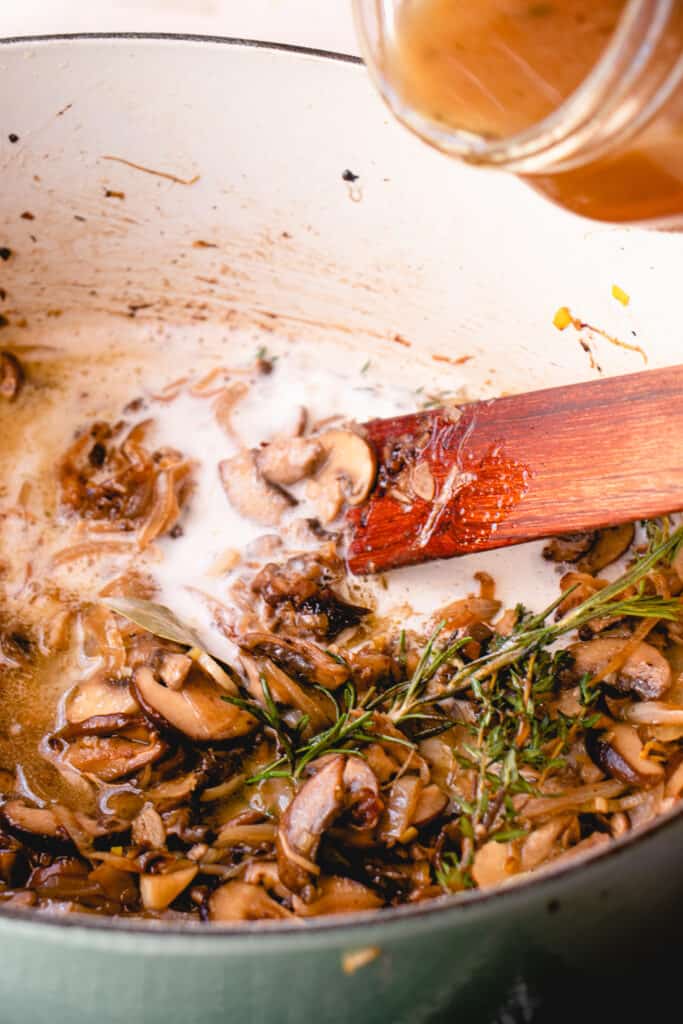 Step 3: Blend
Remove about 3/4 of the soup and transfer to a blender. You can remove the whole fresh herbs at this point to avoid blending them. Blend until the soup becomes a velvety smooth mixture.
Step 4: Simmer
Return the puréed mushroom soup to the pot. If you'd like, add Dijon mustard for added brightness. Bring the soup back to a simmer for a few minutes to allow the flavors to meld while the soup thickens.
Step 5: Serve
Ladle the soup into bowls. For a touch of extra richness, you can drizzle the top with some high quality olive oil and garnish with chopped fresh parsley. Top with more freshly ground black pepper if you'd like (AIP reintro).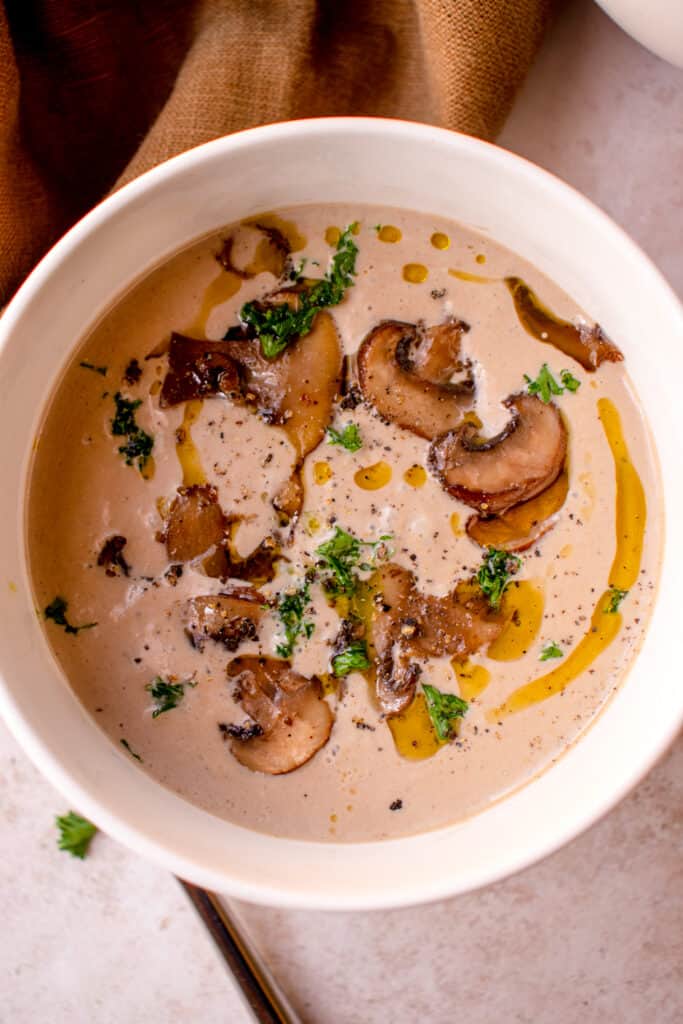 Frequently Asked Questions
Is traditional cream of mushroom soup gluten-free and dairy-free?
No. Classic cream of mushroom soups, whether homemade or canned, are typically made with gluten containing wheat flour and butter for the roux base, as well as other dairy like cream or milk, and gluten like wheat starches for additional thickening.
What types of mushrooms should I use? Are there ingredient substitutions I can make?
See the Ingredient Substitutions section.
Can I make this cream of mushroom soup vegan or AIP compliant?
Yes you can! See the notes on Vegan and AIP modifications in the Ingredient Substitutions section.
Can I prepare this soup in advance?
Yes, you can make this soup in advance and keep it in the fridge or the freezer for longer storage. If freezing it, thaw it in the fridge overnight. Reheat the soup on the stovetop and serve warm.
How do I use cream of mushroom soup?
Enjoy this hearty and flavorful soup as a main dish for lunch or dinner. You can also use it in pastas, casseroles, or anywhere you would use a canned cream of mushroom soup. It's also a main ingredient in my Gluten-Free Green Bean Casserole.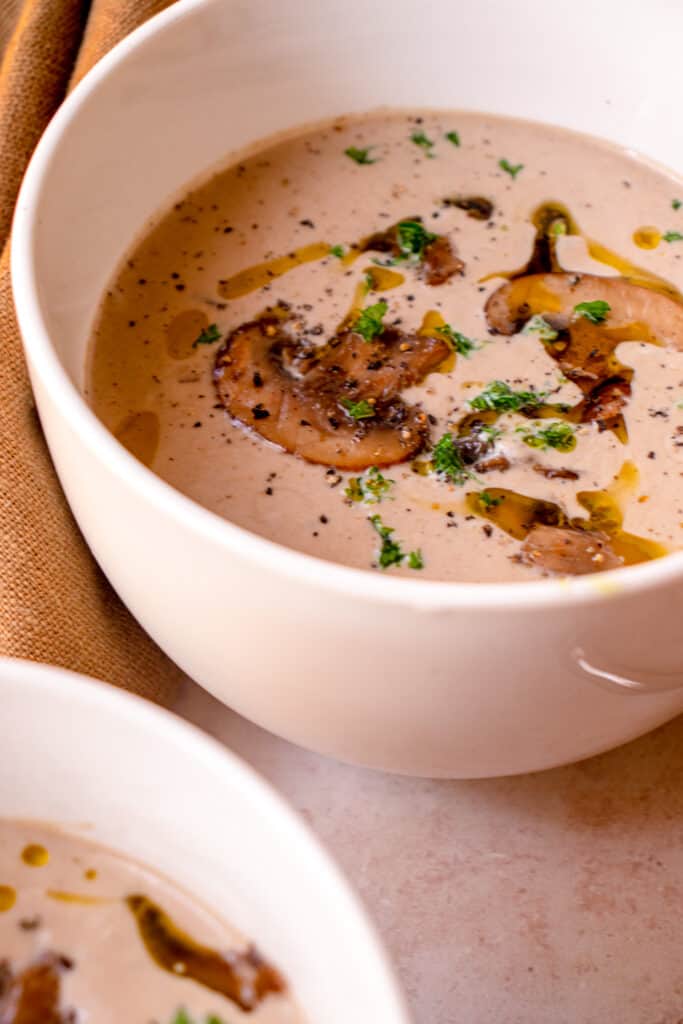 Storage & Reheating Instructions
Reheating: This soup should be served warm. Reheat in the microwave or on the stovetop.
Fridge: Store in an airtight container in the refrigerator for up to 1 week.
Freezer: Store cooled soup in a freezer-safe container in the freezer for up to 3 months. Defrost in the fridge overnight and reheat on the stovetop.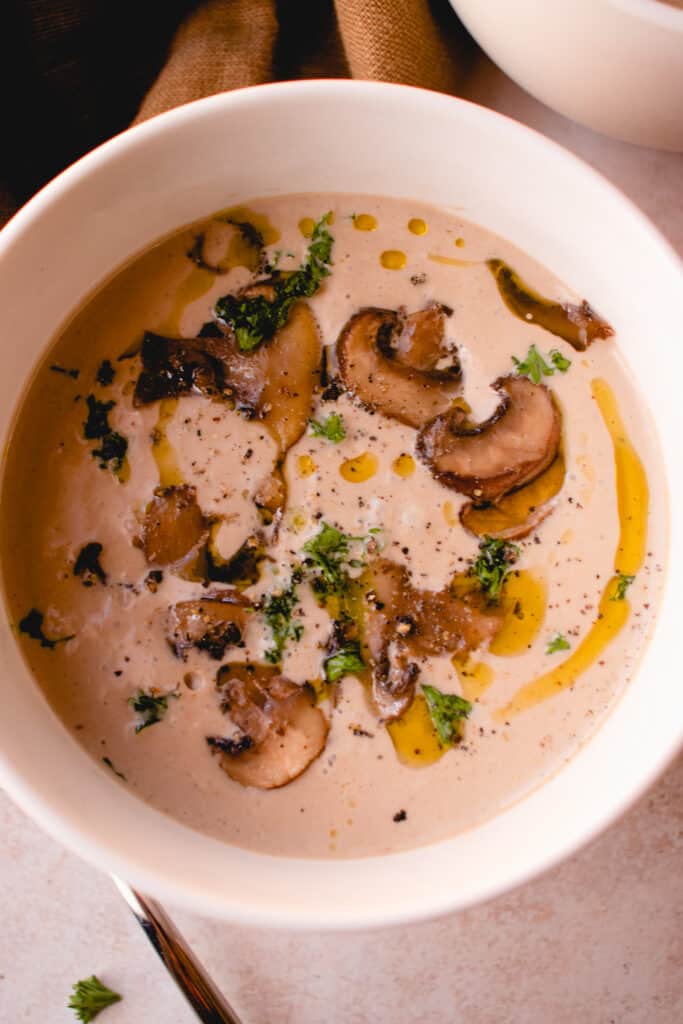 I hope you love this gluten-free and dairy-free Cream of Mushroom Soup. If you do, I would appreciate it if you would give the recipe a star rating and review. Be sure to snap a picture of the finished product and share it with me on Instagram by tagging @healmedelicious and using the hashtag #healmedelicious.
Print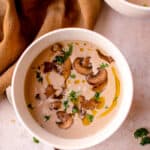 Cream of Mushroom Soup Recipe (Gluten-free, Dairy-free)
---
Description
This easy, homemade Cream of Mushroom Soup is perfectly rich and creamy with fresh mushrooms, herbs and vegetables, and no dairy or gluten thickeners. Deeply savory and umami-rich, this creamy mushroom soup is way better than the canned version! This paleo soup can easily be made vegan and AIP-compliant.
---
4 TBSP

olive oil (divided)

1

large yellow onion, sliced

1

leek, well washed and sliced

6

garlic cloves, diced

16

ounces

fresh cremini/button and shiitake mushrooms, sliced (about 4 cups)
sea salt and black pepper to taste (omit pepper for AIP)

2

sprigs fresh thyme

1

sprig fresh rosemary

2

whole bay leaves

1

–

2

TBSP white wine vinegar

3

cups

bone broth or vegetable stock

3/4

cups

coconut cream

1 TBSP

coconut aminos

1/4 tsp

Dijon mustard (optional, omit for AIP)
fresh parsley, chopped (for garnish, optional)
---
Instructions
Heat 2 TBSP olive oil in a large pot over medium heat. Add the onions and leeks and sauté 5 minutes until they begin to soften, stirring frequently.
Add the garlic and cook for another 1 to 2 minutes, until fragrant.
Add remaining 2 TBSP olive oil and mushrooms and cook for 4-5 minutes, until softened.
Once soft, season with salt and pepper to taste, and add sprigs of thyme, rosemary, and bay leaves.
Add white wine vinegar to deglaze the pot, scraping up any brown bits and allowing the liquid to dissipate.
Add broth or stock and coconut cream, and stir to combine. Reduce heat to low-medium, cover, and allow to simmer for 15-20 minutes.
Remove 3/4 of the soup from the pot and transfer to a blender, being careful to avoid the sprigs of herbs and bay leaves), and add coconut aminos. Blend until smooth.
Return the blended soup to the pot with the remaining soup.
Bring soup back to a simmer. Add Dijon mustard and stir to combine (optional). Let simmer for 5-7 minutes, or until the flavors have melded and the soup has thickened.
To serve, divide soup into serving bowls. Top with a slight drizzle of high quality olive oil for extra richness, and garnish with parsley (optional). Serve warm.
Prep Time:

10 minutes

Cook Time:

50 minutes

Category:

Soup

Method:

Stovetop

Cuisine:

American
Keywords: cream of mushroom soup, mushroom soup, creamy mushroom soup, dairy-free cream of mushroom soup, gluten-free dairy-free cream of mushroom soup, gluten-free cream of mushroom soup, dairy-free mushroom soup, gluten-free mushroom soup, vegan cream of mushroom soup, AIP cream of mushroom soup