In this Watermelon Cucumber Salad, delicious summer watermelon is paired with crunchy cucumber, fresh basil, mint, flaky sea salt and a naturally sweet, thick balsamic reduction. This salad is quick, easy, AIP, paleo, vegan and Whole30 compliant.
I'm updating this post today to take part in the 2021 Juneteenth Virtual Cookout. 40+ black creators contributed to this collaborative menu as a Freedom Day tribute. Check out some of these recipes below! Juneteenth marks the final emancipation of those enslaved in the US back in announced in 1865. Join in, share, and help us continue the legacy of celebrating progress. Additionally, you can easily follow each participant by using the hashtag #JuneteenthCookout2021 on Instagram.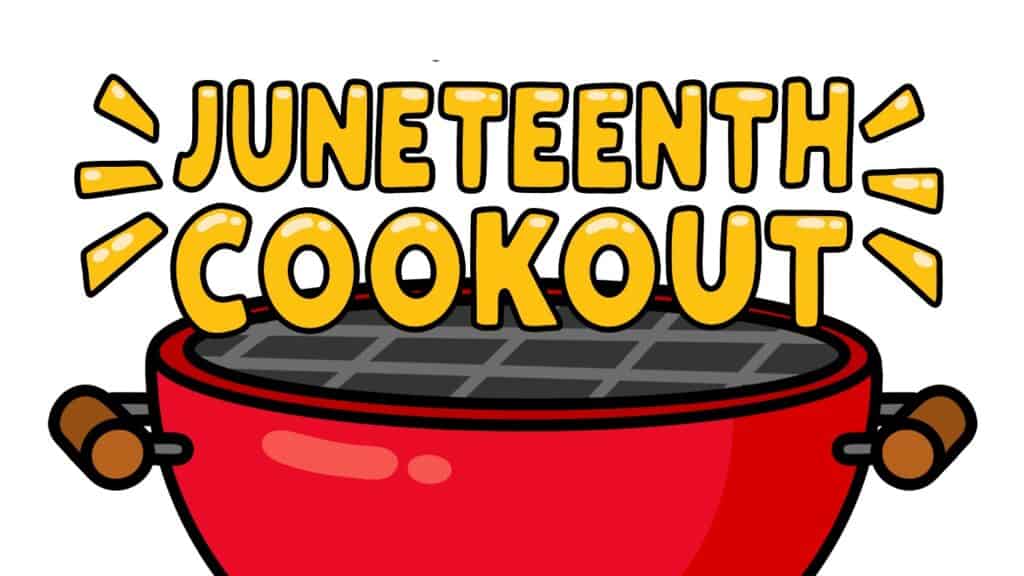 Though this day is not officially recognized as a holiday where I live in Canada, nor is it in Trinidad where i grew up, Juneteenth is an opportunity for folks across the African diaspora to reflect on both the history of slavery and history's connections to the present in which our global fight for transformative justice continues. As the multiple pandemics and racial justice uprisings over the past year and a half have reminded us, "We are caught in an inescapable network of mutuality, tied in a single garment of destiny" (Dr. Martin Luther King Jr.)
Food is integral to many folks' celebration of Juneteenth. Red foods, in particular are popular choices to commemorate the day. According to Atlas Obscura, the significance of red foods and drinks has a longer history than the end of slavery, and connects to the rituals and foods of enslaved Yoruba and Kongo peoples which they brought to the US in the 19th century.
This light and refreshing salad features watermelon – a symbol of African Americans' economic freedom and self sufficiency post-Emancipation in the US. Crispy and juicy watermelon and cucumbers are paired with fresh basil, mint, and a naturally sweet balsamic reduction. It's easy, paleo, vegan and Whole30 compliant and an amazing Juneteenth BBQ accompaniment. It's truly summer simplicity in a bowl.
Here's how you make this simple salad:
Wash and chop the watermelon and cucumber and toss them in a bowl. No fancy knife skills required! In fact, I actually prefer this salad with the ingredients chopped pretty chunky.
Wash your herbs and slice the basil into ribbons and add to the bowl with the cucumber and watermelon. I like to save the fresh mint for garnishing the salad at the end but you can definitely let it sit in the bowl with the other ingredients as you prepare the balsamic reduction.
The balsamic reduction is the only thing that takes any real amount of effort (and hardly). To make, pour the balsamic vinegar into a small saucepan and bring it to a light boil. Once it's boiled, reduce the heat and simmer until it's reduced by almost half, stirring frequently. This usually takes about 7-10 minutes.
Want to beef this salad up some more? Red onions are a wonderful addition. Macerate them lightly in some lime juice or red wine vinegar for 15 minutes to take some of the zing out of them. Chopped avocado is also super delicious in this salad, as is arugula.
Drizzle the balsamic reduction onto the salad just before serving and garnish with flaky Maldon salt or sea salt to taste.
Watermelon Cucumber Salad FAQs
Can I replace the watermelon with another fruit?
Don't have watermelon? Try this salad with fresh strawberries. It's an amazing substitution that I make quite often.
Do I need to reduce the balsamic vinegar?
The balsamic reduction adds an amazing sweetness and depth to this salad. If you didn't want to spend the time reducing the balsamic, I'd suggest adding some olive oil, salt and garlic powder to the balsamic vinegar to make a quick dressing.
How do I store this salad?
Both cucumber and watermelon contain a lot of water so this salad is definitely best served fresh and I don't recommend storing. If you'd like to make the salad ahead I would recommend chopping and storing the components individually and waiting to combine and toss with salt and the balsamic reduction just before serving.
What can I serve this salad with?
This delicious and fresh salad pairs beautifully with grilled meats and veggies. Try with these Turkey Burgers, Grilled Asparagus or Ginger-Cilantro Pork Meatballs.
Looking for some more deliciously refreshing AIP recipes? Check out:
Check out these other amazing recipes from the Virtual Juneteenth Cookout:
Please note, while these recipes aren't AIP/paleo, they can easily be adapted to AIP generally by replacing the sugar with an AIP compliant sweetener. See my notes in parentheses for some possible AIP subs so that you can try these great recipes from other creators.
If you try this easy AIP Watermelon Cucumber Salad I would love it if you would give the recipe a star rating and review. Also, be sure to snap a picture of the finished product and share it with me on Instagram by tagging @healmedelicious and using the hashtag #healmedelicious.
Print
Watermelon Cucumber Salad (AIP, paleo, vegan, Whole30)
---
Description
In this Watermelon Cucumber Salad, delicious summer watermelon is paired with crunchy cucumber, fresh basil, mint, flaky sea salt and a naturally sweet, thick balsamic reduction. This salad is quick, easy, AIP, paleo, vegan and Whole30 compliant.
---
2

cups

cucumber, chopped or sliced (about 2 medium sized cucumbers)

4

cups

watermelon, chopped into cubes

1/4

cup

fresh basil, sliced into ribbons

2 TBSP

fresh mint leaves

1

cup

balsamic vinegar
Maldon salt or sea salt to taste
---
Instructions
Toss chopped cucumber, cubed watermelon and basil, into a large bowl.
To a small saucepan, add balsamic vinegar and bring to a boil on medium heat. Once it begins to boil, reduce heat to low. Allow to simmer, stirring intermittently, until it's reduced by half and is quite thick (7-10 minutes).
Add fresh mint to salad, drizzle with balsamic reduction and toss to combine.
Finish with Maldon salt or sea salt to taste.
Prep Time:

15 minutes

Cook Time:

0 minutes

Category:

Salads
Keywords: summer salad, watermelon cucumber salad, watermelon, cucumber, balsamic reduction, salad, aip, paleo, vegan, whole30