These gluten-free Strawberry Cookies are made with real strawberries and no food coloring! They're crispy, perfectly sweet, and a delicious AIP/paleo and vegan strawberry dessert.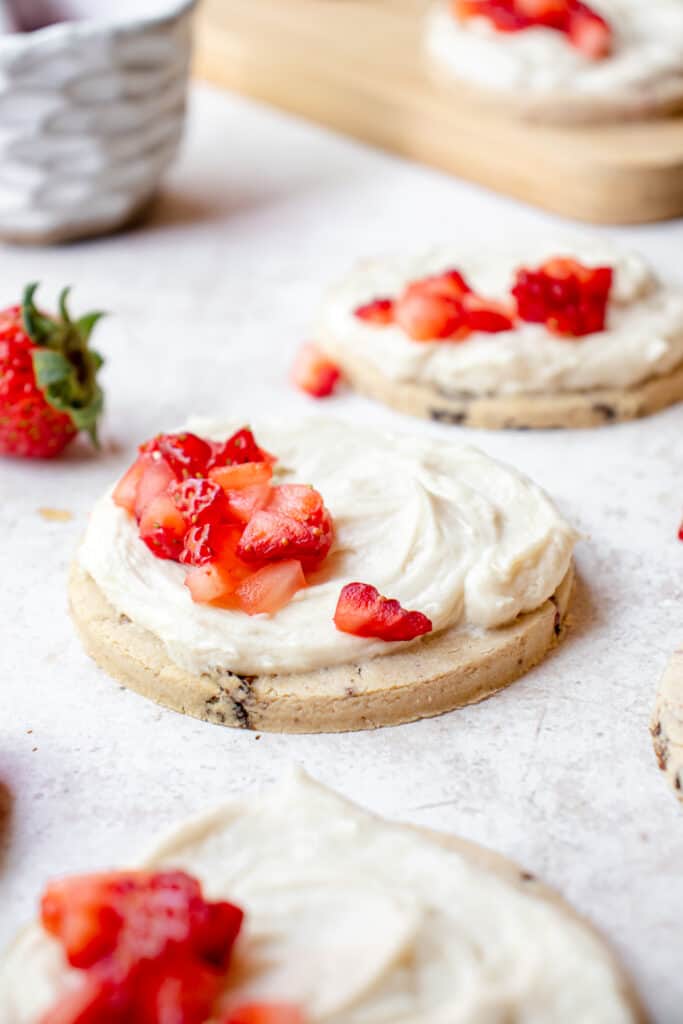 These sugar cookies are made with both fresh and freeze-dried strawberries to ensure a real strawberry flavor!
Join me in celebrating Juneteenth with more than 30 other Black culinary creators. Juneteenth marks the United States' second independence day, signifying the final emancipation of those enslaved in the US announced in 1865. This year, we are celebrating "Freedom Day" by offering a delightful selection of mains, sides, desserts, and refreshing drinks that are perfect for backyard barbecues and summer gatherings with friends and family. Join us in honoring the legacy of progress and freedom by cooking and sharing these recipes. Additionally, you can easily follow each participant by using the hashtag #JuneteenthCookout2023 on Instagram.
I modified my gluten-free sugar cookie recipe to make these simple, one-bowl strawberry filled cookies for Juneteenth. They're iced with a vegan buttercream-style whipped vanilla frosting, and topped with fresh strawberries for an extra burst of strawberry flavor!
These small batch cookies are so good, you may need to double the recipe! They have a nice crunch, their sweetness is perfectly balanced, and they are delicious with or without the icing!
Whether you're baking them for Juneteenth, Valentine's Day, a summer BBQ or simply craving a gluten-free sweet treat, these cookies are sure to be a crowd-pleaser!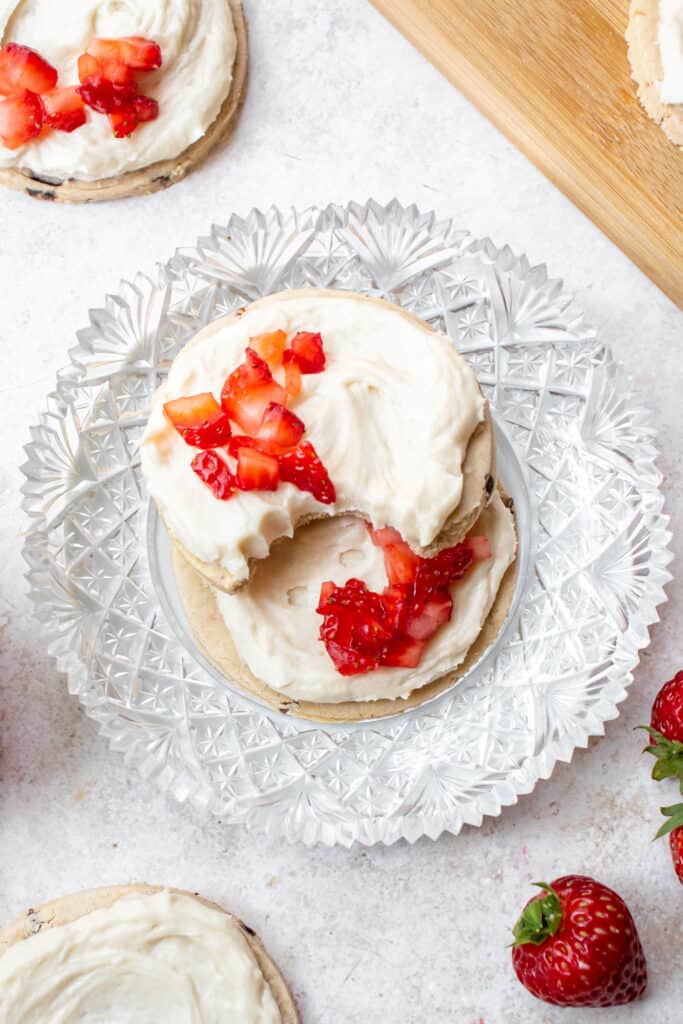 You'll Love these Strawberry Cookies because they're:
AIP and allergy friendly – these strawberry cookies are egg-free, dairy-free, gluten-free, grain-free, nut-free, paleo and vegan! They meet a wide range of dietary considerations, making them a hit at any gathering!
Made with real strawberries – and no artificial flavors or food dyes.
Quick and easy to make – they bake in just 11 minutes!
The best texture! Perfectly crispy edges with a slightly chewy interior.
Easy to adapt – this small batch recipe can be doubled easily. Also, you can experiment with the size and shapes of your cookies and the optional decor!
Want to learn more about making gluten-free, allergy-friendly cookies? Check out The Holiday Cookie Course from Grain Free Academy.
What You'll Need to Make Strawberry Cookies:
Strawberry Sugar Cookie Dough
cassava flour + tapioca starch – I don't recommend any substitutions to this grain and gluten-free flour blend.
salt
coconut oil – or substitute with palm shortening.
freeze dried strawberries – for a concentrated, natural strawberry flavor. Fresh or frozen strawberries will add too much moisture to the cookie dough, and will not work here.
Vegan Vanilla Icing
sea salt
fresh strawberries – I used 5 strawberries to decorate 8 cookies.
How to Make Strawberry Cookies
Follow these step by step instructions to make these easy strawberry cookies!
Step 1: Prep the Oven
First, preheat the oven to 350F.
Step 2: Make the Cookie Dough
Combine the dry cookie dough ingredients in a large bowl. Then fold in the wet ingredients.
Next, add the freeze-dried strawberries and use your hands to bring the dough together.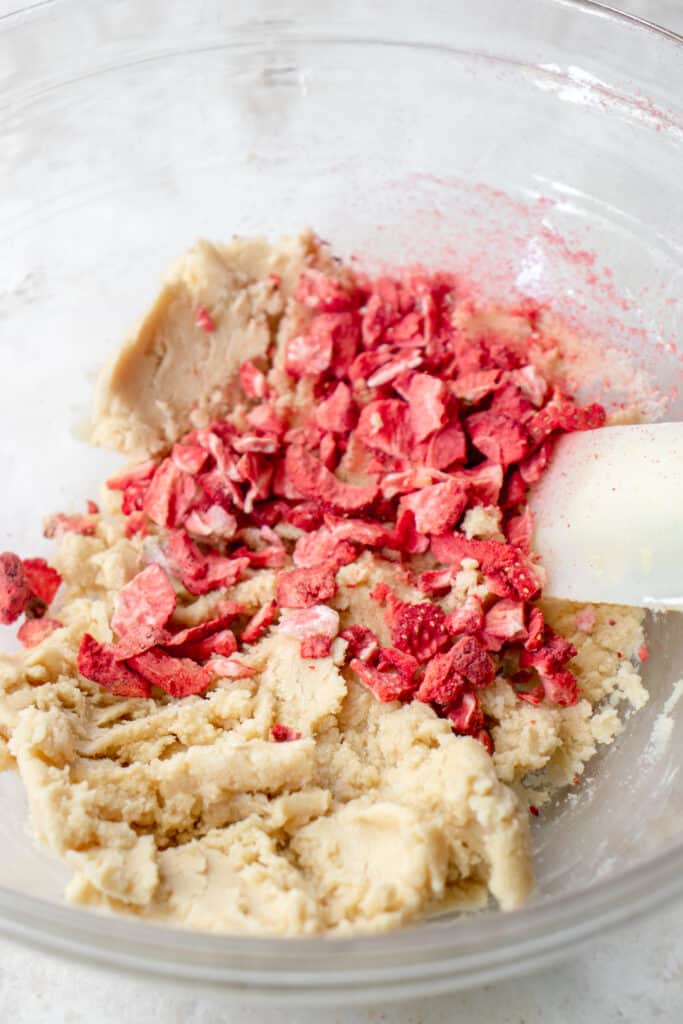 Step 3: Roll Out then Chill the Dough
On parchment paper, roll out the dough ball into a rectangle a minimum of 1/4-inch thick. Refrigerate dough for 5-7 minutes.
Step 4: Cut out cookies
Use a cookie cutter of your choice (any size and shape) to cut out the cookies.
Step 5: Bake cookies for 11-12 minutes
Step 6: Make Icing
While cookies bake, make the vegan vanilla frosting if using.
Step 7: Let Cool
Ensure the cookies cool completely before handling!
Step 8: Ice and decorate
Frost and decorate cookies with the vanilla icing and chopped fresh strawberries (optional).
Strawberry Cookies Baking Tips
Roll the dough out to a minimum of 1/4-inch thick so they don't crack during or post baking.
If the dough is chilled too long, it may crack while cutting out the cookies.

Allow dough to warm up a bit before using the cookie cutter.
Use fingers to smooth over cracks and bring the dough back together.

Ensure cookies are all the same thickness so they bake evenly.
Chilling the dough ensures the cookies won't spread while baking. They can be placed close together on the baking sheet.
Let the cookies cool fully before handling or icing or they will crack/crumble.

Once removed from the oven, leave the cookies on the baking sheet for several minutes. Then gently transfer them to a cooling rack and allow to cool completely before icing.

The icing doesn't harden much once it's set. Lay these out flat on a plate or dish to serve rather than stacking them or they will stick together.
Decor Tips
Get creative with your strawberry cookies!
Try different cookie cutter shapes and sizes.
Make strawberry-vanilla icing:

Pulse in a food processor or crush the freeze-dried strawberries into a fine powder and add it to the cookie dough.

Try other freeze-dried berries and add it to the dough.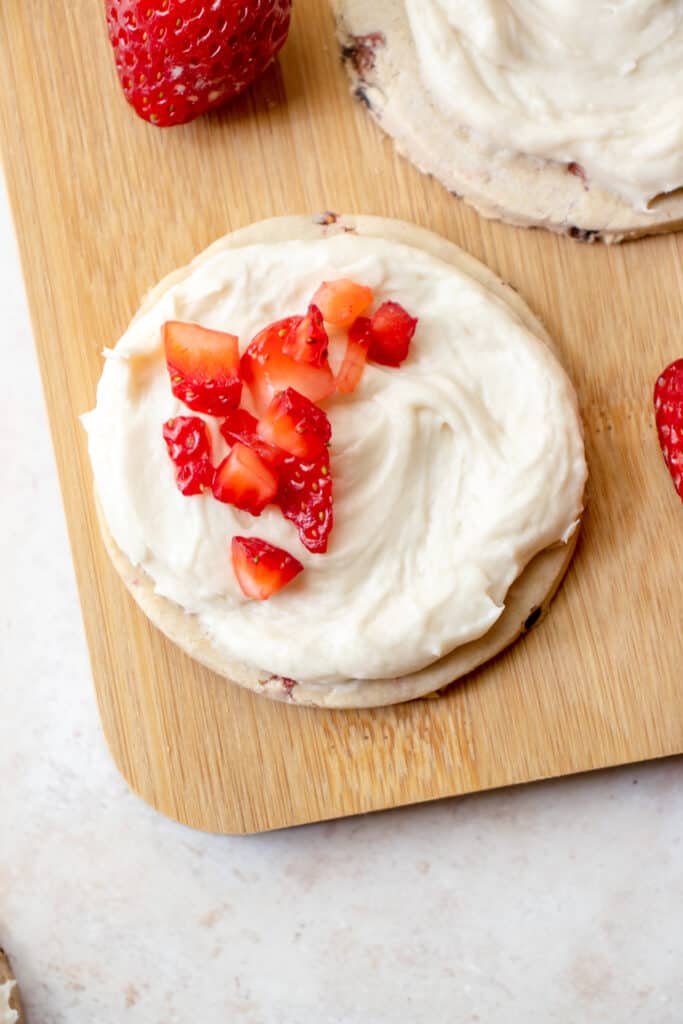 FAQs
Can I use fresh or frozen strawberries instead of freeze-dried strawberries in the sugar cookie dough?
No. Fresh or frozen strawberries will change the dough's consistency and make it too wet. During the freeze-drying process the moisture content is removed from the strawberries, while they retain their color, flavor, and nutrients.
Can I freeze the dough?
The strawberry cookie dough freezes very well for up to 3 months. You can freeze it as a ball of dough, rolled out into a rectangle, or as cut outs in a freezer safe resealable bag or container. Thaw in the fridge overnight and allow to come to room temperature before baking.
Do I need special equipment to make these cookies?
The cookie dough is easily made in one bowl without any special baking utensils!
If you don't have any cookie cutters you can use a small jar or glass to cut out the cookies.
You can make the vanilla icing manually with a spatula or whisk. This is a bit harder than using a food processor or stand or hand mixer, but it is definitely possible!
How do I store strawberry cookies?
Undecorated baked strawberry cookies can be kept in an airtight container on the countertop for up to a week. If cookies are garnished with fresh strawberries, store them in a sealed container in the fridge for up to a week.
Can I freeze these strawberry sugar cookies?
These strawberry cookies freeze well for up to a month, even with icing! Store them in a freezer safe container or resealable freezer bag. I recommend layering parchment paper between the cookies to prevent the icing from smearing.
Once you remove the cookies from the freezer, lay them flat and allow to come to room temperature before serving. Top with chopped fresh strawberries if desired.
Try These Other Gluten-free Paleo Cookies:
More Gluten-free Fruit Treats You'll Love:
More Amazing Juneteenth Recipes
The color red is an especially significant symbol for Juneteenth as it represents resilience, perseverance, and the bloodshed of African Americans in the fight for freedom. Red foods adorn many Juneteenth tables, and recipes like Red Velvet Bread Pudding, Cherry Tabbouleh, and Watermelon Sangria serve as powerful reminders of the struggles and triumphs of the African American community. Here are some other "All Red Everything Recipes" from my fellow black food bloggers.
You can find a list of all recipes from the 2023 Juneteenth Virtual Cookout on the Eat the Culture website.
If you loved this Strawberry Cookies recipe I would appreciate it if you would give it a rating and review. Be sure to snap a picture of the finished product and share it with me on Instagram by tagging @healmedelicious and using the hashtag #healmedelicious.
Print
Strawberry Cookies (Gluten-Free, Vegan, AIP/Paleo)
---
Author:

Nicole Charles

Total Time:

31 minutes

Yield:

8

cookies, 3-inch diameter

1

x

Diet:

Gluten Free
Description
This easy Strawberry Cookies recipe is made with real strawberries and no artificial dyes or flavors! These crispy and perfectly sweet strawberry sugar cookies are AIP, paleo and vegan, and topped with a vegan vanilla frosting and fresh strawberries.
---
Strawberry Cookie Dough
Vegan Vanilla Icing
---
Instructions
Strawberry Cookies
Preheat oven to 350F.
In a large bowl, combine cassava flour, tapioca starch, baking soda and salt.
Make a well in the center and add coconut oil, maple syrup and vanilla extract. Mix until well combined.
Use a spatula to fold in freeze dried strawberries. Then use your hands to bring the dough together.
Place dough between two pieces of parchment paper and roll out to a rectangle 1/4-inch thick.*
Refrigerate sheet of dough 5-7 minutes.
Cut out cookies from dough using cookie cutter of your choice (any size).
Transfer cookies on parchment paper to a large baking sheet. Bake in the middle rack of oven for 11-12 minutes.
Allow cookies to cool before touching them/removing from cookie sheet, or they will break apart.
Once completely cooled, ice and decorate as desired.
Topping (optional icing and garnish)
**In a stand mixer or food processor, combine palm shortening with tapioca starch, maple syrup, vanilla extract and pinch of sea salt. Whisk or pulse until combined.***
Use a spoon or ice cream scoop to add a dollop of icing to each cookie and spread lightly.
Add finely chopped fresh strawberries and decorate as desired.
Notes
*Ensure not to roll out your cookie dough too thin or the cookies will crack.
**Or use a handheld mixer, or a regular whisk or spatula. Ensure ingredients are thoroughly incorporated.
***If making the vanilla icing in advance, store it in the fridge and allow to come to room temperature before whisking it once more before frosting the cookies.
Prep Time:

20 minutes

Cook Time:

11 minutes

Category:

Cookies

Method:

Baked

Cuisine:

American
Keywords: strawberry cookies, strawberry sugar cookies, gluten-free cookies, dairy-free cookies, egg-free cookies, nut-free cookies, paleo, AIP, vegan sugar cookies, grain-free baking, gluten-free baking, eggless cookies, small batch cookies, vegan vanilla icing