This AIP/Paleo Wild Blueberry Beet Smoothie is luscious, vibrant, and perfectly sweet without any added sugar! It's nutrient-dense, dairy-free, gluten-free and so delicious.
In this simple and easy paleo and AIP smoothie, frozen wild blueberries and frozen beets are blended with coconut milk, spinach and other frozen fruit. The result is a gorgeous, bold purple colored beverage with a rich and sweet flavor.
This richly pigmented smoothie derives its vibrant color from the beets and wild blueberries. Wild blueberries are smaller, sweeter and tangier than regular blueberries. Although they have a pretty short harvesting season, wild blueberries can still be found frozen year-round. They're frozen at the height of ripeness to lock in the fresh taste and nutrition, so frozen wild blueberries are just as delicious and nutritious as fresh! Wild blueberries also contain nearly twice as many antioxidants as regular blueberries and have a host of other health benefits.
This AIP Beet and Wild Blueberry Smoothie is naturally sweetened with only fruit, is allergy-friendly and is free of dairy, nuts, and gluten. It is so satiating that you can enjoy it as a nutrient-dense breakfast or snack at any time!
You'll love this Gluten-free, Dairy-free and AIP/Paleo Smoothie with Beets and Wild Blueberries because it's:
Naturally sweet. There are NO added sugars or sweeteners beyond the fruit.
Simple. It's so easy to make and comes together quickly in the blender — only 5 minutes!
Nutrient-rich. This powerhouse of a smoothie is packed with vitamins, minerals, antioxidants and healthy fats.
Filling. Added protein and fiber make this smoothie so satiating.
Stunning! The deep, bright, luxurious purple color is 😍
Refreshing, juicy and delicious!
Here's what you'll need to make this AIP/Paleo Wild Blueberry and Beet Smoothie:
wild blueberries (frozen) – wild blueberries are sweeter than their cultivated counterparts, and they taste like the essence of blueberry-ness!
beets (cooked and frozen) – beets bring their own earthy sweetness and provide lots of nutrients and health promoting benefits
banana (frozen) – a staple fruit sweetener in smoothies, frozen bananas also add to the creamy texture.
avocado (frozen) – this healthy fat adds creaminess and thickens the smoothie
spinach – you won't taste the spinach once it's blended with the other ingredients. This leafy green adds fiber and lots of vitamins and nutrients
coconut milk – you'll want to use full fat, additive free coconut milk. This means the ingredients are just coconut and water. It's super creamy, thick and delicious.
vanilla – this complements the wild blueberry flavor really well. Ensure you're using 100% pure vanilla without any "natural flavors".
sea salt – this helps balance the flavors and you only need a pinch!
AIP/Paleo protein powder or bone broth powder
water – a small amount for additional liquid moisture and optimal hydration.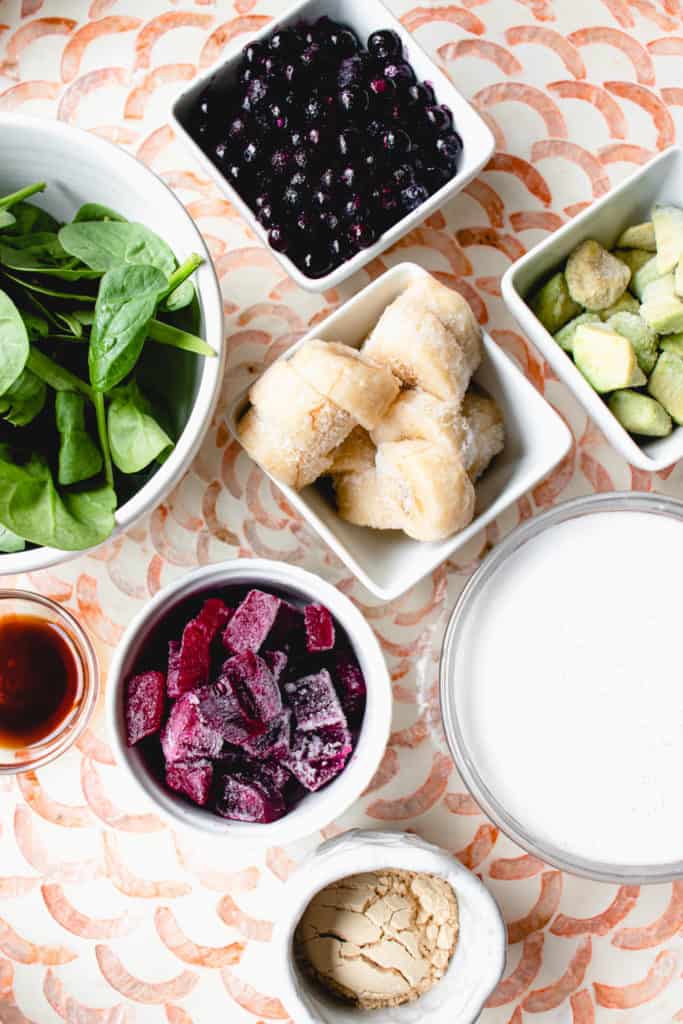 How to Make this Sugar-free AIP Coconut Milk Smoothie with Wild Blueberries and Beets recipe
Pro Tip: One of the keys to a good smoothie is adding your ingredients to your blender in the right order. As a general rule, you want to begin by adding your high-moisture foods (think liquids) to the blender. Then, layer in your solids, leaving frozen foods/fruit and ice (if using) for last.
First, add the liquid ingredients to your blender — coconut milk, water, and vanilla extract.
Next, add sea salt and protein powder or bone broth powder.
Then, top this with the spinach.
Finally, add the frozen fruit — frozen wild blueberries, frozen beets, frozen banana, and frozen avocado.
Blend until smooth.
Serve immediately as is or with desired toppings (optional).
AIP/PALEO WILD BLUEBERRY WITH BEETS SMOOTHIE FAQs
Can i use regular frozen blueberries instead of wild blueberries?
Yes, you can use regular frozen blueberries. The color won't be the same bright pigmented purple, and it won't be as sweet, but will still taste delicious.
Can i use raw beets in this dairy-free, AIP beet and berry smoothie?
In my experience, it's easier to digest cooked beets. I haven't tried making this smoothie with raw beets. However, if you're pressed for time and want to try, I'd recommend peeling the skin and then grating or finely chopping the raw beets so they blend more easily.
can i substitute the frozen fruits with fresh fruits?
I recommend using frozen fruit in this AIP/paleo smoothie as they lend to the creamy, thick texture of this drink. If you only have fresh fruits, simply slice them up and pop them in the freezer overnight to use the next morning.
Can i use liquid bone broth instead of powdered?
Yes. 1 TBSP bone broth powder is probably about 1/4 cup liquid bone broth. You can definitely substitute it, but it will make the smoothie a thinner consistency.
how do i store this AIP/paleo berry and beet smoothie?
This is best served fresh and will separate a bit in the fridge overnight. You can re-blend if making ahead and/or, if you're only making this smoothie for one, I'd suggest halving the recipe so that you don't have leftovers.
If you try this Paleo Wild Blueberry Beet Smoothie I'd appreciate it if you would give the recipe a star rating and short review. Also, be sure to snap a picture of the finished product and share it with me on Instagram by tagging @healmedelicious.
Looking for more delicious AIP/paleo smoothies and drinks? Try these:
You might like these other dairy-free, gluten-free, AIP/paleo berry-licious recipes:
Print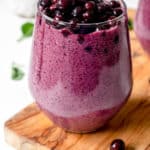 Paleo Wild Blueberry Beet Smoothie (AIP, GF, DF)
---
Description
This AIP/Paleo Wild Blueberry Beet Smoothie is luscious, vibrant, and perfectly sweet without any added sugar! It's nutrient-dense, dairy-free, gluten-free and so delicious.
---
1

cup

additive free, full fat coconut milk

1/2

cup

cold water

1 tsp

pure vanilla extract
Pinch of sea salt

2 TBSP

protein powder or bone broth powder

1

cup

spinach

2

cups

frozen wild blueberries

1/2

cup

cooked and frozen beets

1

frozen banana

1/2

cup

frozen avocado
---
Instructions
Add ingredients to blender in the order listed and blend until smooth.
Serve immediately as is or with desired toppings (e.g. frozen wild blueberries, toasted coconut flakes, other fruit)
Prep Time:

5

Category:

Smoothies/Drinks

Method:

Blended

Cuisine:

American
Keywords: aip, paleo, wild blueberry beet smoothie, paleo wild blueberry beet smoothie, AIP/paleo smoothie with wild blueberries and beets, dairy-free smoothie, fruit smoothie, snacks, breakfast, sugar-free smoothie, no added sugar smoothie, healthy breakfast, aip breakfast, aip drinks, gluten-free smoothie, gluten-free, nut-free, dairy-free, coconut milk smoothie, wild blueberries, beets, banana, avocado, spinach, sweet treats