These gluten free Mixed Berry Galettes are cute, rustic, AIP, paleo and vegan. The recipe is easy to make and an absolute favorite summer treat.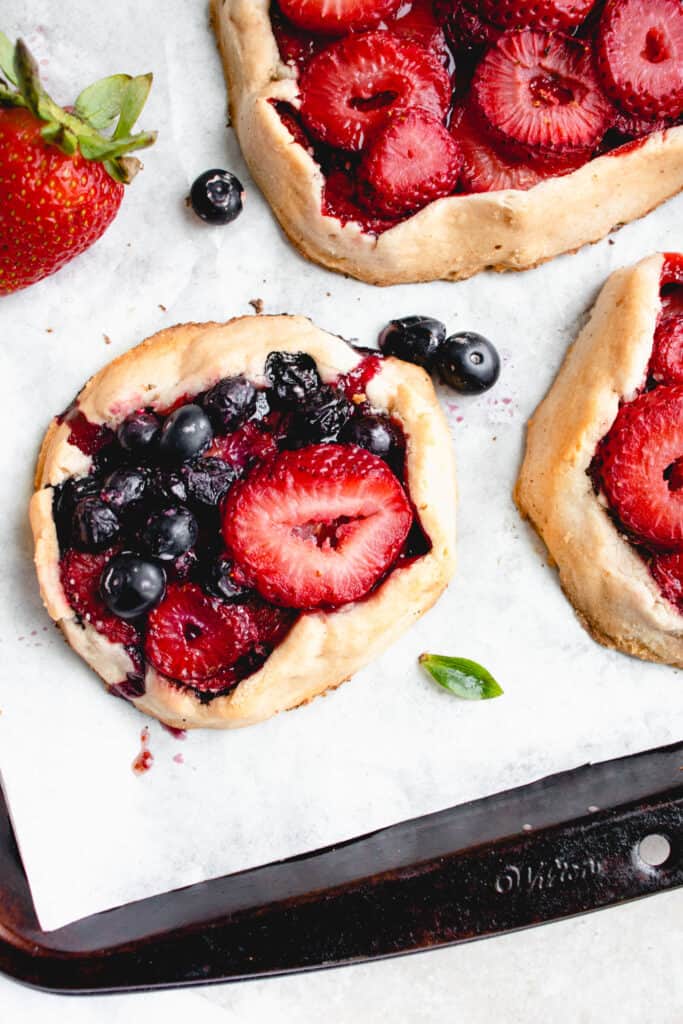 This post is sponsored by Bob's Red Mill. Products used in this recipe were sent to me by Bob's and the opinions and text are all mine.
Gluten free and grain-free pastry crusts can be delicious, trust me! Cassava flour is the my grain-free flour of choice and I'm using frozen palm shortening as the butter substitute. The result is a wonderfully flaky crust that comes together easily in a food processor.
As many of you who are familiar with grain-free baking know, it's quite different than working with gluten-full doughs and batters. The texture is often a lot drier and less pliable due to the absence of gluten and can be a bit tricky to work with. This is why I love galettes! They lend themselves well to grain-free baking because of their rustic nature – imperfection is absolutely the goal. If you're intimidated by grain-free pastry making, you should check out the tips below for working with grain-free crusts.
These mini galettes are the perfect summer treat and are my go-to dessert to enjoy in-season berries!
Here are the main ingredients in these Mixed Berry Galettes:
Cassava flour – I used Bob's Red Mill Cassava flour in this recipe for the perfect grain-free pastry crust.
Palm shortening (frozen) – this is the butter substitute in this recipe. It provides a delicious, flaky crust that isn't too oily and it's also coconut free for all you folks who need to avoid coconut!
Berries – you can really use any berries you like. I've used fresh strawberries and blueberries, but raspberries also work well here, as do blackberries and even cherries!
Lemon zest – this adds a nice bright flavor to the recipe and complements the berries beautifully
Maple sugar – these galettes are only lightly sweetened with maple sugar to keep this recipe low on added sugars. You can substitute with coconut sugar here as well!
Apple cider vinegar – this helps tenderize the dough but don't worry, you won't taste it.
Tapioca starch – This is used to thicken the berry mixture once it bakes. My go-to brand is always Bob's Red Mill Tapioca Starch. You can also substitute with their arrowroot starch.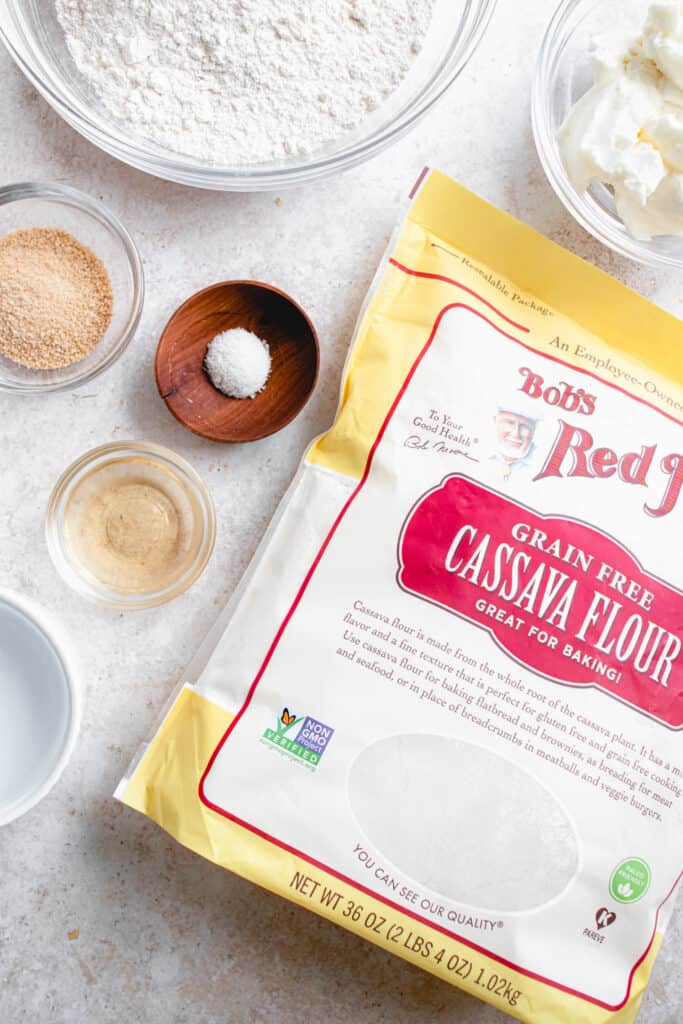 Grain-free Pastry Crust Tips
Ensure your palm shortening is actually frozen. The frozen pea-sized pieces of palm shortening help create pockets of air for a flakier galette crust. If the shortening is too warm, it will combine into the flour and can make the dough a lot denser. I measure out my palm shortening and leave it in the freezer for at least 30 minutes until it is solid. I then chop it into a few pieces before placing it into the food processor to pulse into pea-sized pieces.

Ensure your dough has the right amount of moisture. Depending on the climate you're in/altitude you're at, you might need more or less water than the recipe recommends. I suggest starting with 1/4 cup of water and pulsing just until the dough begins to clump. Use your discretion to determine how much more water is needed so that the texture of the dough is pliable but not wet.

Work with damp hands to fold the dough. As noted above, grain-free pastry crust is not as pliable as crusts made with gluten. Once I've rolled out my dough, I like to keep a ramekin filled with water nearby. I recommend dipping your fingers into water as you fold the dough over the filling and to help patch up any cracks in the dough.
Refrigerate if necessary. If you've over processed the dough and the pastry is too soft/oily feeling, place it in the fridge for a few minutes for the palm shortening to firm up. This will make the dough easier to work with.
Make into one large galette. If you're struggling to work with the dough, make your life easier by rolling it out into one large galette.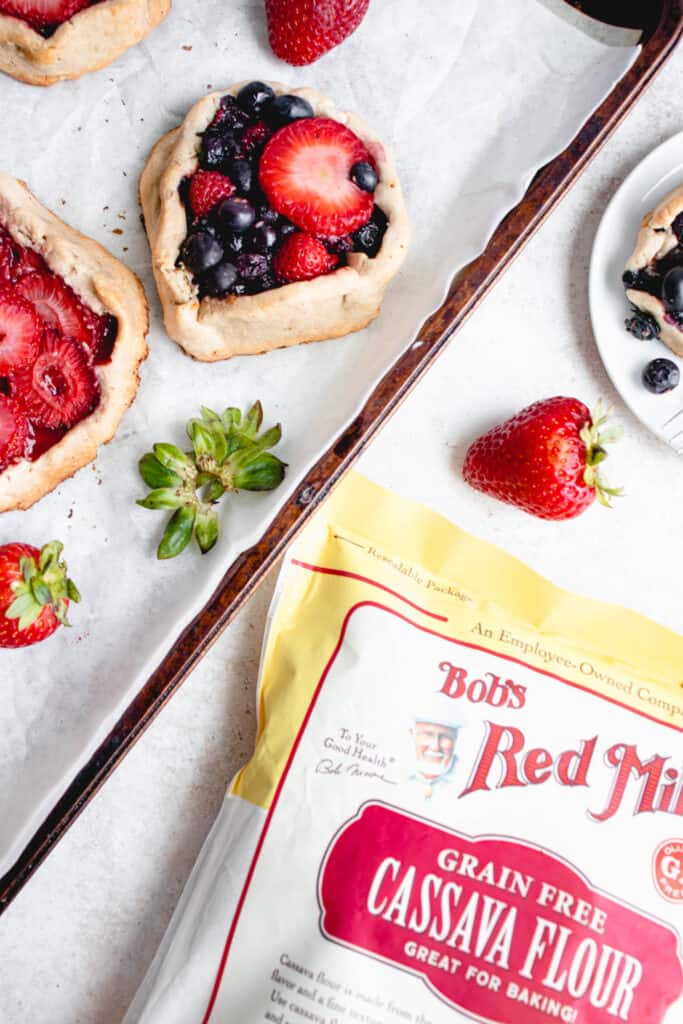 FAQs for these Mixed Berry Galettes
Can I substitute the palm shortening?
The palm shortening in this recipe is key for the flaky, buttery-like crust. Alternatively, check out my Peach Thyme Galette recipe which uses coconut oil as the fat for the pastry dough. You could try using frozen lard, though I haven't tested the recipe myself using this substitute.
Can I use frozen berries?
You can use frozen berries but they will contain a lot more water. I recommend defrosting before using them so you can strain some of the liquid before mixing with the other filling ingredients. Alternatively, you can add more tapioca or arrowroot starch to help thicken the liquid or the crust will get too soggy from the excess water.
What can I serve these galettes with?
If you can tolerate coconut, these galettes are. great with some whipped coconut cream or unsweetened coconut yogurt. Strawberry Basil Ice Cream and Blueberry Swirl Ice Cream are some other great AIP pairings.
How do I store these?
Store in a sealed container at room temperature for 24 hours or in the fridge for up to 3 days. Reheat in the oven before serving for the best texture.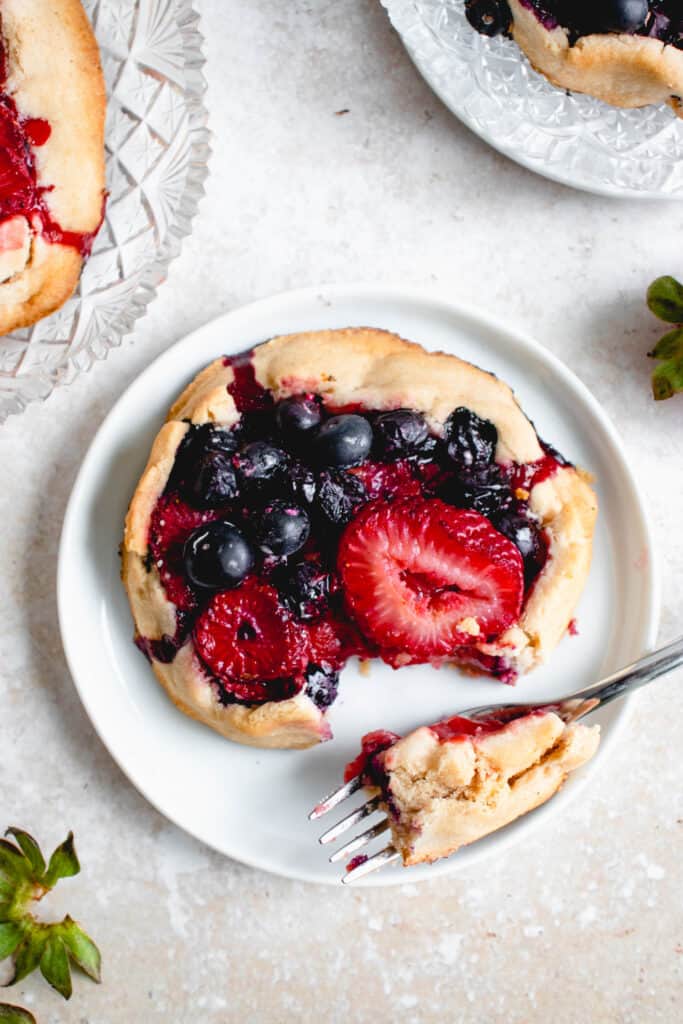 Looking for more AIP summer desserts? You might also enjoy:
If you try these Mixed Berry Galettes would appreciate it if you would give the recipe a star rating and short review. Also, be sure to snap a picture of the finished product and share it with me on Instagram by tagging @healmedelicious.
Print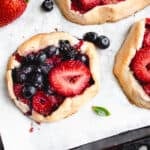 Mixed Berry Galettes (gluten free, AIP, paleo, vegan)
---
Description
These grain and gluten free Mixed Berry Galettes are cute, rustic, AIP, paleo and vegan. The recipe is easy to make and an absolute favorite summer treat!
---
Filling
3 cups

fresh berries of choice

1/4 tsp

sea salt

1 tsp

pure vanilla extract

1 tsp

lemon zest

1 TBSP

maple or coconut sugar

1 TBSP

Bob's Red Mill Tapioca Starch
Pastry Crust
3/4 cup

palm shortening, frozen

1 1/2 cups

Bob's Red Mill Cassava Flour

1/2 tsp

sea salt

1 TBSP

maple or coconut sugar

1 TBSP

apple cider vinegar

1/4 cup

– 1/2 cup ice cold water

2 TBSP

ice cold full fat coconut milk (optional, for browning)
---
Instructions
Filling
In a large bowl combine berries, sea salt, vanilla extract, lemon zest, maple sugar and tapioca starch and set aside.
Crust
Preheat oven to 375F.
Cut frozen palm shortening into 3-4 pieces and add to food processor. Pulse until it is broken up into pea-sized pieces.*

Add cassava flour, sea salt, maple sugar, apple cider vinegar and 1/4 cup ice cold water to the food processor and pulse until dough begins to combine, stopping to wipe down the sides of the food processor using a spatula a few times as necessary. Dough is ready when it easily clumps together between your fingers.**
Remove dough from food processor and transfer to a piece of parchment paper. Using your hands, gently knead until the dough comes together.

Cover dough with another piece of parchment paper and use your hands to flatten it out into a disc.

If you plan on making one large galette, use a rolling pin to roll crust out to about 12″ in diameter. Alternatively, roll crust out to 12″ and then cut 4-5 circles out of dough for mini galettes.
Assembly
Working quickly, spoon the berry mixture into the middle of the circles of dough leaving a 1 ″ border.
Dip your fingers in water and fold the edges of the galettes up over the berries, overlapping and pinching edges together. Don't worry if the crust breaks apart a bit while folding, that's the beauty of these galettes – they're meant to be rustic. Simply patch up any cracks in the dough using your wet fingers.
Optional – Brush the top of the dough with cold full fat coconut milk to assist with the browning.***
Bake in middle rack of the oven for 30 minutes for mini galettes or until the crust is golden brown at the edges.****
Serve warm as is or with with AIP compliant coconut yogurt or AIP ice cream.
Notes
* Do not overmix or palm shortening will soften and clump together.
** You may need up to a 1/4 cup more water depending on the climate you're in so use your discretion.
**These won't get as brown as pastry made with gluten, but the texture will still be flaky and delicious.
***Coconut milk helps with the browning but you can absolutely omit it if you want to keep this recipe coconut-free
**** Baking time is for mini galettes – if. you are making one large galette you will need to increase the baking time. The galettes are ready when they are golden brown at the base and lightly golden at the tops. I use a convection oven which often bakes hotter/quicker than conventional ovens so you might need to add more time.
Prep Time:

30 minutes

Cook Time:

30 minutes

Category:

Desserts
Keywords: aip, paleo, vegan, aip desserts, berry desserts, berry pie, galettes, grain free pastry crust