Here's a collection of delicious Caribbean-inspired allergy-free recipes that are autoimmune paleo compliant (AIP).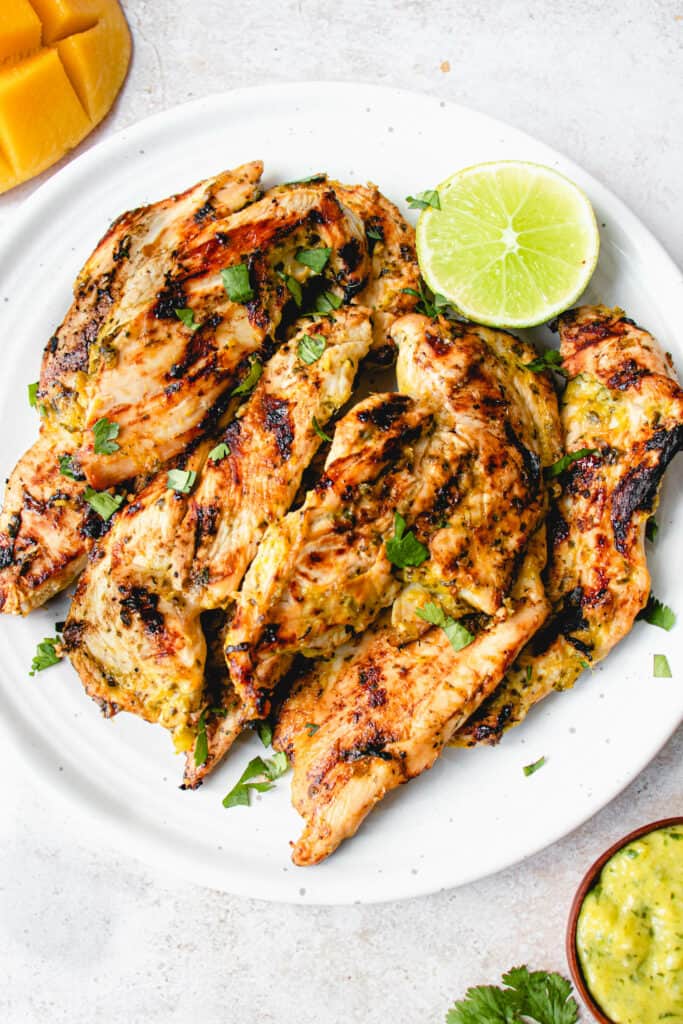 Although these recipes are completely allergy friendly in that they are free of the top 9 allergens, they don't sacrifice on flavor or taste!
The Top 9 food allergens are:
dairy
egg
wheat
soy
peanuts
tree nuts
fish
shellfish
sesame
The delicious recipes in this roundup are also all appropriate for the autoimmune protocol (AIP diet) that emphasizes eating nutrient-dense foods like organ meat and vegetables and avoiding foods that might be triggers to autoimmune disease.
Foods to avoid while on the AIP diet (elimination phase):
grains
legumes
dairy
refined sugars and oils (and sweeteners like monk fruit and stevia)
food additives
eggs
nuts and seeds
nightshades
alcohol
So, as you can see, there is quite the overlap between these two lists.
I know how tough it can be to have to eliminate multiple food allergens. And I know that it is a pain to have to cook different meals for different members of the family whether that's due to food allergies or dietary restrictions.
These awesome Caribbean inspired AIP and allergy free snacks, mains and dessert recipes will be enjoyed by the entire family.
They're all made with delicious foods from my childhood in the Caribbean. So think things like coconut, lime, mango, plantains, and white fleshed sweet potatoes!
And now to the roundup…
Snacks and Appetizers
These Caribbean-inspired easy and delicious snacks are free of the top 9 allergens and also Paleo and autoimmune paleo compliant (AIP)
These Sweet Baked Plantains with Bacon are the perfect bite-sized appetizers! They're AIP, Paleo and gluten-free and definite crowd-pleasers.
You won't find better AIP fries out there. Trust me. Nightshade-free, crispy, nutritious and delicious!
This AIP nightshade free salsa is free of tomatoes and peppers - it's crunchy, zesty and so flavorful!
Mains
Flavor-packed allergy-friendly dinner recipes with a Caribbean flare. Wow your friends and family with these delicious mains.
Tender beef marinaded in fresh herbs, browned in coconut sugar and cooked alongside carrots and grain-free dumplings. Delish!
Juicy chicken breast strips are marinaded in a mango lime sauce for this delicious nightshade-free and allergy-friendly bbq chicken recipe.
Made with ground beef, creamy coconut milk, sweet potatoes, and fresh herbs, this gluten-free, allergy-friendly soup with dumplings is a blog reader favorite.
Dessert
These easy allergy-free desserts utilize signature Caribbean ingredients like white sweet potato and plantains and are egg-free, gluten-free, grain-free, dairy-free and delicious.
These Grain free Paleo and AIP Cinnamon Rolls are soft, gooey, moist and delicious and made using white sweet potato.
These AIP gluten-free and vegan Gingerbread Squares are soft, moist and full of deliciousness.
If you're looking for more easy, AIP and allergen free recipes, check these out:
Finally, here are some more Resources for the Autoimmune Protocol (AIP) Diet: