This rustic and chewy AIP Hand Rolled Pasta will make your AIP pasta dreams come true! The recipe is vegan, grain-free and paleo and absolutely delicious.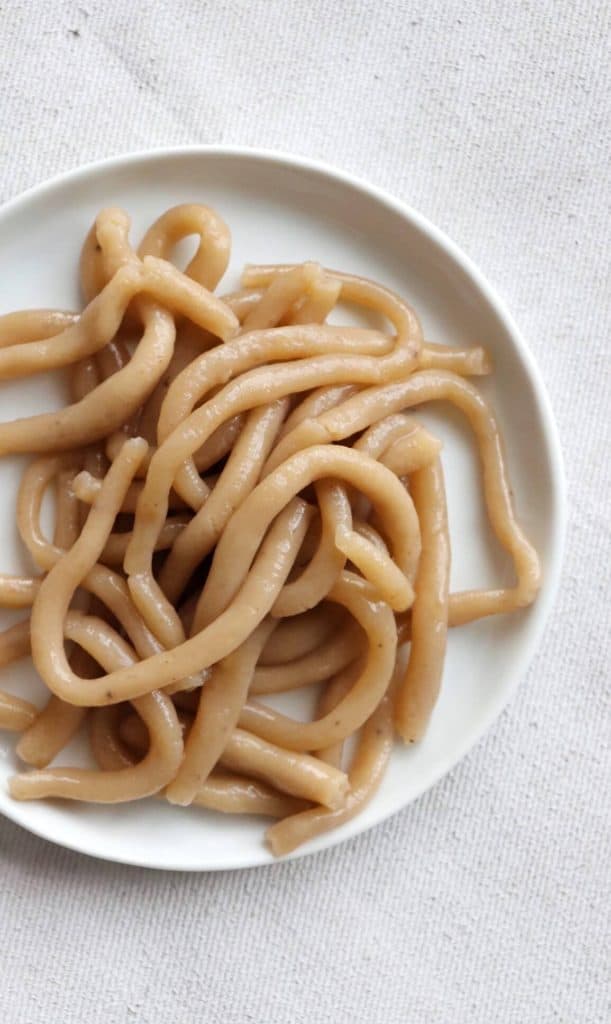 Time and again what people say they miss the most when transitioning to the autoimmune paleo protocol is pasta and pizza! I will admit, these are two comfort foods that have been the most challenging to replicate well on the AIP.
This pasta is similar to traditional Tuscan hand rolled noodles known as pici. Like pici which is rustic and chewy, this AIP pasta is robust and filling. Its texture is complimented nicely by so many different sauces or dishes from nomato sauces to pestos and soups.
As the name of this recipe suggests, this pasta involves hand-rolling. And in fact, this is one of the keys to why this AIP pasta recipe works.
I know, it's work.
Trust me, I tried many a time to create a recipe that didn't involve hand-rolling.
See exhibit A.
Looks great, right?
Unfortunately, no. Even when I thought I'd come so close and the dough seemed to be holding together really well, it would hit the pot of boiling water and disintegrate into a crumbly mess.
Without an egg or flax egg to keep things together, and having no luck with gelatin eggs and a variety of other starchy binders, I almost gave up on an AIP pasta recipe. But the right ingredients and hand-rolling the dough was what eventually worked. Hand rolling is crucial for helping the dough bind together so that its integrity is kept intact during the boiling process.
Because this recipe involves some more effort, this AIP Hand Rolled Pasta is great as a Sunday meal or weekend dinner when you might have a bit more time and space to enjoy the process. Each piece of pasta will be irregular and rustic and that's the point, so feel free to get little helpers in on the action!
FAQs for AIP Hand Rolled Pasta
Can I substitute the flours?
As I note above, I've tested many variations of this recipe before settling upon the ingredients listed here. As such, I don't recommend any substitutions in this recipe which I've tested an innumerable amount of times with successful results.
How do I prevent the pasta from breaking apart while rolling?
As I note in the recipe, you want the dough to be a little tacky as this helps with rolling.
Before rolling your dough into noodles, I suggest tearing off smaller pieces of dough and rolling them into small balls. This helps further bind the dough making it easier to roll into a thick noodle.
A clean and dry non-movable surface (like your countertop), is the best for rolling the dough out. Avoid using additional flour as this will take away the necessary tackiness of the dough.
Don't make your noodles too long or too thin. I recommend no more than 8 inches long and about 1/4 inch thick.
Can I freeze this pasta dough?
Yes! This freezes well. I'd suggest cutting the ball of dough in half and wrapping each half in plastic wrap. Place each half in a ziploc bag or container before freezing. Allow to thaw in the fridge thoroughly before rolling into pasta and cooking. You might notice the colour of the outer layer of the dough to change slightly as it defrosts. This is oxidization and won't affect the taste.
If you tried this AIP Hand Rolled Pasta recipe I would love if you gave it a rating and short review. Be sure to snap a picture of the finished product and share it with me on Instagram by tagging @healmedelicious.
This post contains affiliate links.
here are some other grain-free, aip/paleo pasta recipes you might enjoy:
Print
AIP Hand Rolled Pasta
---
Description
This rustic and chewy AIP Hand Rolled Pasta will make your pasta dreams come true! The recipe is vegan, grain-free and paleo and absolutely delicious.
---
---
Instructions
Peel and chop green plantain into 1/2 inch pieces (doesn't need to be too precise, just so that it blends easily).
To a high powered blender or Vitamix, add add olive oil, coconut milk and then plantain pieces and puree until as smooth as possible (you don't want any big chunks in there).
Once plantain mixture is smooth, add cassava flour, tapioca starch, coconut flour and salt to blender and pulse until combined, scraping down sides of blender as necessary and mixing together any remaining pieces of flour with spatula.

Remove dough from blender and place into large bowl. Using your hands, knead dough until it comes together fully (1-2 minutes). You want a dough that's pliable but not wet. A little tacky is good, as this helps you roll the pasta easier.
Next, transfer ball of dough on to countertop.

To shape the pasta, tear off

1.5 inched pieces from the dough and roll into small balls (each ball will become a strand of pasta).
Using flat palms, roll each of the balls back and forth on the countertop into a thick noodle (about 1/4 inch wide) and no longer than 8 inches long or they will break apart when transferring to pot.

They will be irregular and rustic and that's the point!
Bring a large pot of water to a boil.
Cook noodles in boiling water for 1 min 30 seconds and perfectly al dente, strain and serve immediately with sauce of choice.*
Notes
*I recommend eating these noodles as they are cooked. If you have more noodles than you can eat, I would suggest storing undressed in the fridge in a sealed container. Run noodles under cold water to help them break apart before reheating, and then serve with sauce of choice. Alternatively, you can freeze half of your uncooked dough as described in the post above.
Prep Time:

45 minutes

Cook Time:

2 minutes
Keywords: aip pasta, pasta, hand-rolled, grain-free, vegan, paleo pasta, egg-free